Many of the leading return calculators on the web look at how a $10,000 investment can grow over time. While this may seem like a small amount of money that might not be able to provide much in the way of income, if invested, it can grow to a substantial income over time. It can also be used to diversify into more companies that pay more income over time. It may also seem that $10,000 is a difficult amount of money to come up with at one time when the average American only brings in around $50,000 a year. However, many Americans who do not realize they have this money might be able to come up with it.
A recent study by the Bureau of Labor Statistics indicated that the median tenure for a worker in American society was right around 4.5 years. The days of working for the same company for 40 years and retiring with a nice pension have quickly faded into the past over the last couple of decades. In the place of pensions are 401(k) and 403(b) plans. When leaving a company, a worker who has been in a position for a short period of time has the opportunity to roll over their 401(k) funds into an IRA rather than take the money and run. This could provide the $10,000 that's necessary to get started on an income-producing portfolio that can be diversified over time while building up a growing snowball of income.
The Use of Omega Healthcare Investors (NYSE:OHI) As An Example
Omega Healthcare Investors is a real estate investment trust that has a range of skilled nursing facilities in the US and abroad. A recent Seeking Alpha article looked at the benefit of investing in OHI in a Roth IRA. Omega Healthcare Investors has largely been ignored during the recent rise in REIT prices. The tax treatment of REITs make OHI a better investment in an IRA, as taxes on any dividends can get deferred in a traditional account. Gains in a Roth IRA are not taxed at all. I will not go over most of the particulars discussed in the aforementioned article, although I would point out that the current dividend of $0.60 per quarter has been growing for more than a decade and that appears to be well covered by current cash flow.
On July 28, OHI closed at $34.28. Its estimated full-year dividend that stands at $2.40 equals out to a dividend yield of right at 7 percent. With the expected increase in the number of Baby Boomers who are likely to need long-term care in the future, it is estimated that the revenue growth of OHI should be quite good, barring a major change in reimbursement rates from the government. It should be noted that this happened in the early 2000s and led to a suspension of the dividend for a couple of years. The dividend has steadily grown since its reinstitution in October 2003. The dividend growth has grown on a year-over-year basis for the past six years, and it has grown quarterly since the October 2012 payment.
$10,000 would currently purchase 291 shares of Omega Healthcare Investors stock. At the current dividend payout of $2.40 a share, this would equal out to a dividend income of $698.40 per year if the dividend were to remain stable over the course of the year. If the dividend were to raise by the $0.01 per share per quarter that's been common in the past four years (with the exception of the most recent raise that was $0.02 per share), the payout would grow over the next decade as follows.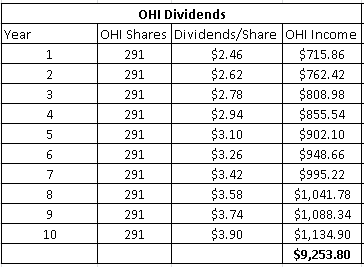 As is evident from the chart shown above, it is possible that an investor could see a return of nearly 93 percent of his or her invested capital in just dividends over a 10-year period if the past decade or so is any indication of what could happen. While this is not a sure thing by any means, it is definitely possible. Furthermore, the yield on cost would increase to more than 9 percent with a relatively slow rate of dividend growth.
This $9,200 could be spent in any way. It could be left in cash. However, for this example it will be utilized to invest in other companies to increase dividend income. For the purposes of the example, the dividend income will be utilized to purchase a stock initially yielding 4 percent with an expected growth rate of 5 percent annually. These purchases could buy shares of AT & T (NYSE:T), which has a yield that's actually dropped to around 4.5 percent, or they could buy another large cap company that's an accidental high yielder as a result of recession or some other bad news. The generic companies bought will all pay a dividend yield of 4 percent and have an annualized growth rate of 5 percent. This is only a simplistic example, as dividend yields and growth rates are likely to be uneven over time, but here is what an investor could expect to receive over 10 years. It is assumed that all new dividends go toward more shares of stock, and the additional investments would look like this.

Click to enlarge
The additional reinvestment of dividends alone would now be paying out more than $540 annually, and the initial investment of $10,000 when combined with the new dividends would now be paying out about $140 on average in a month. The annual payout would be more than double what it was in the first year. This does not assume the investment of any additional capital whatsoever outside of the dividends. The original investment in one company would now be an investment in 11 separate companies, assuming that the investor buys a new company each year. This has allowed for substantial diversification, and this diversification would grow on an annual basis even into the future, along with dividend income. Any additional capital investment would only grow the income further. If dividends grow more quickly than estimated in this example, the payoff would be even more impressive.
If you've found this article interesting or useful, please feel free to click the follow button. I appreciate your support.
Disclosure: I am/we are long OHI, T.
I wrote this article myself, and it expresses my own opinions. I am not receiving compensation for it (other than from Seeking Alpha). I have no business relationship with any company whose stock is mentioned in this article.
Additional disclosure: I am not a financial professional. This article is intended only for educational and informational purposes. Please do due diligence and consult a professional before investing in equities as losses up to and including all invested capital can occur.