A good quarter
I should have grabbed onto this stock 4 years ago and held onto it. First Commonwealth Corporation (NYSE:FCF) announced their Q2 results yesterday. In a time when big banks are getting pounded in interest based income, First Commonwealth produced a .06% increase in net interest income. I wouldn't call that massive growth, but it topples the declines being seen in large financial institutions like Bank of America (NYSE:BAC) or JPMorgan (NYSE:JPM).
I've written before about the solid, reliable dividend play that First Commonwealth offers. The latest earnings report continues to convey the safe nature of this investment. Because the small bank is far less exposed to international affairs than some of its larger counterparts, it seems more able to weather the storm brought upon financial institutions by the continually low interest rates they currently face. Furthermore, First Commonwealth increased non-interest based incomes by over 13% from the quarter prior.
The Future?
Slow but steady moves to expand are continuing with their announced purchase of assets in the Ohio Market. With the pending 13 additional branches, they will have the 3rd largest deposit market share in Canton, Ohio. This is a continuation of the banks moves into Ohio that started with acquisitions like their purchase of First Community Bank in Columbus. These Ohio moves offer growth opportunities for the bank as they intend to add more staff and capabilities in mortgaging, brokerage and commercial banking.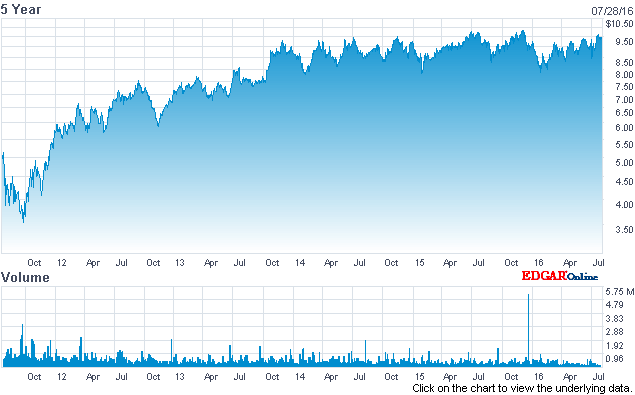 (source:Nasdaq.com)
Looking at their financials, the bank has done well to improve earnings over the last few years. From 2011 to 2015, net income increased from $15 to $50 million. Equally encouraging is the increase from $0.15 to over $0.50 in earnings per share in that same time period. The first quarter of 2016 was a letdown in terms of keeping up with last year's trends. The 2 cent decline in diluted earnings year over year wasn't the worst seen in the financial sector. The bank's 2Q results also missed last years. With a 6.67% dip, there is obviously room for improvement. That being said, I still like the strong position of the bank. Their balance sheet is strong, and they're making moves in cutting expenses, while also expanding their business in Ohio. What makes the bank attractive is the solid stock performance and the consistent 3% dividend.
Disclosure: I/we have no positions in any stocks mentioned, and no plans to initiate any positions within the next 72 hours.
I wrote this article myself, and it expresses my own opinions. I am not receiving compensation for it (other than from Seeking Alpha). I have no business relationship with any company whose stock is mentioned in this article.