Psychemedics Corp (NASDAQ:PMD) just smashed last year's same quarter earnings and revenue out of the ballpark. Check your car for damages if it's in the lot. Revenue came in $9.7 million versus $7 million the same quarter a year before and net income came in at $0.30 per share versus $0.05 last year (a very easy comp because of the build out of additional capacity).
A substantially similar article first appeared for the benefit of Off The Beaten Path subscribers.
Psychemedics is a tiny company, just $116 million in market cap. It recently invested over $6 million into additional lab capacity in Brazil. This in response to the government passing legislation that forced truck drivers to get tested for drugs by hair test. The government wanted this law because Brazil has a terrible death rate for truck drivers. Likely caused by drug use on extremely long-distance hauls.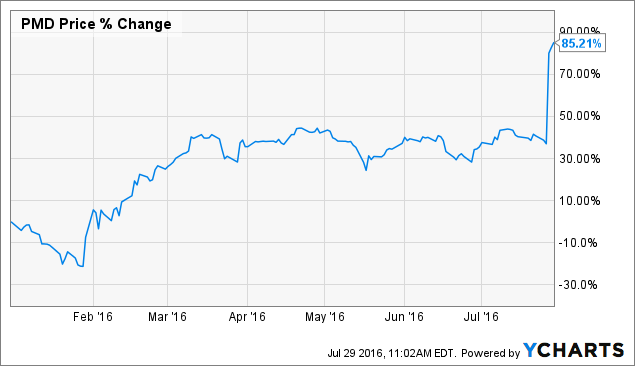 I'm pleased we are finally seeing the result of the Brazilian expansion which I've been talking about for a long time now. It took a long time before the legislation was officially passed and longer for it too get implemented. The good thing is it offered us many opportunities to add shares and wait because the one thing that became clear to me over time is that the opportunity is very significant. Brazil has that many drivers and they have to undergo mandatory hair testing for drug abuse every five years.
In my most recent article; 13 million truck drivers forced to undergo hair testing, I wrote:
I understand from the Brazilian media that the test costs $100, it should be paid for by the trucking company instead of the driver and the legislation affects 13 million drivers. Both the cost of the test and the number of drivers exceed my initial projections by two times. The number of drivers affected even exceeds my projection by three times. They will be required to take the test every five years. When discussing this idea as part of my Off The Beaten Path research, I estimated PMD could add between $18 and $33 million in revenue if it grabbed 50% market share in Brazil. That's on a current revenue base of $26 million. Given the numbers now surfacing, I believe my estimate to be highly conservative.
This still rings true when reviewing the quarterly numbers. With testing only just beginning and being "phased" in we are only seeing the beginning of the transformative effect the Brazilian law will have on the revenue and earnings of Psychemedics.
Raymond C. Kubacki, Chairman and Chief Executive Officer:
We have noted since 2013 a significant opportunity in Brazil, and are very pleased to begin to see the results of our efforts and the efforts of our exclusive independent Brazilian distributor, Psychemedics Brasil. This opportunity is to compete for the testing of drugs of abuse required for professional drivers in Brazil. As of March 2016, testing for this opportunity had begun and is being phased in as some states have required additional time to implement the law. Over the last two years, we have made significant investments in equipment, people and an additional facility to handle this business. In the recent past, these investments have impacted earnings and required the Company to take on long term debt. We are pleased about the very positive impact this opportunity had on the revenue and earnings this quarter.
PMD is up ~30% since the earnings release. It's not my expertise whether it will be cheaper to wait a few days to acquire shares but my entire body of research on the company is accessible to subscribers of Off The Beaten Path (note there is a 2 week FREE Trial):
July 2015 Off The Beaten Path recommendation at $12
Other recommendations from newest to oldest:
13 million truck drivers forced to undergo hair testing
Shares should rally 10% to 48%
Market is underestimating significance of Brazil legislation
Psychemedics Corp splitting hair for profits
Even after the jump, the shares still appear underpriced to me, especially as the initial results are truly significant. I'm definitely not a seller and expect results accelerating further as more states implement the law.
Disclosure: I am/we are long PMD.
I wrote this article myself, and it expresses my own opinions. I am not receiving compensation for it (other than from Seeking Alpha). I have no business relationship with any company whose stock is mentioned in this article.