On June 29, 2016 we published the article "Tesla shares will make all-time highs boosted by SolarCity", after Tesla (NASDAQ:TSLA) shares had dropped to an intraday low of 187.87 on June 27, 2016 following Tesla's announcement of its SolarCity (NASDAQ:SCTY) acquisition plans. The article generated higher discussions than we anticipated, with over 230 comments, most of which disagreed with our thesis, with many expecting Tesla shares to drop substantially further.
Here we are today, 30 days later, with Tesla shares trading at 234.29 as of 12:46 PM, July 29, 2016. Tesla shares have increased by $46.42 since June 27 low, an appreciation of over 24.7% in one month. Meanwhile, Tesla's all-time highs were an intraday level of $291.42 recorded on September 1, 2014, 24.4% higher than current levels; in other words, in merely 30 days, Tesla shares have already appreciated by 44.8% of the amount needed since June 27 lows to make new all-time highs. Most importantly, as we will provide below, Tesla is even better positioned today than it was 30 days ago to make new all-time highs.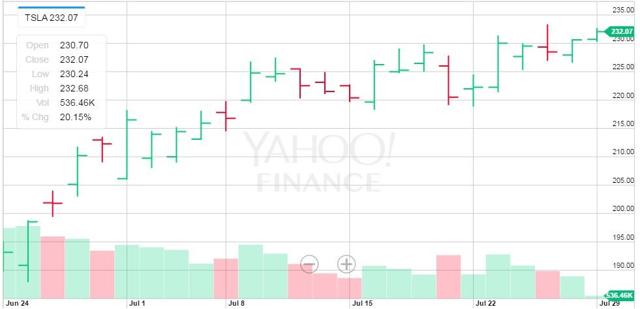 Click to enlarge
Tesla shares 30-day chart - Source: Yahoo Finance
Tesla shares 5-year chart - Source: Yahoo Finance
SolarCity Deal
Tesla shares were hammered about one month ago as a result of the gloom and doom that was painted for Tesla as a result of its announcement of a planned acquisition of SolarCity. We totally disagreed with such widespread assessment as we stated:
When examining the above factors affecting consumer decisions for buying electric vehicles and Tesla, it is evident that SolarCity will substantially enhance Tesla's position by relating to the most important of such reasons. Tesla's integrated ecosystem, encompassing cars, solar generation and storage devices, will offset most of the arguments put forth by skeptics, while it will provide further incentive for consumers to buy Tesla cars, as Tesla meets those exact reasons for which consumers may want to purchase an electric vehicle....

In essence, an ecosystem is indeed at the heart of a successful Tesla cars sales strategy. Such ecosystem is essential for mass adoption of Tesla cars, because such ecosystem provides an answer to most of the reasons for which consumers buy electric vehicles and Tesla: saving money on fuel, reducing environmental impact, diffusion of electric vehicle technology, achieving energy independence and adopting the latest technology.
Most recently, other analysts are reiterating our position, as per latest vote of confidence by Fidelity's Gavin Baker, as reported by Reuters:
"We are fans not just of Tesla products but of the concepts underpinning the firm and potential future partnerships ahead of it," Fidelity Securities Fund Over the Counter Portfolio manager Gavin Baker said in his quarterly commentary for investors.

"We foresee fruitful synergies between Tesla and any company in search of superior battery technology, and we modestly increased our position this quarter."...

Musk, the chairman and chief executive of Tesla, said on July 20 that he is looking to create a "smoothly integrated and beautiful solar-roof-with-battery product."
Furthermore, Elon Musk's recently unveiled master plan reiterated most of our points stated in our June article ahead of such plan. As summarized by The Street:
In his recently unveiled Master Plan: Part Deux Musk explained a Tesla-SolarCity tie-up would allow the singular company to offer a one-stop shop for consumers looking for a cleaner alternative.

Under the new company, there would be electric vehicles and solar panels but connecting all the pieces together is the Powerwall, which works somewhat like a solar powered generator. Consumers can use solar to power their homes in the day time and charge their Powerwall unit, and then at night use the Powerwall during "peak hours" -- such as evening, when solar power is non-existent and when most people are typically in their homes. This helps or even sometimes allows customers to go "off the grid" and have an energy-sustainable house.
In a sense, Musk is creating his own ecosystem. Just as many had once doubted Steve Jobs' vision for his ecosystem (as he was even fired from Apple (NASDAQ:AAPL) at one point), many jumped the gun to criticize Musk and his vision for Tesla's ecosystem...
We have a feeling that the opposition initially voiced concerning the SolarCity deal was less about whether such deal made sense or not for Tesla, and more about that it did not fit what many had been preaching about SolarCity. Many analysts/traders found themselves on the wrong side of the fence as they had expected SolarCity shares to perform less than stellar at best. In the four months leading to Tesla's June 21, 2016 announcement of its acquisition plans of SolarCity, at least four analysts had downgraded SolarCity, including BofA Merrill on 5/10/2016 (from buy to neutral), Avondale on 5/10/2016 (from market outperform to market perform), J.P. Morgan on 2/23/2016 (from overweight to neutral) and Barclays (from overweight to equal weight). Furthermore, as of June 15, 2016, short interest on SolarCity shares stood at 27.2 million shares, representing over 42.6% of SolarCity's floated shares of 63.74 million.
Many analysts had assumed that SolarCity would result in substantial cash drain on Tesla and would drag Tesla down with it. However, SolarCity most recently provided a surprise announcement on July 18, 2016 of having raised $345 million in tax equity and increased its debt aggregation facility by $110 million. As the Wall Street Journal reported:
On Monday, SolarCity announced that it's raised $345 million in tax equity and increased its debt aggregation facility by $110 million. The new financing will be used to build new solar panel projects and will bring SolarCity's total project financing raised in 2016 to $1.5 billion.

The underlying message to Wall Street appears to be that the company is in good financial standing and has the funds and financial support to keep growing, despite any uncertainty with the Tesla deal as well as slower projected growth this year. The company says it worked with 30 different banks and corporate partners on the project financing.
Gigafactory
Tesla has also announced recently that it is ramping up its efforts to complete its $5 billion battery factory in Nevada years ahead of schedule to meet demand for Model 3 and provide power for new types of vehicles. As reported by the Wall Street Journal:
"We have to be ready with cell and pack production well ahead of vehicle production," JB Straubel, Tesla's chief technical officer and co-founder, said during a walk-through of the factory. "We're accelerating our construction plans and accelerating our planned ramp up of cell production."

The goal is to have the factory operational before the launch next year of the $35,000 Model 3 sedan, which is about half the base price of the Model S. Tesla opened reservations for the Model 3 earlier this year, and strong demand led Mr. Musk to pull a 500,000 sales target ahead two years to 2018. He also raised $1.7 billion through a stock offering in hopes of speeding up battery production expected to lower the cost of the batteries for electric vehicles.
Such development places Tesla shares in a stronger position than 30 days ago, as an earlier completion of such factory provides the basis for Tesla to generate substantial cashflow, $17.5 billion, from its 500,000 sales target for Model 3.
Short Interest & Valuations
Short interest in Tesla shares currently stands at 29.3 million shares, representing about 32.98% of float (although Wall Street journal has it at 26.3%). Tesla is expected to announce its earnings on Wednesday after the close, with consensus estimates of a loss of 52 cents and revenues of $1.63 billion. Analysts have an average rating of 2.9 (NYSEARCA:HOLD) on Tesla, with majority ratings at hold or underperform, as per below graphs.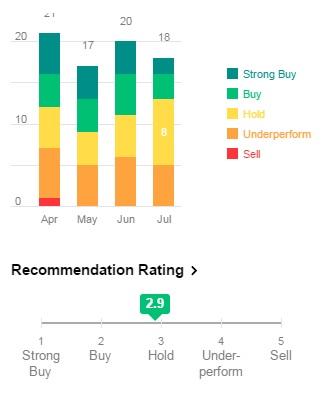 Analysts recommendations for Tesla - Source: Yahoo Finance
Given Tesla's & SolarCity's high short interest as a percent of float, as well as analysts' average hold rating on Tesla, its shares can easily spike higher in case of any positive surprises. However, it is unlikely that focus will be on the current earnings performance for last quarter, as opposed to the future outlook. By traditional means. there is no question that Tesla's current valuation are rich, with forward P/E ratio of over 80 for next year. We typically do not like high forward P/E ratios for stocks that have very large market capitalization, such as Amazon (NASDAQ:AMZN), with market capitalization of over $360 billion. However, we do believe that Tesla's market capitalization of $34.5 billion does provide room for substantial growth in case Tesla delivers on its promises, given the uniqueness of its products.
Conclusion
Since our June 2016 article, we believe the prospects for Tesla are even stronger as a result of A- the accelerated timeline of Tesla's Gigafactory, B- the improved prospects for SolarCity, C- Elon Musk's recently announced master plan, consistent with how we viewed the SolarCity acquisition announcement. As a result, we believe Tesla shares are even in better position to make new highs in the future, despite Tesla's rich valuation, as Tesla's market capitalization still has substantial room for growth. We continue to favor buying Tesla shares.
Disclosure: I/we have no positions in any stocks mentioned, and no plans to initiate any positions within the next 72 hours.
I wrote this article myself, and it expresses my own opinions. I am not receiving compensation for it (other than from Seeking Alpha). I have no business relationship with any company whose stock is mentioned in this article.