Cirrus Logic (NASDAQ:CRUS), a supplier of audio codec chips to Apple (NASDAQ:AAPL) and other smartphone makers, reported revenue of $259.4 million for the June quarter, a y/y decline of 8%. Despite this, investors sent the stock up 19% the following day. Why the enthusiasm? It was all in the guidance for the September quarter, a crucial quarter for Apple iPhone suppliers.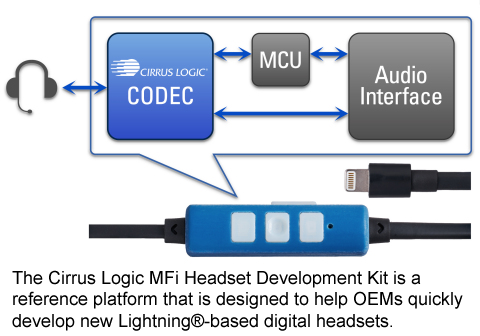 Source: Cirrus Logic
Remarkable Recovery
During its conference call Cirrus management was careful to state that it couldn't go into specifics about its number one customer, Apple. However, in the shareholder letter that accompanied the earnings release on Wednesday, Cirrus acknowledged in effect that Apple still accounts for 68% of its revenue, while Samsung (OTC:SSNLF) accounts for 12%. Cirrus refers to "OEMs 3-10" for the rest of its customers that make up the remaining 20%.
Cirrus provides audio codec chips. What are those? Codec chips provide two crucial functions. They provide decoding of compressed audio typically used in MP3 players and smartphones. This is digital processing of the audio files, usually hard wired into the silicon for speed and low latency. The other crucial function they provide is conversion of the digital data to an analog signal that can actually be played back through headphones or speakers. Codec chips may also contain an audio amplifier that can directly drive a set of headphones.
Teardowns show that Cirrus codecs are found in the latest iPhone 6s as well as the version of the Samsung Galaxy S7 that uses the Samsung Exynos SOC. For the S7s that use the Qualcomm (NASDAQ:QCOM) Snapdragon 820, Qualcomm also provides the codec chip.
Even though Cirrus continues to diversify its product lines and customers, it's hard not to view Cirrus as a proxy for iPhone sales, looking at its revenue history: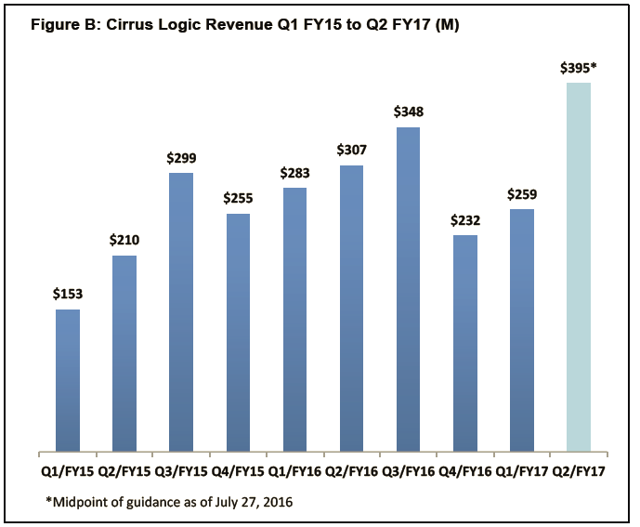 Click to enlarge
The drops in revenue for fiscal 2016 Q4 (calendar 2016 Q1) and fiscal 2017 Q1 (calendar 2016 Q2) seem to correlate with the year-over-year drops in iPhone sales in the March and June quarters. However, Cirrus points out that the drops were mostly due to Samsung dual sourcing the Galaxy S7 series this year, whereas, in 2015, Cirrus had the Galaxy S6 to itself, through its acquisition of Wolfson in 2014.
As the chart above shows, Cirrus is guiding to $395 million in revenue for the September quarter at the midpoint of its range of $380-$410 million, a 29% y/y increase. This is despite the fact that the S7 is still in production and Cirrus is therefore still feeling the effect of dual sourcing. This is a sequential increase of 52%, implying a truly impressive recovery in iPhone sales.
Increasing Content
How much of an iPhone sales recovery is a little difficult to calibrate, however, since the iPhone related Cirrus content appears also to be increasing. How can this be, if Apple is eliminating the headphone jack? I and most other analysts expect the jack to go away, in favor of using the Lightning port. But wouldn't this eliminate the Cirrus codec from the iPhone? It does take away the need for the codec chip in the phone, but it just moves it to the Lightning port headphones. As long as Cirrus gets the business for the headphones, the design change is revenue-neutral.
On June 29, Cirrus announced that it was supplying audio chipsets for Lightning port headphones under Apple's Made For iPhone (MFI) certification program. MFi is a partnership program where Apple certifies compatibility of third party accessories with iOS devices. In effect, Cirrus is offering to other accessory OEMs the chipset it's developed for the next generation Lightning headphones.
Although there has been some speculation that Apple would just supply a Lightning to analog audio adapter, I can't see Apple doing anything so kludgie. It's very likely that Cirrus has the contract for the Lightning headphone chipsets for the next iPhone.
The revenue boost for the September quarter comes then from several sources, including the iPhone 7 launch, sales of chipsets to third party Lightning headphone makers, sales of chipsets for Beats headphones and finally sales of chipsets for Android makers who are also eliminating analog audio output.
In addition, there's a potential for increased chipset content. Digital headphones can be provided with additional noise cancellation capability through the inclusion of small microphones and additional signal processing. This form of noise cancellation can be expected to work much better than older analog "noise canceling" headphones. It's very likely that the next set of Lightning Earpods will include noise cancellation.
Cirrus CEO Jason Rhode had this observation during the conference call regarding the market potential of digital headphones (wired or wireless):
And I just think it's going to end up being a really cool segment. It's pretty rare that there exists a 1 billion-plus unit market out there that traditionally has zero silicon content and suddenly has a strong reason to have an interface device and some level of conversion circuitry and earphone drivers and microphone pickups and whatnot. So that's a really remarkable opportunity and we're very well situated to capitalize on that.
Clearly, the revenue guidance is not all about Apple. Cirrus has some great opportunities ahead of it. Rhode also noted about its revenue guidance:
. . . we're not basing that on any outlandish unit growth in the mobile market.
Okay, so unit growth won't be outlandish, but there's still going to be growth. Given that Apple is still its largest customer, it seems likely that Apple is driving the adoption of digital headphones for iPhone 7 and future iOS devices.
Investor Takeaway
It's nice to see Cirrus stepping out from Apple's shadow, while at the same time providing a positive indicator for iPhone related innovation, as well as positive expectations for iPhone 7 sales. The next iPhone will probably shed some thickness, while offering a better audio experience. A win-win for Apple and Cirrus.
Cirrus did offer this cautionary note regarding its guidance. The company really doesn't have any visibility beyond the September quarter. The September guidance is based on firm orders for product launches such as iPhone 7. Cirrus pointed out that while initial orders are firm, no one, not even Apple, can predict how a new product launch will go.
I remain long Apple and recommend it for investors with a 3-5 year investment horizon. I also recommend Cirrus as a buy. Despite the jump in price, Cirrus has a lot of room to grow.
Disclosure: I am/we are long AAPL, QCOM.
I wrote this article myself, and it expresses my own opinions. I am not receiving compensation for it (other than from Seeking Alpha). I have no business relationship with any company whose stock is mentioned in this article.
Editor's Note: This article discusses one or more securities that do not trade on a major U.S. exchange. Please be aware of the risks associated with these stocks.