In an article posted earlier today, fellow writer and friend Brad Thomas contemplated the topic of whether real estate investment trusts are trading in bubblish territory or not.
First, I'll say that I'm not a fan of opinionated terms like bubble since there really is no universally accepted definition for what constitutes one. Further, the existence of a bubble can only be seen in hindsight.
It is generally accepted that a 20% market decline measured by major market indices is a bear market. Bubble, on the other hand, is a less tangible concept that implies severe overvaluation and herd mentality into an asset, sector, or a more generally, a certain financial space. There does not seem a textbook manner in which to definitively judge one.
Looking back, it seems accepted that the financial crisis was spurred by an irresponsible mortgage lending "bubble" exacerbated by derivatives, then panic, as large financial firms with exposure to the problem started developing liquidity issues.
Ten years earlier, the "Internet/tech/growth stock bubble" ended with dozens of "dot com" flimsy business model bankruptcies and with halving or worse of a giant heap of household name stock prices.
Almost 30 years ago, October 19, 1987, the DJIA lost over 22% of its value in one day - usually referred to as a one-day market "crash" but not necessarily looked upon as a bubble. Read about other historical asset bubbles here.
Assuming the price of oil remains at depressed levels for an extended period of time, I think it would be fair to say that the $100/bbl oil we generally saw from 2011 until 2015 was a bubble. Although, again, it seems, for now, not to be referred to as such.
Brad's Conclusion
While accepting that REIT valuations are "lofty," his contention is that we are not in "bubble" territory. His words to that effect:
...we believe that the [REIT] market is not "bubble worthy"
I certainly agree that conventional valuation methodology in terms of FFO would indicate that many REITs collectively are trading at far greater than average levels. However, there are certainly pockets of REIT valuation that have not participated in the multi-year good times.
Hotels, for one, have been condemned by investors for about a year now, as RevPAR and bottom-line trends have become slack. CorEnergy Infrastructure (NYSE:CORR) has seen it both ways over the past year, as pipeline panic sent the stock to $10 a share, but has become a three-bagger if you had the gumption to buy at those lows.
CorEnergy - One-year chart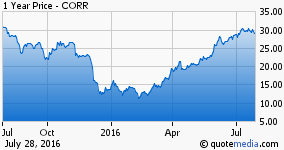 Still, over the past five years, REITs collectively (NYSEARCA:VNQ) have appreciated to astounding levels. This year, they are up roughly 30% from their 52-week lows.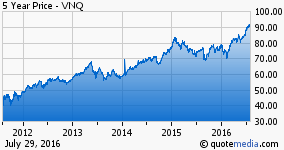 Of course, just because something has appreciated handsomely in value does not necessarily mean it is expensive or overvalued by other non-quantitative methodologies. Indeed, while many REIT watchers started becoming hugely critical of Realty Income's (NYSE:O) valuation at $60 a share, it has risen 20% since then.
Clearly, with 2 million shares trading hands daily over the past six months, there are a whole lot of investors comfortable buying/adding at these levels. "Overvaluation," like "bubble," is an opinion that can only be proven in hindsight. The same could be said for "undervalued."
Like REITs, bonds have been harped on for years as a representative of a bubble. Still, even with the iShares 20+ Year Treasury Bond ETF (NYSEARCA:TLT) now yielding just a tad over 2%, on average, 8 million shares traded daily over the past year.
Those who have been calling for a demise to REITs and bonds have so far been crying wolf.
In terms of predictions, however, without one understanding or defining how much price destruction is necessary for history to refer to the circumstance as a bubble, it's difficult to know whether one can be considered ultimately right or not.
My View
I'll start by stating the fact that REITs are certainly not a homogeneous space. The variety of real estate sectors, tenant types, operating characteristics, and management styles brings plenty of distinctive flavor when looking at the trees in this diverse forest.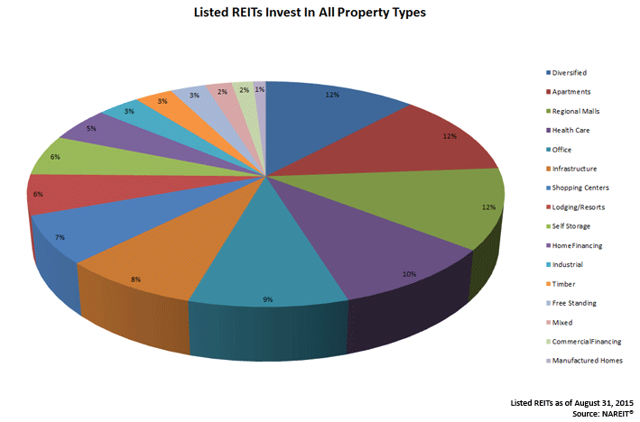 Click to enlarge
Macroeconomically speaking, low interest rates have had a profound impact on REITs. Since exiting the financial crisis, most trusts have had the ability to clean up and lever down risky balance sheets. Real estate fundamentals have largely been stable for most and robust for others.
Given the dearth of yield in risk-free-deemed assets, REIT yields and growth rates have been somewhat of an oasis in what has become roughly a decade-long drought.
Sum of these attractions, I certainly agree with Brad in that prices are lofty. And, fundamentally speaking, when valuations are higher, one is taking on more capital risk when buying at a higher multiple.
That might be true when comparing two securities with equal characteristics, but it's not that simple in determining what constitutes a bubble or not. Investors are taking a variety of fundamental data into account when pricing REITs. Growth rate sustainability, balance sheet health, dividend data, and sector allure relative to other investment options.
Multiple application goes beyond strict quantitative fundamentals.
For the purposes of the rest of this article, I'll opine that a bubble is represented by a 40% drawdown of capital - twice the drawdown required to declare a bear market. If we use that definition, then to opine a bubble, the prognosticator must believe conditions exist that will lead to that kind of selloff.
REIT Bubble Or No REIT Bubble?
Getting back to hotels, it seems to me that we saw a bubble there pop already. Host (NYSE:HST), the luxury hotelier and largest hospitality REIT, saw its stock drop from $24 early 2015 to a low of $12 back in January of this year. Most others have suffered similar price drawdowns. However, most have also bounced off those lows. Host as an example is up from $12 to $17.
Once investors started sniffing out growing RevPAR weakness, it was a rush for the exits last year. Late 2015, tax loss selling as well as this year's broad sell-off probably also contributed.
The question for other subdivisions is whether real estate fundamentals are starting to deteriorate in other spaces, leading ultimately to a hotel-like breakdown.
On a macro level, higher rates could easily lead to a huge REIT sell-off, especially those with a box full of longer-term lease deals. Triple-nets, healthcare, industrial, and office could be vulnerable from that angle. A recession could create NOI volatility, especially if the REIT has not-so-creditworthy tenants.
To think that we are in a wholesale bubble right now, you need to believe one of two things:
The Fed has cause to start tightening with abandon, which creates a deep bond sell-off, pulling REITs along with it.
We enter a rather deep recession where real estate operating fundamentals are impacted.
In my opinion, Door #2 is probably more likely today than Door #1, although I don't see either scenario as highly likely. From that angle, I'd probably agree with Brad that while REITs are highly vulnerable given their various growth/operating sensitivities, there is not a 40% decline in the immediate offing. So no bubble for me either.
Investors should remain vigilant in watching the economic story unfold, however. If you own a REIT with a 20+ FFO multiple growing only mid-single digits, it wouldn't take much for the market to re-price that kind of growth into a low-teen multiple (40% sell-off - a la hotels). Storage, apartments, and NNNs may be the most vulnerable in that regard today.
Still it would take a lot for Realty Income's price to move from $72 to $43 (40% sell-off). I'm not going to put a lot of money on that bet ever panning out. The catalysts, in my mind, are just not there at present. It doesn't mean they couldn't materialize.
Strategy Session
While there may not be a bubble here, it doesn't mean that it's prudent to up exposure or go on a new portfolio shopping spree, either. If you find yourself way overweight REITs, now may not be the worst time in the world to trim exposure and seek out C-corps with more attractive valuations, growth rates, and yields.
Despite my appreciation for the growth story, I'm having trouble getting excited about something like STORE Capital (NYSE:STOR) at a 3.5% yield point and its parabolic looking chart. I'm not a buyer here, but not a seller yet either.
I've sold near-the-money calls on other positions that I'm willing to lighten up on. That's probably not a bad idea for income seekers either. I would caution against the itch to short however, as that appears to be hurting those that may be looking at the situation too simplistically. A freight train doesn't usually stop on a dime.
I did buy two hotel REITs recently as more of a speculation than anything else at this point: Hersha (NYSE:HT) and Chatham (NYSE:CLDT). Despite softening conditions, I think too much bad news was priced in for two REITs with decent growth trajectory even in lukewarm economic times. Hersha just guided lower and Chatham reports next week.
I'm a fan of clean energy yieldcos as somewhat of an elevated-risk alternative with REIT-like yields. Pattern Energy (NASDAQ:PEGI) and NRG Yield (NYSE:NYLD), yielding 6.4% and 5.1%, respectively, have had nice runs, but look to be growing the dividend better than 10% for the foreseeable future.
Elsewhere for qualified yield, I've become a big fan of B&G Foods (NYSE:BGS), yielding 3.25%, which is hitting the ball out of the park with its acquisition of Green Giant.
In the MLP space, I like amusement park company Cedar Fair (NYSE:FUN), which yields 5.5 percent. I recently had the chance to visit and stay at its flagship park, Cedar Point in Sandusky, Ohio. It seems to be building a small-scale Disney (NYSE:DIS)-type experience for guests, which I think bodes well for recurring attendance. It is also implementing ancillary revenue generating ideas across its parks.
More speculatively in the amusement park space, take a look at SeaWorld (NYSE:SEAS), which has lost half its value due to fallout related to its handling of killer whales. The company is struggling to resume the growth trajectory, and net free cash flow is barely covering the 5.5% dividend. I have had my finger on the buy button, but have yet to pull the trigger. I don't have enough confidence in the company's ability to gain share.
Overall, I continue to be cautiously optimistic with regard to REITs and the market as a whole. But I don't think this is the time to get a big head or become insanely aggressive either, as equities are clearly vulnerable. Interest rates still don't look prime to elevate in a meaningful way, which continues to add near-term fuel to the continuing REIT growth story.
Disclosure: I am/we are long BGS,PEGI,CLDT,HT,NYLD,STOR,FUN.
I wrote this article myself, and it expresses my own opinions. I am not receiving compensation for it (other than from Seeking Alpha). I have no business relationship with any company whose stock is mentioned in this article.
Additional disclosure: Disclaimer: The above should not be considered or construed as individualized or specific investment advice. Do your own research and consult a professional, if necessary, before making investment decisions.