Yamana Gold Reports Weak Second-Quarter Results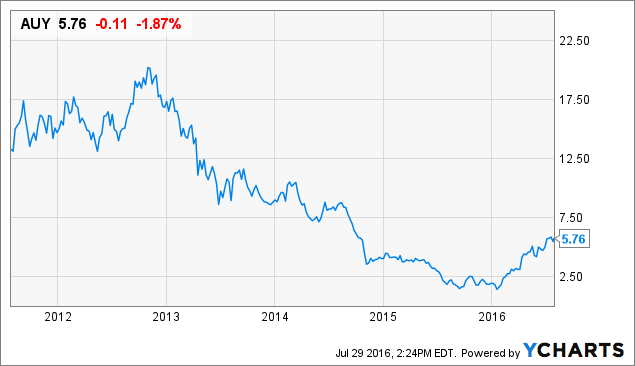 AUY data by YCharts
Yamana Gold (NYSE:AUY) has reported its Q2 2016 financial results, and it wasn't a good earnings report by any means and the stock is down more than 1.5% as a result. In this article, I'll discuss what went wrong this quarter and give my thoughts on whether or not investors should consider selling.
Here are the highlights of Yamana's Q2:
Total gold production was 313,086 ounces, with all-in sustaining costs coming in below $1,000 per ounce at $964, however, this is up from $860 an ounce last year.
The company reported an average realized gold price of $1,267 per ounce, compared to $1,195 in the year-ago quarter.
Silver production finished at 1.8 million ounces with all-in sustaining costs of $12.08 per ounce. Production was down from last year, while costs rose slightly.
Copper production decreased significantly, from 33.6 million pounds to 23.2 million pounds, at Yamana's Chapada mine. Copper AISC rose from $1.69 to $2.43 per pound.
Revenues were $466.5 million, with net earnings of $32.9 million ($.03 per share), down from $.04 per share last year.
Net free cash flow improved to $37.4 million, a $15.2 million increase. However, this is also down quite a bit from the $56 million in free cash flow reported last quarter.
Overall it was a disappointing quarter, as Yamana did not benefit that much from higher gold prices. Gold production was up from last year, however, cash costs rose and net earnings were basically the same from last year even with higher gold prices.
Second quarter operations were in line with previous expectations, however, the one issue this quarter from Yamana came at its Chapada mine. The company said several factors impacted production in Q2, including a mechanical failure with its crusher and several weather related issues that made it harder to access higher grade ore body. Management says the crusher is now operating as expected, and says the team has developed and initiated a plan to improve its reliability.
Due to the issues at Chapada, the company has reduced guidance and now expects 110 million pounds of copper and 106,000 ounces of gold production in 2016. The issues at Chapada is also bad news for Sandstorm Gold (NYSEMKT:SAND), which paid $70 million for a large copper stream on Chapada, which was part of a larger $152 million multi-asset stream agreement.
The copper stream details are as follows: Sandstorm can purchase 4.2% of the copper produced at Chapada, up to a maximum of 3.9 million copper pounds, until Yamana has delivered 39 million copper pounds, then the stream drops to 3% until 50 million pounds of copper have been produced, then finally, drops to 1.5% of the copper produced for the remaining mine life.
This news will definitely impact Sandstorm's earnings and cash flow in the short-term. It's something investors need to keep a close eye.
Meanwhile, Yamana is maintaining its goal of decreasing its net debt by at least $300 million by the end of 2017, and there are $113 million in scheduled debt repayment between now and then. Higher gold prices should help the company achieve this goal, even with the production issues at Chapada.
In addition, Yamana says it has agreed to sell its Mercedes Mine in Mexico to Premier Gold Mines (OTCPK:PIRGF), for $122.5 million in cash, 6 million Premier common shares and 3 million warrants, so the company should definitely be able to meet this debt reduction goal.
On another bright note, Yamana reported strong production and low cash costs at its 50%-owned Canadian Malartic mine, and saw improved performance at its Gualcamayo mine in Argentina and the Jacobina mine in Brazil.
In conclusion, I thought this was a really poor quarter from Yamana and it's not certain if the issues at Chapada were one-time or not. I think there are much better opportunities out there in the gold market at present, and among the majors, I think Barrick Gold (NYSE:ABX) has had the best earnings report. To see which other gold stocks I am bullish on, take a look at my real-life holdings.
Disclosure: I am/we are long SAND.
I wrote this article myself, and it expresses my own opinions. I am not receiving compensation for it (other than from Seeking Alpha). I have no business relationship with any company whose stock is mentioned in this article.
Editor's Note: This article discusses one or more securities that do not trade on a major U.S. exchange. Please be aware of the risks associated with these stocks.