The UBS ETRACS Monthly Pay 2x Leveraged US High Dividend Low Volatility ETN (NYSEARCA:HDLV) was recently rebalanced again on July 11th. HDLV is a 2x leveraged ETN that owns high dividend, low volatility stocks, a potentially lucrative combination. HDLV currently has a ttm yield of 8.63% according to Morningstar.
HDLV has continued its powerful ascent over the past 1 year period, with an explosive +52.50% total return. In comparison, the benchmark, the UBS ETRACS Monthly Reset 2x Leveraged S&P 500 total Return ETN (NYSEARCA:SPLX) returned +9.43%.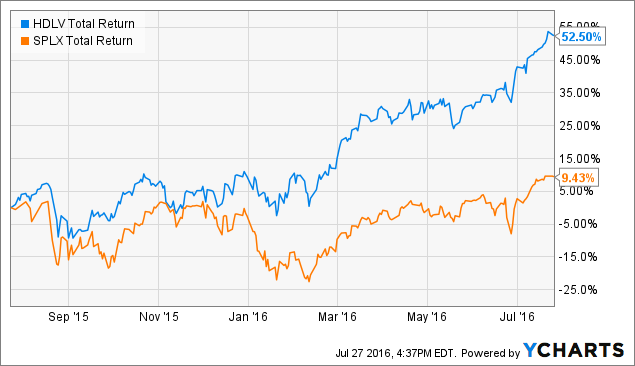 Because HDLV runs a very highly concentrated portfolio, it is instructive to examine the index changes at every rebalance, which is performed quarterly. This could allow investors in the fund to assess whether they are still comfortable with the top holdings or not.
Where's Verizon?
The following table shows the allocation of HDLV at the current rebalance, versus the previous weighting in April of this year. The top 10 holdings of HDLV account for 62.20% of the fund, down from 65.80% last quarter.
Jul. 12, 2016
Apr. 11, 2016
Name
Ticker
Weighting / %
Name
Ticker
Weighting / %
AT&T Inc.
(NYSE:T)
10
Verizon Communications Inc.
(NYSE:VZ)
10
Ford Motor Company
(NYSE:F)
10
AT&T Inc.
T
10
General Motors
(NYSE:GM)
10
Ford Motor Company
F
10
Southern Co.
(NYSE:SO)
7.64
General Motors
GM
9.05
Welltower Inc.
(NYSE:HCN)
4.87
Duke Energy Corp.
(NYSE:DUK)
6.35
CME Group
(NASDAQ:CME)
4.70
Southern Co.
SO
5.78
Weyerhaeuser Co.
(NYSE:WY)
4.64
L Brands
LB
4.12
Ventas Inc.
(NYSE:VTR)
4.08
Weyerhaeuser Co.
WY
3.68
Entergy Group
(NYSE:ETR)
3.21
Welltower Inc.
HCN
3.43
Annaly Capital Management
(NYSE:NLY)
3.06
Ventas Inc.
VTR
3.39
Top 10 total
62.20
Top 10 total
65.80
The top 10 holdings are also shown in the graph below: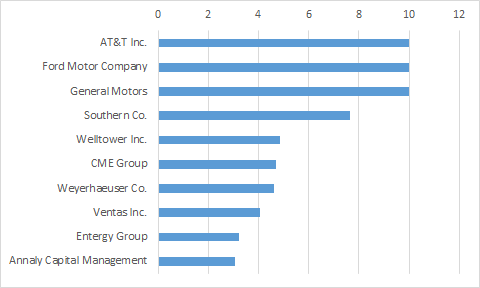 The first thought that came into my mind when examining the new top 10 was: where's Verizon? This telecommunications giant has been in the fund as long as I remember. I even viewed VZ as a kind of "anchor" for the fund (along with AT&T, which is still here), as it was always present at the maximum 10% allocation of HDLV. Where did Verizon go?
Comparing the dividend yield and volatility of VZ and T over the past 6 months may give us some clues.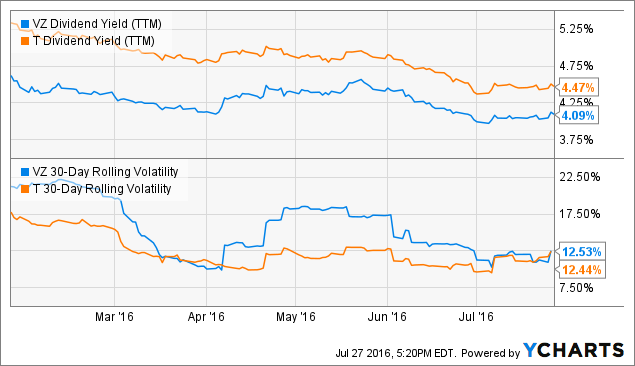 VZ Dividend Yield (TTM) data by YCharts
We can see from the chart above that VZ's yield had fallen to nearly 4% as its share price had appreciated over the past several months. In fact, VZ's current yield is lower than any of the other constituents in the top 10, and indeed in the entire index. The bottom panel also shows that VZ was generally more volatile than T over the past 6 months. However, I consider that low dividend yield is the reason that VZ was dropped from HDLV.
Another stalwart that has been dropped from this month's rebalance is Duke Energy. Let's compare the metrics for DUK versus new top 10 entrant Entergy Group to see why one was replaced by the other.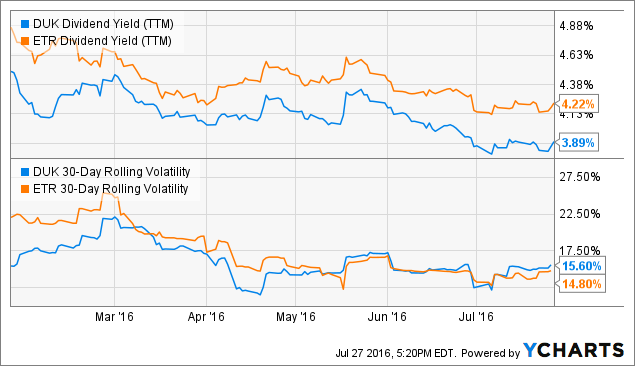 DUK Dividend Yield (TTM) data by YCharts
A similar story appears to have played out for DUK. At a ttm yield of only 3.89%, DUK must have been excluded in favor of other higher yielding stocks.
Dividends
It is pleasing to see that the monthly distributions paid out by HDLV have been on an upwards trajectory since inception. To smooth out fluctuations in monthly dividends, the graph below shows the total dividends paid out on a trailing 3 months basis. The last three monthly dividends totaled $0.76, which is some 14% higher than the corresponding amount 1 year ago.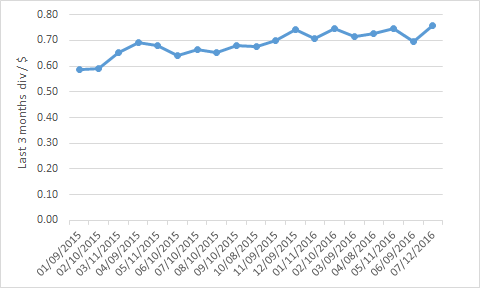 It should be borne in mind though that some of the increase of the distribution is due to the increase in value of the fund (rather than any underlying dividend raises of the constituents). This is because as a 2x leveraged fund, HDLV must buy more stocks when assets go up, which will necessarily increase dividends. It is important to remember that the reverse is also true -- if HDLV falls in price, distributions will go down.
HDLV currently has a ttm yield of 8.63% according to Morningstar.
Summary and outlook
Like when Altria (NYSE:MO) and Philip Morris (NYSE:PM) were dropped from HDLV, the removal of VZ from the index gives me mixed feelings. On the one hand, there is a sense of nostalgia because VZ has been in the index since inception, and was a company that I have considered to be an anchor of the fund. On other hand, the fund is executing a "buy low sell high" strategy where it sells low yielding stocks and replaces them with higher yielders. For example, new top 10 entrant NLY has a juicy dividend yield of 11%, nearly three times that of VZ.
In terms of sector diversification, one might consider it a benefit now that there is only one telecommunications giant in the top 10 (T at 10%), rather than two (which would have together accounted for 20%). The fund is relatively overweight in motor stocks, with F and GM each accounting for 10% of the fund (total 20%), which can be concerning for some investors. The remainder in the top 10 is a pleasing mix of mainly REITs and utilities.
In other articles, a number of readers have asked, if high-dividend low-volatility has done so well recently, why even consider any other type of factor tilt? Well, as happy as I have been with my holdings in HDLV and the PowerShares S&P 500 High Dividend Low Volatility Portfolio (NYSEARCA:SPHD), another high-dividend low-volatility ETF (both funds are core constituents of the Cambridge Income Laboratory portfolio), I am cognizant of the fact that outperformance by a particular factor or set of factors is unlikely to last forever. In fact, HDLV performed similarly to its benchmark in the first year or so of its lifetime since inception, and it has really only been in the last 8 months that its performance has really taken off.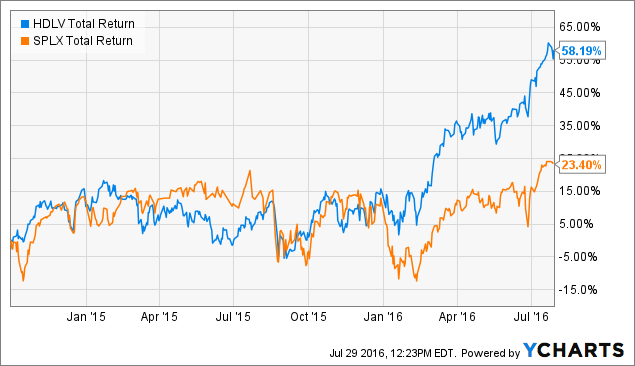 HDLV Total Return Price data by YCharts
If you have enjoyed my article, please consider clicking the "Follow" button next to my name to be alerted to my new content!
Author's note
If you have found my articles useful in the past, please consider subscribing to the Cambridge Income Laboratory to receive my best trade ideas in advance, view my personal ETF/CEF income portfolio, request ETF/CEF analysis, and be alerted to possible fund misbehavior.
Disclosure: I am/we are long HDLV.
I wrote this article myself, and it expresses my own opinions. I am not receiving compensation for it (other than from Seeking Alpha). I have no business relationship with any company whose stock is mentioned in this article.