I've written quite some macro articles during the last weeks. This article is going to be different. I got a ton of requests to write about market neutral spread trades because many people distrust the current market moves but still want to be invested.
First of all, thank you for your requests. I really appreciate it.
This article is about two companies. Home Depot HD and Pulte Group PHM. Both companies are depending on a strong housing market. Pulte even more than Home Depot since Pulte is a builder. Home Depot is a DIY store chain that benefits even when people renovate houses rather than building a new one.
The graph below shows the correlation between building permits growth and the iShares S&P Homebuilders ETF XHB stock performance. Note that XHB contains not only homebuilders but also DIY companies like Home Depot and building suppliers. Furthermore, building permits are the most important leading indicator when it comes to housing. There is no better indicator whatsoever.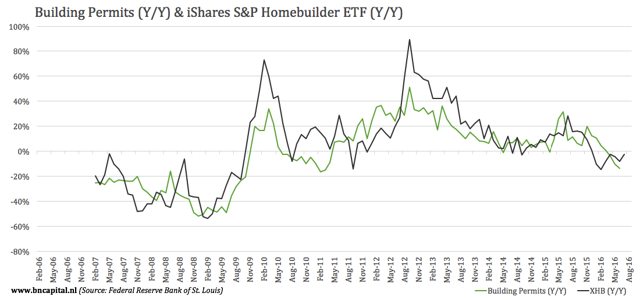 Click to enlarge
We are at a point where stocks and building permits are diverging. Points like these are the main bull case for trades like long HD and short PHM. Look at the PHM stock price below. The stock exploded more than 500% between 2011 and 2012. Since then, the stock has gone sideways. That is the main problem with homebuilders. They are only interesting when housing is gaining momentum.
The graph below shows building materials, garden equipment and supplies retail sales and Home Depot. I found out that this is the best coincident indicator to use when analyzing Home Depot.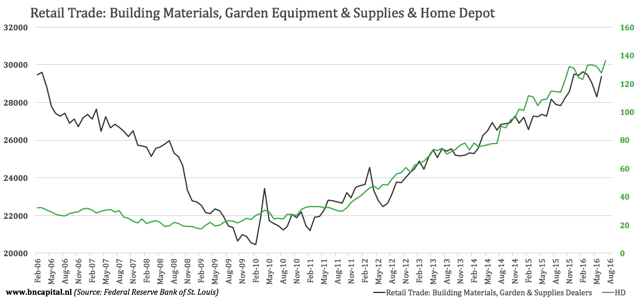 Click to enlarge
Building materials retail sales have gone up constantly since 2009. As you can see, Home Depot stayed flat in times of lower/flat retail sales.
The bull case for this trade is the fact that building permits are slowing which puts tremendous pressure on Pulte Group. In addition to that, Pulte's stock price has soared almost 40% since the February bottom. Home Depot is still benefiting from rising retail sales which adds to upside momentum.
The graph below shows inverted building permits growth and the ratio spread of HD and PHM.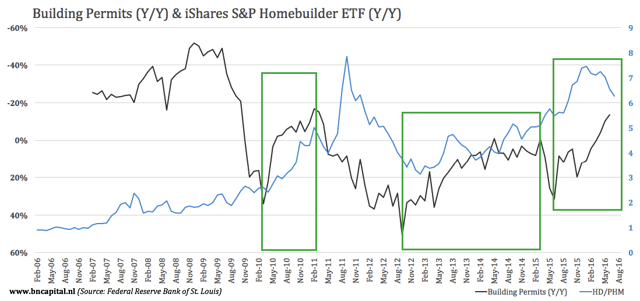 Click to enlarge
I strongly believe that this spread has bottomed. I bought Home Depot and shorted Pulte Group. The spread was at 6.32 at the point I opened the trade.
But remember, this trade not based on the idea of PHM falling. It would be great if the stock fell after shorting it, but it is not the main goal. This trade makes money if HD outperforms PHM. Therefore, there is no correlation versus the S&P 500. A simple intra sector, cross industry trade.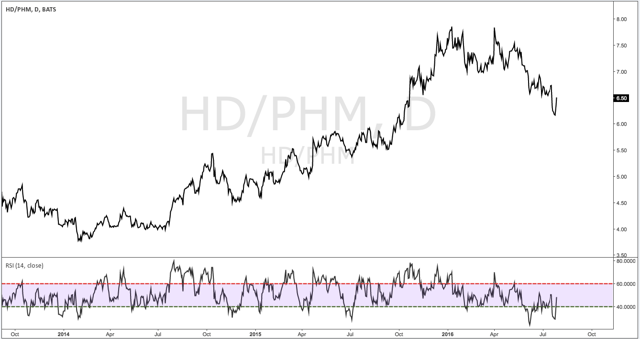 Click to enlarge
Thank you for reading my article, I hope you enjoyed this article. Feel free to leave a comment when you have a question or remark.
Disclosure: I am/we are long HD.
I wrote this article myself, and it expresses my own opinions. I am not receiving compensation for it (other than from Seeking Alpha). I have no business relationship with any company whose stock is mentioned in this article.
Additional disclosure: The HD long position has been hedged with a PHM short position