Click to enlarge
Source: Apple Inc.
Despite an earnings release that showed yet another quarter of falling revenue, and iPhone sales, Apple (NASDAQ:AAPL) shares are up 4.5% over the past two days. Let's take a closer look at what Apple's latest results mean for long-term dividend growth investors. Specifically, find out why Wall Street is ignoring what appear to be crummy results, and why you should too. Most importantly though, find out where the future of Apple's cash flow and dividend growth will come from, and why Apple remains a great "buy" even after its recent pop.
Plunging sales figures aren't nearly as important as they seem
Source: Earnings release

| | | |
| --- | --- | --- |
| Metric | Q3 2016 YoY change | Q1-Q3 2016 YoY Change |
| Revenue | -14.6% | -7.4% |
| Net Income | -27.0% | -13.2% |
| EPS | -23.2% | -8.7% |
| Free Cash Flow | -40.1% | -33.0% |
| FCF/Share | -37.7% | -33.6% |
| Dividend | 9.6% | 10.3% |
At first glance Apple's latest quarterly results are ghastly, with sales, earnings, and especially free cash flow falling off a cliff. And while the year-to-date results are far better, they still represent potentially frightening declines in Apple's key hardware markets.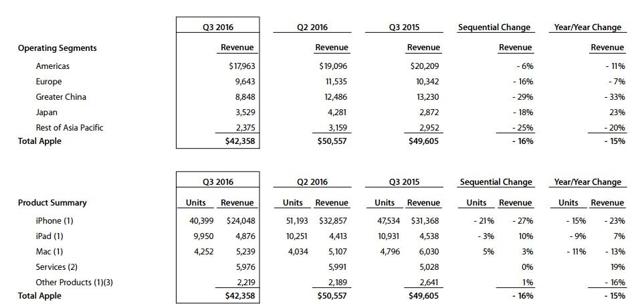 Click to enlarge
Source: Apple earnings release
Fortunately these sales declines were to be expected, since Apple's refresh cycle is in the fall. With a new iPhone and new and improved Macs set to be released soon, these kinds of large sales declines, largely due to the epic adoption of the iPhone 6 in 2015, shouldn't be repeated in 2017.
One billion iPhones sold: the cornerstone of Apple's bright dividend future

Click to enlarge
Source: Apple earnings release
The only positive thing in Apple's latest earnings report was its impressive growth in ecosystem service sales, which were up 19%. And with the company recently announcing a historical milestone of one billion iPhones sold, investors can likely expect this high margin business segment to continue growing well for many years to come.
That's especially true with Apple investing heavily into improving its service offerings, including recent additions such as CarPlay, Apple Pay, and aggressive expansions into music streaming. Then there's the heavy spending on Project Titan, for which Apple continues to steal key employees from both the automotive and software industries.
While it's far too early to speculate whether or not Apple plans to challenge Tesla (NASDAQ:TSLA) in the premium EV segment, at the very least Project Titan seems to be an investment into Apple's continued vertical integration of iOS into every aspect of consumers' lives, such as the home, cars, as well as cloud based services.
This increasing focus on software and services, which is also being pursued by rival tech firms such as Microsoft (NASDAQ:MSFT), signals Apple's realization that its hardware divisions need strong support. While hardware is likely to always represent the core of its sales and cash flow, Apple knows its ecosystem needs to be aggressively defended by strong software offerings that keep its customer satisfaction extremely high.
Why Apple is likely to do well in the future

Click to enlarge
Source: Apple earnings release
Consumer technology is an extremely fast paced and ever changing industry, which is why Apple isn't resting on its laurels. In fact, in the past quarter, and the first three quarters of fiscal 2016, Apple increased its R&D spending by 26%, and 28%, respectively. In fact, last quarter's R&D spending was 6.1%, the highest in the company's history.
More importantly, according to CEO Tim Cook, "The products that are in R&D, there is quite a bit of investment in there for products and services that are not currently shipping or derivations of what is currently shipping." Which means that the new products that investors and Apple critics alike have been clamoring for, are likely to launch over the next year or two.
Combined with fast growing iOS services, and joint ventures with Cisco (NASDAQ:CSCO), and IBM (NYSE:IBM) into the enterprise sector, Apple's future non-iPhone cash flow growth is probably due for a pick up over the next few quarters. In the meantime, the company continues with the largest shareholder capital return program in history.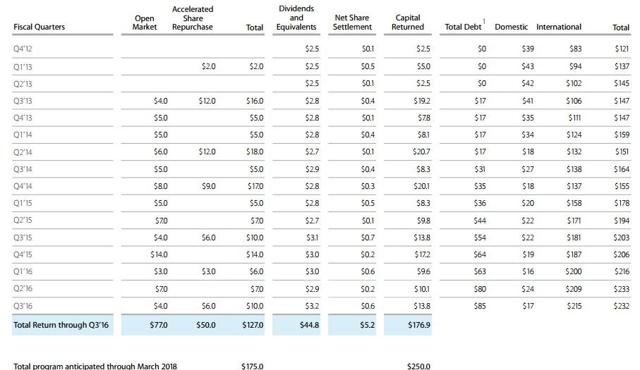 Click to enlarge
Source: Apple Inc.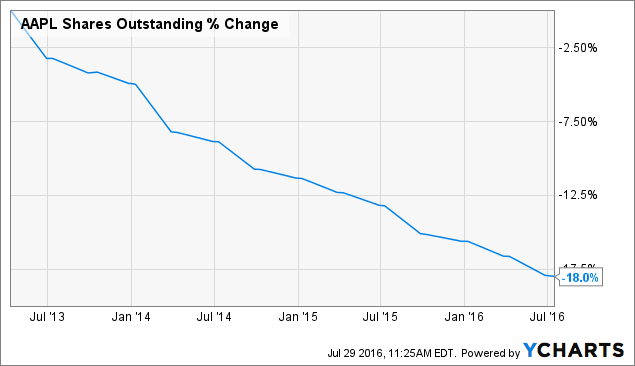 AAPL Shares Outstanding data by YCharts
With its shares so undervalued, Apple is wisely focusing the majority of its $250 billion program on buybacks. However, dividend investors need to keep in mind that a falling share count means higher FCF/share, a lower payout ratio, and thus the ability to potentially grow the dividend by double digits for far longer while maintaining strong payout security.
Deeply undervalued shares in an overheated market
Source: Fastgraphs, Ycharts

| | | | | |
| --- | --- | --- | --- | --- |
| PE | 10 Year Average PE | Price/Free Cash Flow | 10 Year Median P/FCF | Average Historic Discount |
| 12.18 | 25.74 | 11.63 | 13.05 | 31.1% |
Despite being a perennially undervalued company, Apple's recent growth troubles have resulted in shares that are massively undervalued, even relative to the low multiples of recent years.
Which means that, even after the post earnings bump, Apple shares trade at an attractive price for either starting, or adding to one's position. That's especially true given how undervalued the company is on a longer five year, and 10 year time horizon.
Source: Morningstar

| | | |
| --- | --- | --- |
| Morningstar Fair Value Estimate | Current Share Price | Discount to Fair Value |
| $133 | $104.34 | 27.5% |
For example, according to Morningstar Analyst Brian Colello, Apple shares are currently 27.5% undervalued relative to its five year fair value. Don't get me wrong, no single analyst estimate should be the sole basis for buying a stock. However, Morningstar's conservative, long-term, fundamentals focused approach to valuing companies means that its intrinsic value estimates are far better than Wall Street's short-term price targets for determining whether or not various companies are worth buying at current prices.
For example, Mr. Colello's valuation model assumes 8% sales decline in 2016, and a 4% rise in 2017 revenue thanks to the launch of the iPhone 7. More importantly, he believes that Apple can maintain around a long-term top line growth rate of 4%, based on mid-single digit iPhone growth going forward, and continuing strong growth in iOS ecosystem services.
Regarding Apple's industry leading margins, his model takes into account gradually falling margins, from 40% today to 38% in 2020. In addition, he factors in operating margins declining from 30.5% to around 25% due to massively increased R&D spending. That's to help continue innovating Apple's all important ecosystem, including ongoing service improvements in Apple Pay, CarPlay, and, potentially all new product categories such as an electric car via project Titan.
It's thanks to these reasonable, and achievable growth targets that I believe Morningstar's five year fair value estimate is reasonably accurate.
Sources: Fastgraphs, Gurufocus, Morningstar

| | | | | |
| --- | --- | --- | --- | --- |
| TTM FCF/Share | Projected 10 Year Growth Rate | DCF Fair Value Estimate | Implied Growth Rate | Margin of Saftey |
| $8.97 | 9.9% | $193.54 | -0.9% | 46% |
Looking out further, to a 10 year time horizon, which I think is the longest one can realistically project out for the consumer technology industry, I estimate Apple's fair value for investors with a 10 year time horizon to be $193.54. That estimate is based on the latest analyst estimates for Apple's short-term growth, a 5% top line growth rate beyond the current decade, and a discount rate of 9.1%; equal to the S&P 500's historical return of 9.1%.
Now I'm the first to admit that all discount cash flow analyses need to be taken with a grain of salt, as they are just one data point. That being said, given that the market is essentially pricing in -0.9% growth into Apple's shares, I think it's safe to say that long-term investors are likely to beat the market at current prices. That's because, as long as Apple can maintain any kind of top and bottom line growth over the next decade, it's likely to easily beat Wall Street's increasingly low expectations.
In addition, historically a good rule of thumb for projecting long-term total returns is yield + dividend growth.
Sources: Yahoo Finance, Factset Research, Fastgraphs, Multpl.com, Moneychimp.com, Ycharts

| | | | | |
| --- | --- | --- | --- | --- |
| Company | Yield | TTM FCF Payout Ratio | 10 Year Projected Dividend Growth | 10 Year Projected Total Return |
| Apple | 2.2% | 24.0% | 8.9% | 11.1% |
| S&P 500 | 2.1% | 39.1% | 5.8% | 9.1% |
As you can see, while Apple's current payout is basically equal to the broader market's, analysts expect its dividend to grow far quicker. In fact, based on the company's track record of dividend hikes thus far, as well as its low free cash flow payout ratio, I believe Apple can beat the above dividend growth forecast, and deliver 10% dividend growth over the next decade.
Which would mean a projected total return of 12.2% at today's price; far in excess of what this overheated market is likely to be able to deliver over the next decade.
Risks to consider
As a long-term dividend investor I'm not so much focused on Apple's short-term results, but on its ability to evolve, and prosper over the next five, 10, and 15 years. Which is why I think it's important for investors to understand the underlying growth drivers, and the risks, the company faces over the short, medium, and long-term.
In the short-term, Apple's sales, earnings, and cash flow will continue to be dominated by iPhone, and thus swing along with the smartphone's upgrade cycle.
With rumors that the iPhone 7 is likely to be another iterative update, as the company potentially transitions to a three year upgrade cycle, investors need to be prepared for 2017 to be another relatively weak year when it comes to sales, and earnings growth. Which means that Apple's shares might remain undervalued until its iTunes and App store sales can scale up to offset weakness in its hardware division.
Meanwhile, Apple's medium-term growth prospects will be dependent on the pipeline of new products and services Tim Cook hinted at during the conference call. Which means that Apple bulls will be trusting management to spend all that extra R&D money wisely, and continue generating strong returns on investor capital.
Just remember that, with the massive scale of its existing sales, there's always a chance that whatever Apple has in the works might fail to move the needle in terms of percentage growth. Which could mean failure to meet lowered market expectations and stagnating, or even slightly contracting valuation multiples.
Finally, for the longest time Apple longs have hung their hopes for strong ongoing top line growth on Apple's expansion into emerging markets such as India, and China. Apple's status as an aspirational brand is likely to mean strong absolute sales in these countries, thanks to their fast growing middle classes. However, the risk remains that without sufficient innovation and ecosystem differentiation, Apple's growth in emerging markets might end up letting down investors.
After all, smartphones, tablets, and laptops are increasingly becoming commoditized products, with fierce competitors such as Xiaomi and Huawei offering far cheaper alternatives to Apple's iPhone and iOS. The recent massive sales growth of these competing brands shows that Apple's biggest long-term risk is failing to win the loyalty of the world's future tech consumers. This is especially true since there's always a chance that consumers in these countries might not be willing to pay the premium Apple demands for its top end products, and services.
Then there's the fact that Apple's narrow moat is predicated on moderate, though not insurmountable ecosystem switching costs. That means that, should Apple rest on its laurels when it comes to hardware innovation, even its existing base of loyal customers might start to abandon it in the coming years. That's especially true given the levels of competitive pressures in the world of android smartphones.
With large, well capitalized firms such as Samsung, Lenovo, and LG fiercely competing to differentiate and win customers at the top of the smartphone market, Apple needs to stay on its toes lest its phones fall too far behind technologically speaking. That would greatly increase the risk of brand deterioration, resulting in falling pricing power, declining margins, and sales growth that misses even far more modest market expectations.
Bottom line: Apple's long-term investment thesis remains intact
Like other mature tech companies such as Cisco , Microsoft, Intel (NASDAQ:INTC), and IBM , Apple's hyper-growth days are likely behind it. However, that doesn't mean that Apple can't reward patient, long-term dividend investors with solid, secure, and growing income, as well as market beating returns over the coming years.
The fact is that Apple is in the middle of a transition away from iPhone dominated growth, and towards a more diversified business model, one focused more on monetizing its already enormous iOS ecosystem. That means that growth, while likely to continue, is likely going to be slower and more volatile.
Fortunately, thanks to its strong brand, loyal customer base, and massive free cash flow stream that funds a continuous decline in share count, Apple's dividend growth prospects remain both strong, and secure enough to make it one of the best dividend stocks you can buy today.
Disclosure: I/we have no positions in any stocks mentioned, and no plans to initiate any positions within the next 72 hours.
I wrote this article myself, and it expresses my own opinions. I am not receiving compensation for it (other than from Seeking Alpha). I have no business relationship with any company whose stock is mentioned in this article.