Exchange Bank (OTCPK:EXSR) continues to benefit from provision reversals supported by a bloated allowance account. While most prudent banks set aside for losses ~1.25% of their loan portfolios, EXSR's reserve balance stands at 2.85% (of gross). And that's even after a couple years with two well pronounced counter trends (lowers ratio) - loan growth and provision benefits. Over the past two years, both have been valuable, no doubt, but from a long-term perspective, the growth half of this equation was lacking, until recently.
2Q results (here and here) show the loan portfolio up 9.34% YOY, fueled by double-digit growth in real estate and consumer loans, and despite a 5.93% fall in commercial. Capacity is all around (year-ago and present gross loan/deposit ratios of 70.15% and 72.3%, respectively), and while some of it was expended this year, the amount remaining is both a large earnings lever and a source of comfort for anyone looking for a sleep-easy option. Think about it, the bank's balance sheet is set up to bring in ~$34 million in pre-tax income, and there's already $37.8 million in pre-tax income set-aside for losses.
If everything hits the fan, these two front-line defenses provide for above-average coverage before we even start to talk about damage to the $183 million equity account. And, if you think a bank with low leverage and double-digit returns is worth at least tangible book value, then you don't have to start to worry about an equity hit until it approaches $40 million (after taxes). Because that's what the bank would need to lose to pull even with 1X TBV from where it is now at 0.78X.
I'm still looking for total returns that have yet to materialize. But when they come, I have the feeling I'm going to look back and wish I was more aggressive with my purchases. Since my first article on the bank, the dividend is up 100%, and another bump is probably on the way. The YTD payout ratio is just 21%. Sporting a 3.3% yield now puts the bank on par with most community banks, but again all of the value alarms here are ringing.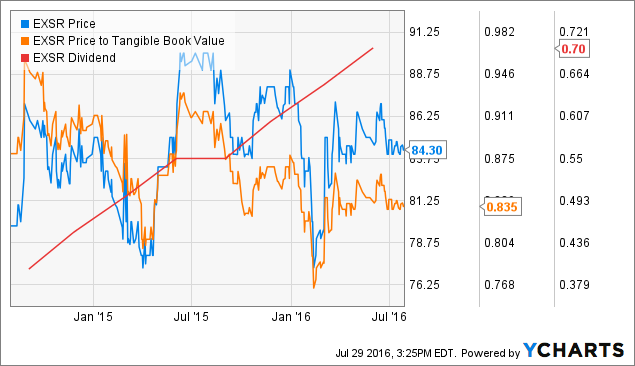 This really does look like one for the little guys. The 50% trust ownership isn't attractive to some/most, but the team here doesn't give any indication that it is hiding behind it, in some cushy boardroom where sleep isn't frowned upon. Which is something I myself would be inclined to do if I had enough money to own the bank outright, and then enter said room to perform said act while current management continues to mint more money.
EXSR keeps plugging along. And while a slight fall in YOY quarterly earnings should normally be a negative event (EXSR 2Q EPS of $3.19 down 3%), here it's encouraging because it means the bank's core has almost completely caught up to supplemented earnings (earnings down 3% YOY even after a $2.1 million reduction in provision reversals to $400K this quarter). Bridging this gap is happening faster than I thought, and there's still plenty of room for more one-time bonuses and/or more portfolio growth without the need for provision building. All in all, this is one of the best quarters we've seen (my opinion).
Anyone else along for the ride? Adding/subtracting (I've consistently added a small amount in each of the past few months)?
Disclosure: I am/we are long EXSR.
I wrote this article myself, and it expresses my own opinions. I am not receiving compensation for it (other than from Seeking Alpha). I have no business relationship with any company whose stock is mentioned in this article.
Editor's Note: This article discusses one or more securities that do not trade on a major U.S. exchange. Please be aware of the risks associated with these stocks.