The Energy Information Administration (EIA) today released its estimate of U.S. crude production for May 2016. In its Petroleum Supply Monthly (PSM) report, it estimated that output dropped by just 53,000 barrels per day (b/d) from its April estimate, averaging 8,894 thousand barrels per day (mbd). Moreover, it was 125,000 b/d higher than the interpolated estimated weekly values reported in its Weekly Petroleum Status Report (WPSR).
EIA's PSM is based on a survey of companies, whereas the WPSR is based on the EIA's model data. As I have previously advised, the EIA's model is inherently flawed. It is based on EIA's Drilling Productivity Report, which is solely dependent on only one data series, Baker Hughes drilling rigs counts, and does not account for the dynamics of shale oil production nor does it incorporate prices.
The weeklies set market expectations for crude production, a topic of major importance this year. Unfortunately, they have been under-reporting output, leading to misleading conclusions. This is why I have continued to track the more accurate monthly values and compare them to the weeklies.
PSM

Change

WPSR

Diff

Jan-15

9345

9180

165

Feb-15

9456

111

9278

178

Mar-15

9653

197

9398

255

Apr-15

9694

41

9381

313

May-15

9479

-215

9431

48

Jun-15

9315

-164

9599

-284

Jul-15

9433

118

9520

-87

Aug-15

9407

-26

9324

83

Sep-15

9460

53

9121

339

Oct-15

9347

-113

9126

221

Nov-15

9329

-18

9182

147

Dec-15

9246

-83

9189

57

Jan-16

9191

-55

9222

-31

Feb-16

9133

-58

9117

16

Mar-16

9127

-6

9041

86

Apr-16

8947

-180

8922

25

May-16

8894

-53

8769

125

Average

9319

-28

9226

93

Standard Deviation

152
Since the start of 2015, the EIA's WPSR values have been nearly 100,000 b/d on average higher than PSM values. However, the standard deviation of the error of estimate has been 152,000 b/d, not very accurate. The EIA has made some major corrections along the way in its WPSR series.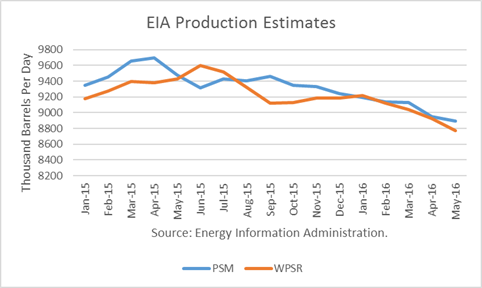 In the EIA's Short-Term Energy Outlook (STEO) for July, it forecast production in August at just 8,222 mbd. This implies that production would have to drop by 225,000 b/d in June, July and August. The average monthly drop in the last three PSM reports was just 80,000 b/d. This would represent a major acceleration in the decline curve even though the drilling rig rate has begun to increase.
In contrast, the EIA just published another report a few days ago, titled "Increased drilling may slow pace of crude oil production declines."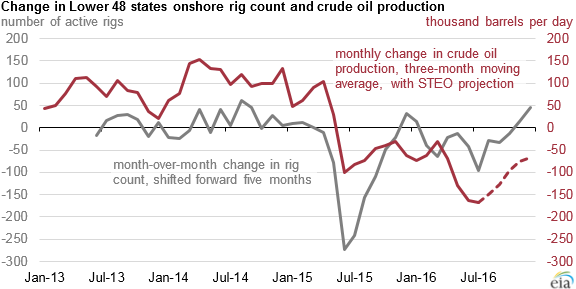 In this report it states "higher and more stable crude oil prices are contributing to increased drilling in the United States, which may slow the pace of production declines."
Conclusions
The EIA's forecast of U.S. crude production in August of 8,220 thousand barrels per is going to be way off. As a result, I believe that the EIA will have to make a big correction to its weekly estimates at some point in the future, as it had done in June 2015.
Disclosure: I/we have no positions in any stocks mentioned, and no plans to initiate any positions within the next 72 hours.
I wrote this article myself, and it expresses my own opinions. I am not receiving compensation for it (other than from Seeking Alpha). I have no business relationship with any company whose stock is mentioned in this article.