"It's a dangerous business to be in if you're not expert," "It's a dangerous business to be in even if you are expert."
- David Viniar (former GS CFO discussing commodities).
"You can never cross the ocean until you have the courage to lose sight of the shore."
- Christopher Columbus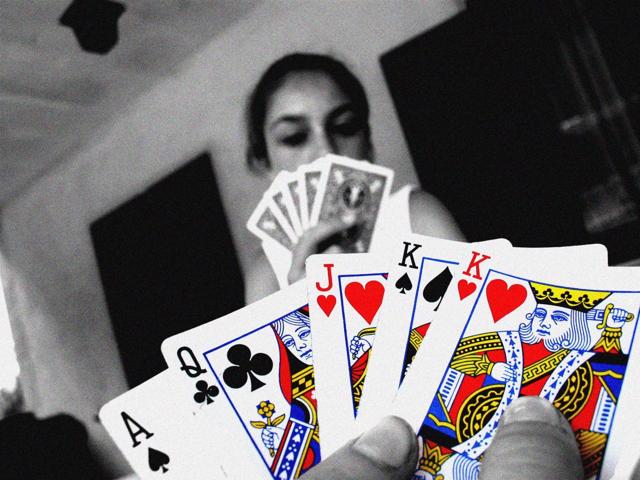 Click to enlarge
Introduction
Unquestionably, 2016 has been a dynamic year in the financial markets. Former laggards have become leaders, bonds and stocks have both soared further into the stratosphere, challenging all-time high valuation levels, and out-of-favor commodities and commodity stocks have staged a historic reversal and subsequent rally.
Following the script of the broader stock market, which plunged at the start of the year, then recovered, Chesapeake Energy (NYSE:CHK) has had a rollercoaster of a year, declining by 60% on a year-to-date basis into its February lows, and then rallying back to achieve a 20% gain in 2016.
Despite the bounce back in its shares, I believe that the market is underestimating the scope of the turnaround potential in Chesapeake's business prospects going forward. Thus, I believe that Chesapeake shares are actually a better speculative bet today, with some of the risks in the rear view mirror, than they were earlier in 2016.
Thesis
Chesapeake Energy has passed the riskiest phase of its turnaround, yet its equity sits at the bottom of its five-year range, creating an attractive risk versus reward opportunity.
A Rough Start To The Year
Chesapeake Energy was one of the companies I initially profiled in my "Too Cheap To Ignore" series of articles. I first wrote publicly about Chesapeake Energy on February 9th, 2016, when the company's shares closed at $1.95 per share that day. Several days later, with restructuring rumors swirling, on February 12th, CHK shares closed at their year-low of $1.59, as the chart below illustrates.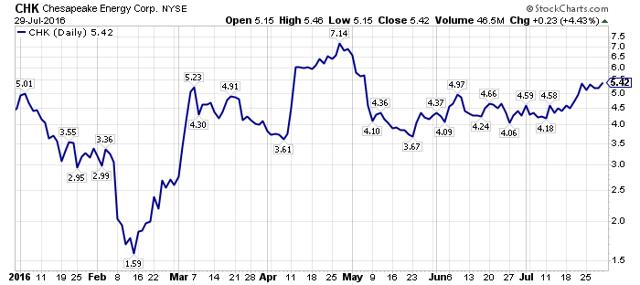 Click to enlarge
Fast forward almost six months later, and on July 29th, 2016, CHK shares closed at $5.42, up 178% from the closing price on February 9th, and up 241% from its February 12th, 2016 low.
What Has Changed In 2016?
A lot has changed in the last six months. Principally, there has been a huge reversal in risk assets, led by the most out-of-favor companies, sectors, and countries.
To provide an example, Brazil, which is suffering from nationwide political turmoil that permeates all political parties and levels of government (on second thought, this sounds like the U.S. I suppose), the Zika virus, and the prospects of a tarnished Olympics, has risen 62% in 2016, as measured by the iShares MSCI Brazil Capped ETF (NYSEARCA:EWZ). This has handily outpaced the S&P 500 Index's 8% gain in 2016, as measured by the SPDR S&P 500 Index ETF (NYSEARCA:SPY).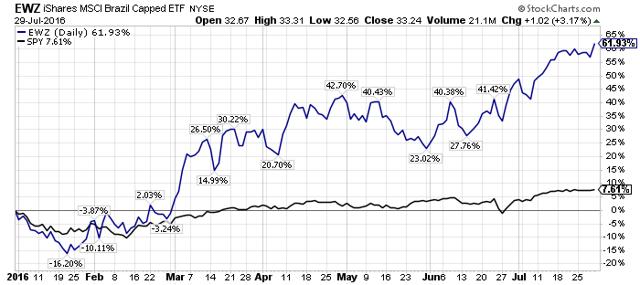 Click to enlarge
The outperformance in 2016 for EWZ shares still leaves these shares down 45% over the last five years while SPY has rallied 85%, so the reversion-to-the-mean trade in Brazil, and in emerging markets in general, could still have a lot of upside potential if there is truly a reversal in global growth led inflationary assets.
Specific to Chesapeake Energy, natural gas prices (NYSEARCA:UNG), after declining from their peak in 2014 into the early part of 2016, from a high of $6.24 per MMBtu to a low of $1.63 per MMBtu, have come to life, almost doubling from their 2016 lows, as increased domestic demand, slower production growth, and increased natural gas exports have finally balanced supply with demand.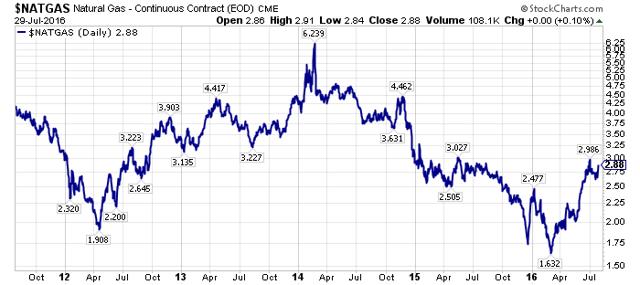 Click to enlarge
Crude oil (NYSEARCA:USO) has also moved strongly higher from its 2016 lows, though it has pulled back from its highs over the last several weeks.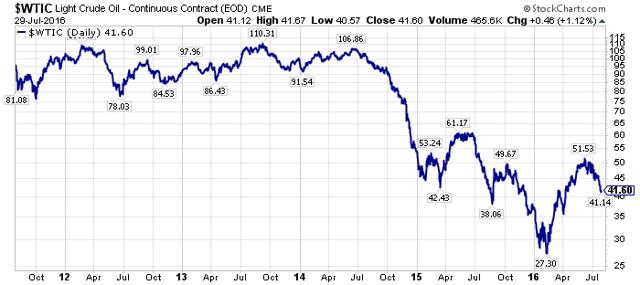 Click to enlarge
In summary, the two primary commodities that Chesapeake Energy produces and sells for a potential profit have rebounded in price when many analysts were not anticipating these recoveries.
Chesapeake's Peers Have Recovered
Despite taking prudent steps to repair its balance sheet by opportunistically selling assets and exchanging equity for debt, Chesapeake shares have generally trailed their natural gas focused energy peers in the 2016 commodity stock rally.
Southwestern Energy (NYSE:SWN), the third largest natural gas producer behind Chesapeake and Exxon Mobil (NYSE:XOM), has advanced 105% in 2016, and smaller, faster growing CONSOL Energy (NYSE:CNX) has advanced 146% year-to-date. Antero Resources (NYSE:AR), a more conservatively managed producer, has matched the percentage gain of CHK shares, rising 20% in 2016.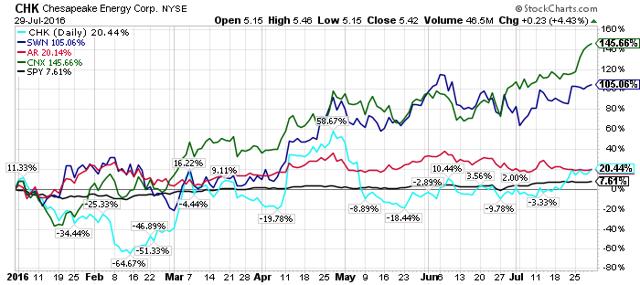 Click to enlarge
After their recent rally in 2016, CHK shares have still lost 82% of their value over the last five years, trailing Antero Resources, CONSOL Energy, and Southwestern Energy, which have lost 40%, 62%, and 69% of their value respectively.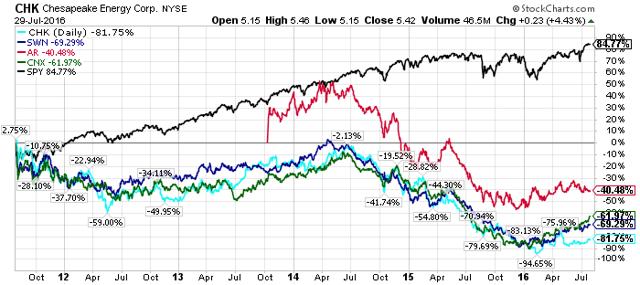 Click to enlarge
Similar to out-of-favor emerging market equities, the reversion-to-the-mean trade in commodity stocks has a lot of potential room to go, as evidenced by the chart above, since these equities have so dramatically underperformed the broader markets over the last five years. Building on this narrative, the commodity stock bear market from 2011-2015 has been one of the worst commodity bear markets in history in this notoriously volatile segment of the financial markets.
A Contrarian Opportunity
Antero Resources, CONSOL Energy and Southwestern Energy are all held in the portfolios of "The Contrarian", my premium research service on Seeking Alpha, and each of these equities has contributed to the portfolios collective strong outperformance in 2016.
Chesapeake Energy is also held in The Contrarian's "Bet The Farm", "Best Ideas" and "90/10" portfolios, and I am increasingly optimistic about the company's prospects going forward.
Morningstar.com, an independent research provider, currently has a $2 fair value target for shares of Chesapeake. However, they readily admit that if long-term oil prices were to average $65 per barrel, and natural gas prices were to average $3.50 per MMBtu, they can envision a fair value for Chesapeake shares north of $10 per share.
With Chesapeake's ever-improving cost profile, I believe that fair value would be materially higher than $10 per share, at $3.50 per MMBtu natural gas and $65 crude oil.
Adding even more upside potential, I believe that natural gas prices, still the most important driver for CHK's share price, are headed significantly higher than $3.50 per MMBtu over the intermediate term and long term, and I laid out my bullish natural gas case last year in an article I published on Seeking Alpha. Additionally, I think crude oil prices could be $80 by 2018, as reduced capital budgets come home to roost in the form of lower production.
To summarize, from my perspective, Chesapeake Energy's common shares do not fully reflect the move higher that has already occurred in natural gas and crude oil prices in 2016. The company's second quarter 2016 earnings results are scheduled to be released on Thursday, August 4th, before the market opens, and the results and outlook going forward could be the catalyst that opens the eyes of investors to this ongoing recovery story.
Conclusion - A Strong Bounce Back In CHK Shares Is Possible, Perhaps Even Probable
A commodity stock rally has given new life to Chesapeake Energy shares in 2016, yet the best gains may be still to come, as rising natural gas prices alleviate liquidity pressures and provide fuel for a potential launch higher in CHK shares.
Compared to their leveraged peers, including CONSOL Energy and Southwestern Energy, which have both taken steps to reduce their leverage, and which analysts universally agree have stronger balance sheets than Chesapeake at the current juncture, Chesapeake's shares have underperformed by a meaningful margin in 2016, leaving significant room for a catch-up rally if investors reevaluate Chesapeake's future prospects positively.
With the risk of a restructuring materially reduced by the asset sales, debt for equity swaps, and rising natural gas and oil prices, shares of Chesapeake are actually a better speculative opportunity today, on a risk/reward basis, than at its lows, in my opinion. To close, we are long CHK as a leveraged way to play the anticipated future rise in natural gas prices.
Disclosure: I am/we are long CHK, AR, CNX, SWN, AND SHORT SPY AS A HEDGE IN A LONG/SHORT PORTOLIO.
I wrote this article myself, and it expresses my own opinions. I am not receiving compensation for it (other than from Seeking Alpha). I have no business relationship with any company whose stock is mentioned in this article.
Additional disclosure: Every investor's situation is different. Positions can change at any time without warning. Please do your own due diligence and consult with your financial advisor, if you have one, before making any investment decisions. The author is not acting in an investment adviser capacity. The author's opinions expressed herein address only select aspects of potential investment in securities of the companies mentioned and cannot be a substitute for comprehensive investment analysis. The author recommends that potential and existing investors conduct thorough investment research of their own, including detailed review of the companies' SEC filings. Any opinions or estimates constitute the author's best judgment as of the date of publication, and are subject to change without notice.