Click to enlarge
Investors rewarded the continuing growth story of Russian search engine company Yandex (NASDAQ:YNDX) with a year-to-date increase of 40%. That's a clear outperformance of the broader Russian market, with the leading VanEck Vectors Russia ETF (NYSEARCA:RSX) 'only' up 21.5% YTD. Still, during the last few weeks, shares of Yandex failed to move higher. Even the solid earnings release this Thursday couldn't inspire investors to move Yandex to fresh 2016 highs. So what is holding the stock back?
Well, it is certainly not a lack of growth potential. As outlined in my previous article, Yandex.Taxi (a ridesharing service comparable to Uber and Lyft) is likely the main driver of the share price. During Q2-2016, revenues for this division grew at a rate of over 170% YoY, just like the previous quarter. A slowdown is not in sight. Speaking at the earnings call, CFO Greg Abovsky stressed that a lot of Yandex near-term efforts are geared towards expansion of this ridesharing service. Yandex.Taxi is now available in 25 Russian cities and in 3 cities of former Soviet states, with Almaty (Kazakhstan) being the newest dot on the map. However, the strong expansion of Yandex.Taxi comes at a price. Additional investments, mainly in marketing and advertising plus personnel, dragged down adjusted EBITDA.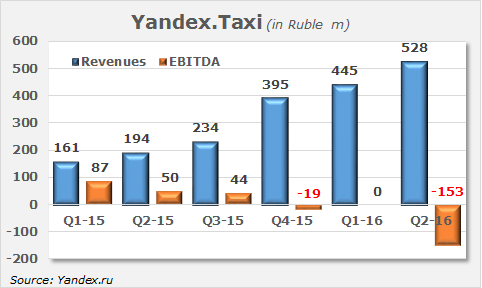 The pressure on EBITDA is acceptable considering aggressive growth policies. CFO Abovsky admitted that the service doesn't generate any meaningful revenues in newly added cities. Yandex.Taxi offers (potential) customers incentives to try its service and the service is launched with aggressive pricing. In addition, drivers are subsidized to quickly expand the network. This seems to pay off, since the increase number of rides outpaces the increase in revenues (although exact figures are not provided). All in all, there's no reason to adjust previous made assumptions that Yandex.Taxi could be worth $2.40 per share (based on 10 times 2017 revenues). However, these are expectations mentioned a couple of months ago and at a current price of $22.33 (as per close July 28), we need more to see significant upside.
Evidently, Yandex is still an internet search company in its core. Its main segment, Search and Portals saw an 26% YoY increase in revenues to RUB 16.5bn ($253m) in Q2. Encouraging is that mobile monetization expanded 150 bps to 22% of total search revenues. Further improvement may come after the final FAS decision in the Google case. In the run up of this decision or possible settlement, scheduled on August 16 th, Yandex already struck a couple of deals with OEMS that gives Yandex apps a 'home plus or minus one' position on the screens of Android devices. COO Alexander Shulgin expects to moving up to the home-screen after a final decision by the FAS.
Revenue growth came also on the back of better targeting in the ad network. COO Shulgin mentioned that the company still has "some bullets" (although no silver bullet) to improve targeting further. Yandex sees additional technological improvements in the second half of the year to continue this development. Yandex.Zen, rolled out in June, is an example of Yandex ability to increase revenues from better targeted advertising. Management said during the earnings call that the service already generates revenues.
Also Yandex.Market shows decent performance, with revenues up 46% and an increase in take rates from 1 to 2%. But here as well, EBITDA suffered from aggressive marketing and new hiring.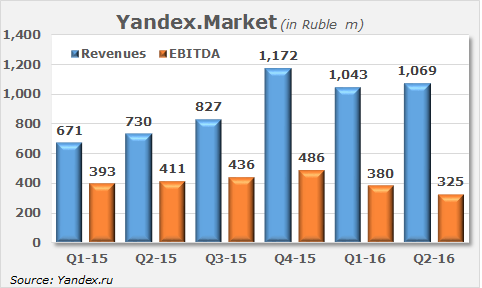 However, Yandex management offered an encouraging guidance on margin decline. Instead of previous guided 300bps decline, 200bps are now expected. Speaking of guidance, the company upped its guidance for full year revenue growth to a range of 19-22%, up from 15-19% during the last earnings call. To be fair, this indicates a slowdown compared to achieved growth of 40% YoY during the first six months of the year. Yandex is quite cautious on the current environment. It sees stabilization of macroeconomic conditions, but a return to growth is not anticipated for the Russian economy.
All in all, the solid performance of the core business and improved guidance would warrant a higher value per share compared to three months ago. Against six times 2016 revenues, Search and Portal could be worth $19.21 (up from $18.51 three months ago) and even $22.08 based on 2017 revenues. Yandex.Market seems to be well on track to reach previously indicated annual revenues of RUB 5.0bn ($77m). Growth for next year will probably fall back due to a base effect, but should outpace Search & Portal. Nevertheless, to be conservative I use a growth rate of 20% for this segment in 2017. That gives us the following 'sum of the part' valuation: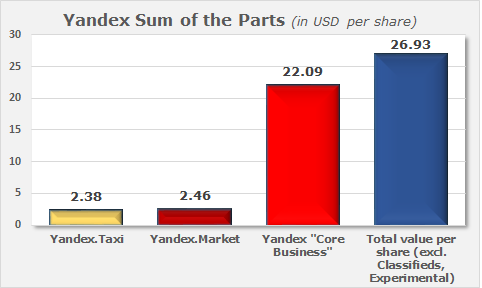 Also based on the price-earnings ratio, Yandex is certainly not expensive. In fact, due to higher analyst estimates, price-to-earnings ratios for farther away have improved, despite a 10% increase in Yandex share price during the recent 3 months. Using the PEG-ratio, which compares earnings growth with the price-earnings ratio, Yandex is attractively priced with a ratio of 1.3 for 2017. But the development in USD/RUB plays an important role.

Click to enlarge
What are the risks for the company? First of all, the macroeconomic situation in Russia could spoil the party. Although oil and commodity prices have recovered from the lows early 2016, the recent decline in oil prices show that happy days haven't returned. Still, the Ruble has stabilized compared to earlier periods and is now in a range between USD/RUB 62.5-67.5.
If Russia didn't cause enough geopolitical concerns, Yandex may feel some impact from the recent developments in Turkey. Context is required here, and Yandex' activities in Turkey are only modest. The segment Experiments, which contains Yandex Media Services, Yandex Data Factory, Discovery services (such as Yandex.Zen) and finally Yandex Turkey, reached Q2 revenues of RUB 153m ($2.4m). So exposure is likely to be less than RUB 100m ($1.5m) per quarter. During the earnings call, management acknowledged that Turkey is less of a priority right now and tries 'not to spend too much there". However, this is not related to current tensions but more to harsh conditions when it comes to distribution of Yandex search queries.
Recently, there was a bit of uncertainty related to the new data storage law that comes into play from July 1st, 2018. Contributor Oleh Kombaiev wrote an interesting article on this matter. All in all, many expect this law will likely hit telecom operators the most and internet companies only modestly. Also Yandex management said that due to the type of business, impact for Yandex and future CAPEX will be negligible.
Investors should pay attention at what the chart is telling us. There seems to be some resistance around the $23 level. In fact, since early June, Yandex hit 3 highs at roughly the same level: $23.20 at June 8, $23.17 at July 12 and again $23.17 in the morning hours after the release of the Q2 earnings. The interesting point of this resistance level is that it matches with a 50% Fibonacci retracement of the June/July 2014 highs (see blue lines in the chart below) AND with a 38.2% retracement (see red lines). To be frank, this is not a bullish picture. However, it would be a very strong signal if the stock manages to break through this zone of resistance and set new 2016 highs.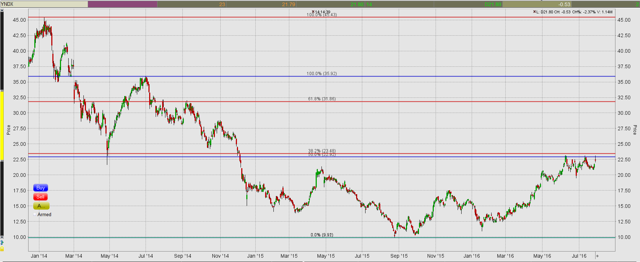 Click to enlarge
Concluding, Yandex's 'sum-of-the-parts' combined with strong fundamentals indicate that there's still further upside for its share price. However, uncertainty in the macro environment and a resistance zone could prevent Yandex moving higher in the near term. That being said, any weakness could offer a fresh entry point. The growth story of Yandex is far from over.
Disclosure: I/we have no positions in any stocks mentioned, and no plans to initiate any positions within the next 72 hours.
I wrote this article myself, and it expresses my own opinions. I am not receiving compensation for it (other than from Seeking Alpha). I have no business relationship with any company whose stock is mentioned in this article.