One reader inquired as to my definition of "dividend safety" as referred to in my last article on General Electric (NYSE:GE) in which I bashed the "pick whichever EPS you like" style of financial reporting currently underway in the largest companies on the US stock exchange. Today, I will dive into the necessary factors needed in an appropriate analysis of a company's dividend and use said analysis to arrive at a conclusion on GE's dividend safety. Let's begin.
Most investors see GE as a dividend growth stock and are long for this reason. In fact, dividend growth has been stable and consistent. The stock was a dividend aristocrat until the financial crisis, but GE made up for the dividend loss in a special dividend in 2012: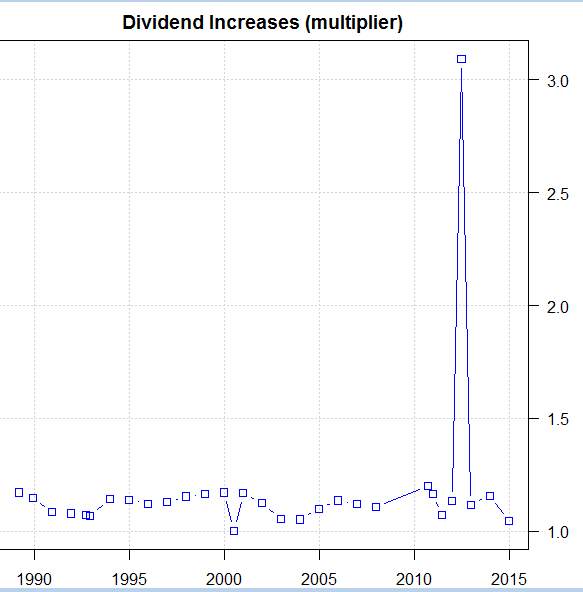 With yearly dividend increases comes a responsibility to grow income at a rate to cover the constantly increasing dividend payout. The only problem with being a dividend aristocrat is this ever-increasing cost: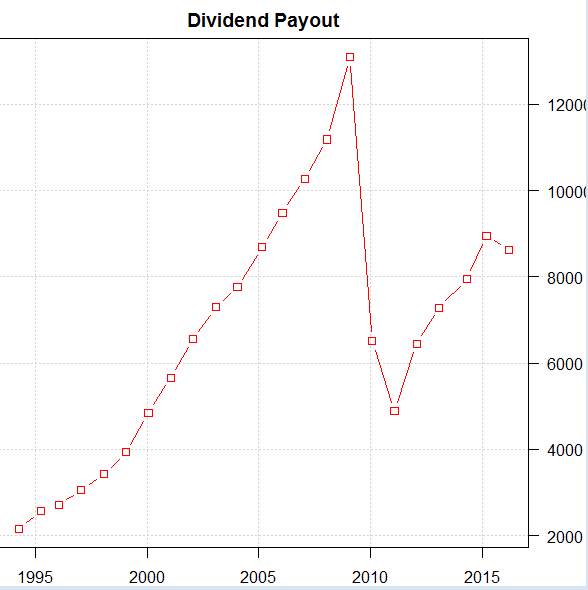 The dividend cut during the recession allowed GE to "reset" its dividend payout to about half of its previous value. But the growth rate has bought the dividend payout to levels close to those previous to the financial meltdown. However, you will notice a bit of a drop in the dividend payout, which is attributable to the aggressive share buybacks that GE and many other dividend players have acquired a fondness for in the recent years: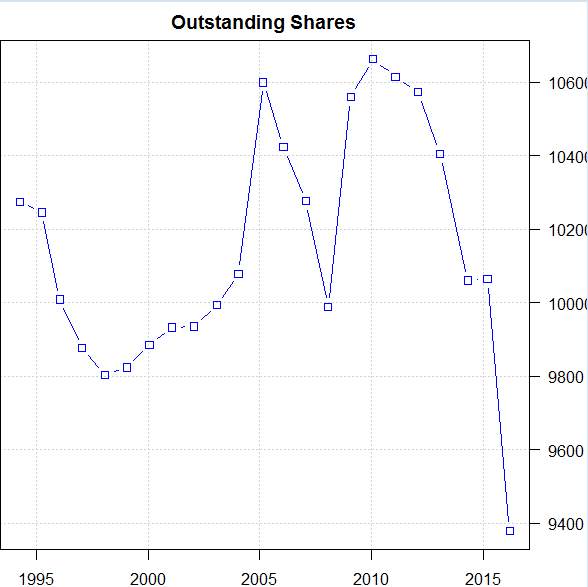 Buybacks are usually a bad idea unless you're a dividend stock and your stock price is under the intrinsic value. However, the permanency of a share buyback does help slow the growth of dividend payouts. If a company shows poor financials and forward guidance, buybacks can make sense.
For GE they might have made sense had the stock not been trading at relative highs. For GE to adequately meet the dividend payout demand, they must be a bit more creative, considering their dropping revenue: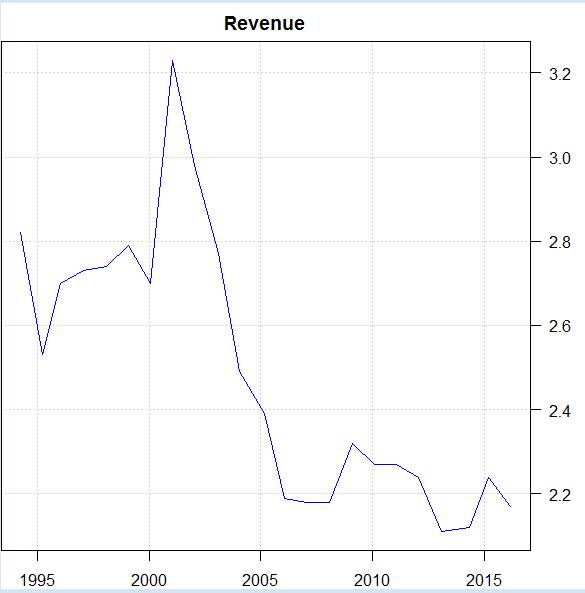 The primary factor in determining a company's dividend safety is the comparison of its income to the dividend payout and the related trends: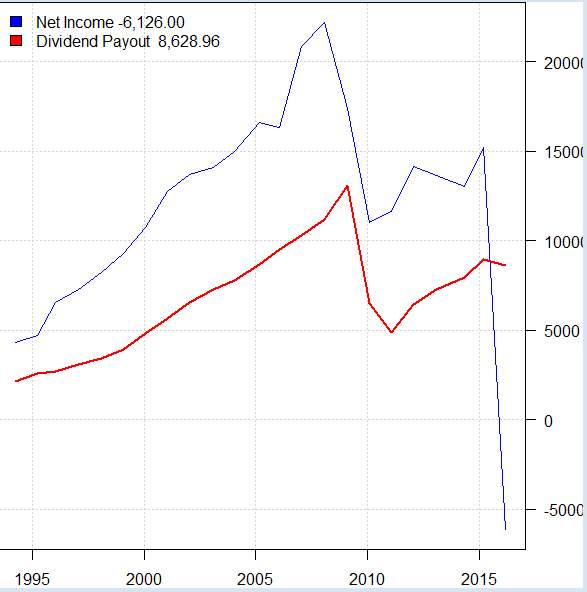 Until recently, GE was doing well. Now, negative cash flows threaten the dividend. A cut is possible if this trend continues.
And as you can see from 2008, the management of GE does match the dividend payout to the income. When income dropped precipitously, so too did the dividend. Investors who hold GE for the dividend should be aware of this factor.
Still, GE offers a decent yield: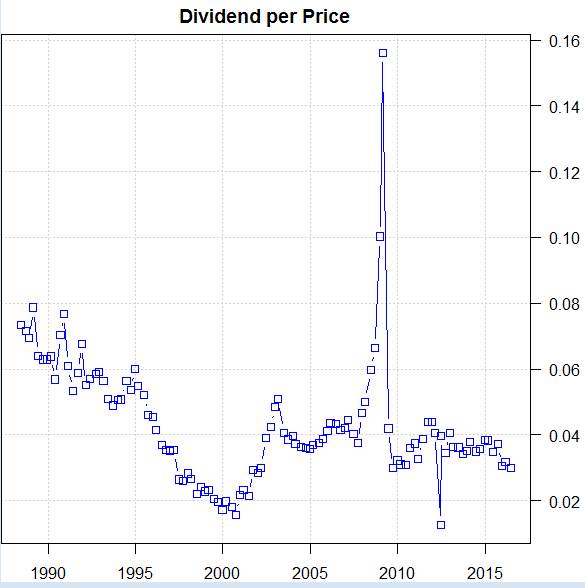 This yield has remained in a rather tight range since the stock market rebound after the financial meltdown. Thus, with GE you have a pretty predictable income as well as foreknowledge of a dividend cut. Keep an on the company's income and get out when the drop is significant and sustained.
Right now, GE is fine to hold for the dividend. Because GE trades in a tight region, if you want to add some extra income as a dividend income investor, consider running a short strangle around GE. In a short strangle, you sell one out-of-the money (OTM) call and one OTM put for every lot of GE stock you own, reaping income via theta decay.
Either way, GE should be seen as an income generator and not speculated upon as we do with growth stocks. The upside for the stock itself is small. The downside, however, is significant, and a dividend cut can completely devastate the stock.
This is why you should pay attention to every quarter's earnings report. Falling revenue is a death sentence for the dividend. Stay aware, and stay profitable.
Learn More about Earnings
My Exploiting Earnings premium subscription is now live, here on Seeking Alpha. In this newsletter, we employ both fundamental and pattern analyses to predict price movements of specific companies after specific earnings. I offer specific strategies for playing those earnings reports. To-date, we are 94% accurate on earnings report predictions.
Disclosure: I/we have no positions in any stocks mentioned, and no plans to initiate any positions within the next 72 hours.
I wrote this article myself, and it expresses my own opinions. I am not receiving compensation for it (other than from Seeking Alpha). I have no business relationship with any company whose stock is mentioned in this article.