Introduction
Cisco embodies the future, commanding a presence in switching, routing, security, collaboration, data centers and the Internet of Things; the pillars of connecting the world's future. These are the fundamental areas primed to grow in a global digital revolution. The digital revolution will change the way the world works, lives, plays and learns, representing an incredibly large market which is why I am long Cisco (NASDAQ: CSCO).
Market Mispricing
Cisco's one-year performance has provided investors a 9% return. Currently trading at $30.52 as of July 28, 2016, Cisco has yet to breakthrough its 10-year high of $33.13 in 2007. With July 26, 2016 marking Chuck Robbins' one-year anniversary as CEO, I have assessed current market conditions, their strategy and execution, concluding with a bullish stance on Cisco's future. The market has shown Cisco positivity by trading near 52-week all-time highs, however, the growth potential backed with evidence of Cisco's ability to capture it thus far influences my view of Cisco being undervalued.

Click to enlarge
With a P/E ratio of 15.1x, compared to the industry median of 25.8x, I find today's price to be an excellent opportunity to capture a company in this networking equipment industry. Cisco is deeply undervalued on all aspects from EV/EBITDA, Gross Margin, EBITDA Margin, EBIT Margin, and Net Income Margin. I believe this opportunity is a trifecta for investors, providing a generous 3.39% dividend, strong growth potential, and a value of 15.2x earnings.
Addressing Market Concerns
Assessing Cisco's nine-month FY'16 with their FY'15, total revenues are only up by mere 0.8% however, gross margins have increased by 4.7%, operating margins increased by 18.6%, and profitability up by 19%. Extending the overview to the past three-years, Cisco's revenue has only increased by 0.57% (2013 to 2015) which I believe hinders the market's perception of Cisco's true valuation. While revenue has flattened, Cisco has demonstrated a significant increase in operational efficiency, shifting their strategic focus towards their key growth segments.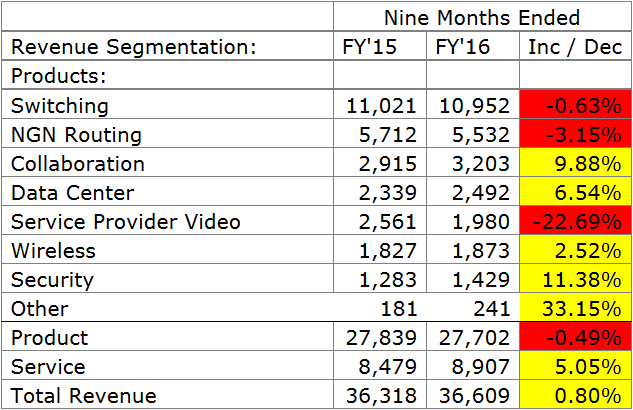 Breaking down Cisco's revenue by business segment, we can see their core segments (switching and routing) declining in FY'16. This may concern investors, resulting in a lack of faith from investors, failing to realize the pivotal role Cisco plays in a global digital transformation.
Analyzing the big picture of revenue growth is important, however I find the breakdown especially compelling to assess as it provides insight to what is succeeding. The slight downturn in their switching segment is mainly due to macro related weakness and campus business with the decline in routing due to reduction in the high-end along with the timing of deals. These short-term headwinds do not affect the fundamentals of these segments. As investors look for strength in their core businesses, strong growth from notable segments such as collaboration, data center and security perform offset the declines and highlight key growth areas.
What does Cisco look like in the near-term future?
Cisco will continue to lead in the networking equipment industry and will do so through product innovation, successful transitions into growing key segments, and remaining active in acquisitions to drive greater value to customers and the market. They are doing everything right from making effective acquisitions, targeting key segments, and investing into future growth, profitability, and market leadership.
Looking at the big picture, Cisco has proven to maneuver through tough macro and pricing environments with strong execution and acceleration of their innovation engine and portfolio transformation. There is a digital revolution upon us and Cisco has demonstrated they are going to play a critical role in this transformation.
The Holy Grail - Internet-of-Things
The Internet-of-Things is where the excitement and buzz of the digital revolution is brewing. Wearables are today's face of the Internet-of-Things but there is so much more than that from sensors, data centers, security to analytics, these are the things that shape and allow these Internet-of-Things to hold a high reputation of ultimately change the way we work, live, play and learn. The convenience provided from these Things is why this market will experience explosive growth; from measuring your pulse and transferring the data to your phone to improving efficiency through connecting manufacturing equipment. Aside from the attraction of the finished products, I believe excitement and opportunity can be found inside the products. Cisco is one of the top IoT leaders in the market focused on security and IoT service. Security and connectivity are two of the most vital components in IoT. Facilitating the exchange of information and ensuring the connectivity does not expose vulnerabilities in devices and networks are paramount to the industry's growth. Cisco will undoubtedly play a large role in providing the networking equipment for the projection of more than 20 billion connected devices by 2020.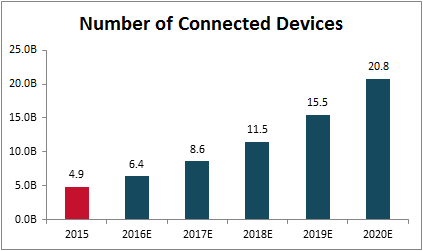 Cisco's acquisition of Jasper Technologies makes Cisco the largest cloud based IoT service platform as it helps enterprises and service providers to launch, manage and monetize IoT service on a global scale. Over the next three years, GM will net $350 million in new revenue using Cisco Jasper to underpin all of its connected car offerings in new vehicles to provide entertainment, safety, vehicle diagnostic capabilities and other services. Cisco Jasper also provides a Control Center solution to monitor, manage and control cellular connected with a diverse range of capabilities from optimizing route planning in logistics to notifying a farmer when a cow is about to give birth. Global IoT spending is forecasted to amount to over $1.4 trillion by 2020.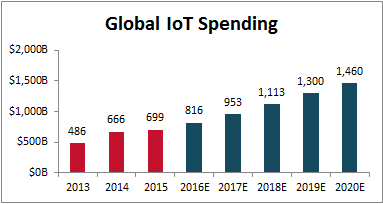 Security is Cisco's fastest growing segment as the need for security climbs sharply with increasing threats, breaches, and the demand from IoT. Cisco is the market leader in the Security Appliance market, holding 16% of market share and will continue to penetrate the market. Cybersecurity will remain a necessity in the tech world especially with the growth of connected devices, providing Cisco yet another opportunity to generate growth. The cybersecurity market is projected to from $122.5 billion in 2016 to $202.4 billion by 2021.
Collaboration
What drives the strong growth of nearly 10% Y/Y growth in Collaboration? Cisco's transition to the cloud has driven them to lead the Collaboration segment with 16% market share along with the rapid growth of businesses. Communication standards have evolved and become more complex with the increase of data flowing for communication, ultimately driving the need for efficient and cost-effective collaboration solutions. Expected to become a $70.6 billion market in 2019, I have confidence in Cisco's ability to continue leading this segment and attaining greater market share with Cisco's Spark and WebEx solutions.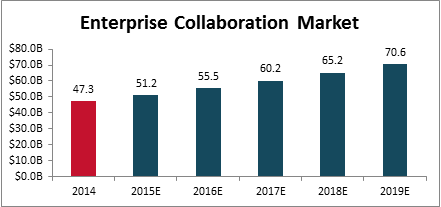 A Cloud Gold Rush - Switching, Routing, and Data Centers
IT Infrastructure is undergoing a massive lateral shift into public, private, and hybrid cloud platforms. Cloud IT Infrastructure is expected to grow to a nearly $60 billion dollar market by 2020 and this immensely benefits all of Cisco's segments. Within the expansion of cloud infrastructure, switching, servers, and storage are the three fastest growing segments at a rate of 39.5%, 11.4%, and 14.2% respectively. Switching offers connectivity to users from phones, servers, to networks with the Internet-of-Things being the main driver of this segment as the increase of devices, data, and connectivity requirements all require faster and reliable connectivity. Despite the short-term headwinds felt in the switching segment, Cisco holds a 61% market share and will continue leading as their data center switching portfolio drive strong growth.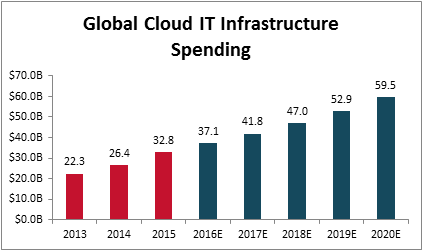 Cisco is aggressively pursuing the cloud and has already developed notable products such as their Unified Computing System (UCS) and Nexus ACI (Application Centric Infrastructure) which has propelled growth in their data center segment. Cisco's recent acquisition of CliQr, an application defined cloud orchestration platform, strengthens Cisco's deployment of the cloud. Data Center traffic is the key catalyst in this segment as traditional infrastructure cannot handle the growth of traffic; businesses move towards the cloud to meet increasing performance requirements. Within the Data Center Infrastructure, Cisco leads in service provider hardware with 13% market share and expectation of the Modular Data Center Market reaching $38.3 billion by 2021 creates opportunity for Cisco to increase penetration through its continued dominance of data center networking and rapidly growing server business. Storage is also a hot segment of cloud infrastructure and Cisco is capitalizing on this through partnerships with EMC (EMC) and VMware (NYSE:VMW).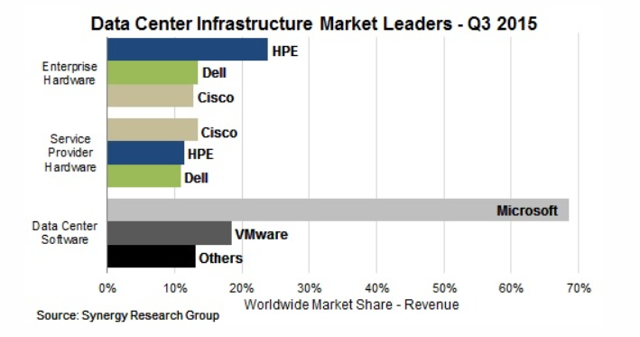 Click to enlarge
(Source: Synergy Research)
Routing also plays a vital role in the digital transformation however, I do not believe this to see as much growth compared to switching, data centers, collaboration or security. The increase of data traffic is a catalyst for the routing segment supporting one of Cisco's core businesses. Cisco holds 49% market share in this segment and plans on maintaining this strength with increased capex and continued success from their CRS (Carrier Routing System) platform. This segment has decreased by 3% due to macro issues however, growth is expected to return.
Strategy for Success
Starting from Chuck Robbins' tenure as CEO, Cisco has undergone a massive transition, shifting from selling routers and switches to a focus on key growth segments relating to the cloud and IoT. Since then, Cisco has made 15 acquisitions focused on key growth areas including IoT, software cloud and collaboration. Management is an extremely important component to a company's future success and Chuck has demonstrated the ability to maneuver and succeed in a rapidly changing environment. For this reason, I am confident in management's ability to continue leading in its industry and capitalize on the growth in IoT.
Conclusion
There are many reasons why I like Cisco right now taking into consideration Cisco trading near 52-week highs. To start off, they have over 30 years of experience in the industry and stands as the leader in the networking equipment industry. Assessing Cisco's recent change in leadership and the impact is positive with proven execution of a major transition into key growth segments. The cloud and IoT will experience explosive growth in the near-future and Cisco is primed to capture this opportunity. I like management's strategic focus as the growth in the cloud and IoT will provide overlapping growth towards Cisco's key segments. Cisco also provides an attractive 3.39% dividend that has received seven consecutive increases in past six years. To conclude, while Cisco trades near highs of over a horizon of 10 years, the digital transformation will push Cisco even higher and I believe this provides investors an opportunity to invest in a wonderful company at a fair price.
Disclosure: I am/we are long CSCO.
I wrote this article myself, and it expresses my own opinions. I am not receiving compensation for it (other than from Seeking Alpha). I have no business relationship with any company whose stock is mentioned in this article.