The first month of the third quarter has ended. The S&P 500 finished higher for the month of July, its fifth successive monthly gain. The benchmark index closed more than 3.50% higher. But there are signs that the rally is fading.
Rally Fading
The SPDR S&P 500 ETF Trust (NYSEARCA:SPY) saw the highest inflows for the week ended July 28th. But the pace of inflows has slowed down as I had noted in recent article. More important, fundamentals continue to be weak.
According to FactSet's latest report on second-quarter earnings season, the blended earnings decline for the second quarter of 2016 is 3.8%. This is after 63% of the companies in the S&P 500 reported their earnings. While 71% of the companies have reported earnings above mean estimate, expectations had been low ahead of the latest earnings. In all likelihood, the S&P 500 is going to report negative earnings growth for the second quarter of 2016. This would mark the fifth straight quarter of year-over-year declines in earnings. Not since the financial crisis of 2009 have we seen five straight quarters of earnings declines.
The third quarter could be even more challenging for S&P 500 companies, especially those that generate significant portion of their revenue from abroad. This is because the impact of a stronger dollar will be felt in the third quarter. The dollar has strengthened significantly since the Brexit vote.
The unusual calm in markets combined with lofty valuations makes the ProShares Trust Ultra VIX Short Term Futures ETF (NYSEARCA:UVXY) worth a look. I expect a spike in volatility in coming weeks as the market is now ripe for correction.
IBB Holding Up But Not For Long
The iShares NASDAQ Biotechnology Index (ETF) (NASDAQ:IBB) also had an excellent run in July. The ETF gained 12.47% for the month of July. IBB also broke through $275 resistance level during this run. But it is now close to the $290 resistance level.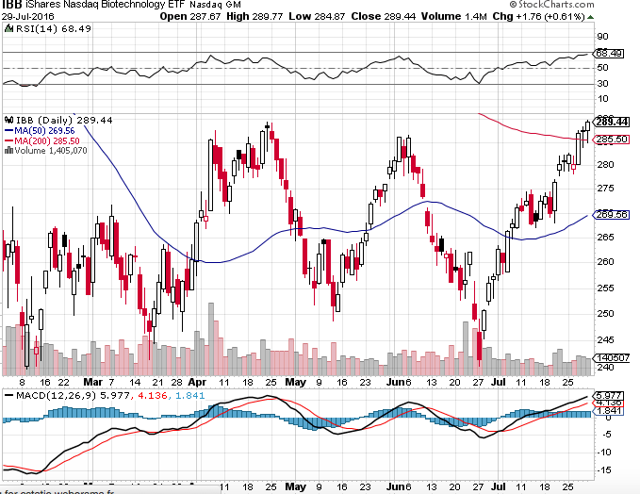 Click to enlarge
Stockcharts.com
It is not just the technicals that make me bearish on IBB though. Fundamentals for the sector remain weak. As I noted in previous article, M&A activity at best is going to provide only support to the sector. Meanwhile, access to capital markets remains difficult for biotech companies. According to Renaissance Capital, of the 12 biotech companies that have completed an IPO since the second quarter began, 10 are trading below issue. The group's average return, according to Renaissance Capital, is negative 15%. As I have noted before, several biotech companies have also withdrawn their IPOs since April. Investor enthusiasm for biotech IPOs has been waning. Only a year ago we had seen one of the biggest biotech IPOs when Axovant Sciences (NYSE:AXON) listed its shares.
With the market ripe for correction and the IBB now close to a stiff resistance level, I expect a sharp pullback especially given that fundamentals for the sector remain weak.
XLE Could See Further Losses
Another sector with weak fundamentals is Energy. The SPDR Energy Select Sector (ETF) (NYSEARCA:XLE) is sharply higher from its February lows. XLE bounced back as oil prices rallied. Oil prices rose sharply on the back of supply outages. Analysts believed that supply outages combined with strong demand from countries such as India could lead to rebalancing of the oil market. But analysts may have jumped the gun.
The glut in the downstream market could lead to refiners cutting back production. This in turn will hurt demand for crude oil. Stronger dollar could also put further pressure on oil prices. XLE has fallen just a little over 2% since July 21 when the pullback in oil began. But given the weak fundamentals, the ETF could see further losses.
Disclosure: I/we have no positions in any stocks mentioned, and no plans to initiate any positions within the next 72 hours.
I wrote this article myself, and it expresses my own opinions. I am not receiving compensation for it (other than from Seeking Alpha). I have no business relationship with any company whose stock is mentioned in this article.