Kimberly-Clark (NYSE:KMB) is still soaking up the profits and squeezing them out onto shareholders in the form of dividends and share repurchases. The company's steady growth has driven the stock to outperform the S&P 500 over the past decade. Recent strength for Q2 shows that KMB increased sales organically by 3%, gross margin by 50 basis points, and operating margin by 1%. This led to a 9% increase in EPS to $1.53 for Q2.
Kimberly-Clark's current growth efforts through innovation, category growth and geographic expansion will drive the company's expected sales growth of 3% to 5% going forward. This article explores Kimberly-Clark's valuation to determine if the stock is still a good deal for investors.
Some investors will see Kimberly-Clark's trailing P/E of 24 and forward P/E of 20 and be turned off because that is higher than the S&P 500's trailing and forward P/E of 19.9 and 17.9, respectively. However, I think that KMB's stock is worth its premium P/E over the S&P 500's average because of the company's consistency in growth, protection from the downside and steady dividend increases. Kimberly-Clark increased its dividend every year since 1973.
Despite being valued higher than the S&P 500, KMB is valued below the Personal Products industry's trailing P/E of 28.8 and forward P/E of 21, according to Finviz.com. That's a 17% lower valuation on a TTM basis and 4.8% lower on a forward looking basis.
KMB is also valued below its competitor, Procter and Gamble (NYSE:PG). PG is trading with a trailing P/E of 27 and a forward P/E of 21.6.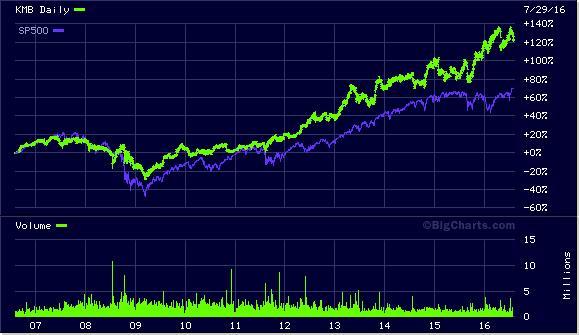 Although the stock will fall during recessions along with most equities, the company has strong staying power and protection from downside risk because of the types of consumer staples that the company sells. Regardless of what is going on in the economy, consumers will still be using the company's Kleenex tissues, Huggies diapers/wipes, Kotex feminine products, Depend/Poise undergarments, Scott/Cottonelle bathroom tissue, etc. Since these are products that consumers need on a regular basis, KMB is likely to remain immune from a major issue such as bankruptcy. Although there is plenty of competition from Procter and Gamble and other companies on a global basis, KMB has a significant presence in the market with the ability to continue its growth. The stock will fall during times of uncertainty, but the company is likely to weather those storms and bounce back without any significant difficulties.
We saw over the past few years how many oil-related companies were hurt by the drop in the price of oil. Some of them filed for bankruptcy. Kimberly-Clark is not likely to face bankruptcy even during recessions because consumers are likely to continue to use its products while they cut back on larger purchases such as vehicles, homes and appliances.
Dividend Discount Analysis
Dividends are a key component of KMB as an investment. In addition to owning a stock that outperforms the broader market, investors also benefit from a 2.8% dividend. KMB's share repurchases will help reduce share dilution and boost EPS. KMB has dedicated at least $2 billion in dividends and share repurchases per year for 6 years in a row. This is a great feature for shareholders in this low interest rate environment.
Since dividends are an important part of KMB as an investment, I performed a dividend discount model analysis to evaluate the stock's valuation.
Here are the end results from Aswath Damodaran's dividend discount model:
Cost of Equity =

4.32%

Net Income =

$1,508,000,000

Earnings per Share =

$2.33

Growth rate in EPS =

7.00%

Payout Ratio for high growth phase=

58.97%

The dividends for the high growth phase are shown below (up to 10 years)

1

2

3

4

5

Expected Growth Rate

7.00%

7.00%

7.00%

7.00%

7.00%

Earnings per share

$2.49

$2.67

$2.85

$3.05

$3.27

Payout ratio

58.97%

58.97%

58.97%

58.97%

58.97%

Dividends per share

$1.47

$1.57

$1.68

$1.80

$1.93

Cost of Equity

4.32%

4.32%

4.32%

4.32%

4.32%

Cumulative Cost of Equity

104.32%

108.83%

113.53%

118.43%

123.55%

Present Value

$1.41

$1.45

$1.48

$1.52

$1.56

Growth Rate in Stable Phase =

2.50%

Payout Ratio in Stable Phase =

99.93%

Cost of Equity in Stable Phase =

4.65%

Price at the end of growth phase =

$155.64

Present Value of dividends in high growth phase =

$7.42

Present Value of Terminal Price =

$125.97

Value of the stock =

$133.39
The assumptions for the model included analysts' EPS growth estimates of 7% annually for the next five years. I then used a stable growth rate of 2.5% for annual EPS growth after five years. The model also normalized earnings over the past five years. If I used 3% as the annual growth rate for the stable period, the value of the stock would be about $170. That is probably a bit too aggressive. The 2.5% growth better represents the combination of the U.S. expected annual GDP growth rate of about 2.4% and the global expected annual GDP growth rate of 3% for the next 50 years. With that in mind, KMB looks approximately fairly valued on a dividend discount basis.
That valuation makes sense since the company is a dividend aristocrat. Investors are valuing the company based on expectations of continued dividend payments. Since KMB has increased its dividend payments every year since 1973, investors are comfortable with their expectations for that streak to continue.
Risks for the Company
The effect of currencies is expected to reduce sales by 4% to 5%, according to the company. That is one of the reasons why KMB will achieve sales gains on the low end of the 3% to 5% range in the near term.
KMB also faces plenty of competition throughout the world. Therefore, the company will need to continue innovating its products and its marketing to maintain consumer appeal and increase market share.
Conclusion
Kimberly-Clark is valued higher than the S&P 500. However, the valuation drop in oil-related companies is bringing down the S&P 500's value. Kimberly-Clark should be trading at a premium to the average S&P 500 company because it is an above-average company.
KMB has an ROIC of 28.6% based on TTM figures. To put that into perspective, out of a screen of large cap stocks, only 13% were found to have an ROIC over 25%. KMB's strong ROIC helps drive its cash flow growth, which is used for expansion, dividends and share repurchases.
With a strong ROIC and a valuation at fair level, KMB is a good combination of a growing dividend investment with price appreciation.
Disclosure: I/we have no positions in any stocks mentioned, and no plans to initiate any positions within the next 72 hours.
I wrote this article myself, and it expresses my own opinions. I am not receiving compensation for it (other than from Seeking Alpha). I have no business relationship with any company whose stock is mentioned in this article.
Additional disclosure: If you like my analysis, click on FOLLOW at the top of the article near my name. That will allow my articles to display on your homepage as they are published. The article is for informational purposes only (not a solicitation to buy or sell stocks). Investors should do their own research or consult a financial advisor to determine what investments are appropriate for their individual situation.