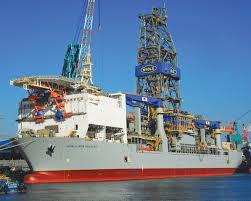 Source: Drillship Noble Bob Douglas
Noble Corporation PLC (NYSE:NE)
This article is an update of my preceding article published on April 30, 2016 about the first-quarter results.
Q1'16 Balance sheet. (six consecutive quarters).
Q2 2016
Q1 2016
Q4 2015
Q3 2015
Q2 2015
Q1 2015

Total Revenues in

$ Million

894.78
611.97
857.7
896.7
793.56
804.34

Net Income

$ Million

322.87
105.49
(152.2)
325.8
159.03
178.4

Special Items/lump sum in

$ million

540

FCX

0
140 Discoverer

177 Ferrington

-
-

After-Tax Impairment Charge

$ million

0
0

418.3

2 rigs

-
-
-
Earnings Per Share in $
1.28
0.42
(0.63)
1.32
0.64
0.72

Shares Outstanding Basic

In million

243.217
242.826
241.974
241.970
241.966
242.685
Dividend per Quarter/Share
0.01
0.01
0.15
0.15
0.375
0.375

Cash and Cash Equivalent

in $ Million

822.98
236.20
512.25
164.4
247.7
82.20

Liquidity: Cash + Revolving

$ Billion

3.27
2.7
2.8
2.8
2.9
2.7

Capital Expenditure

$ Million

69
51
170
110
81
89

Total Debt

$ Billion

4.1
4.2
4.5
4.189
4.589
4.86
Debt-to-Capital Ratio
34.6%
36%
38%
37%
40%
40%

Net-debt

$ billion

3.28
3.927
3.677
4.025
4.342
4.04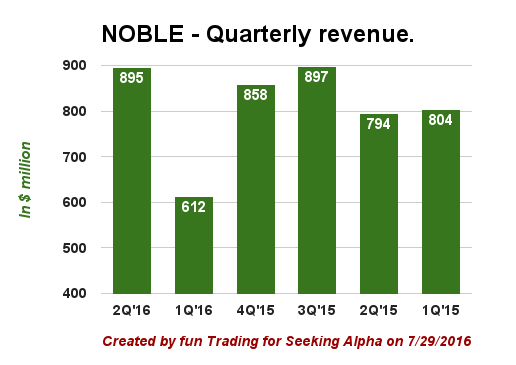 Interim CFO Denys James Lubojacky indicated in the conference call:
Total debt at June 30 was $4.1 billion, with $3.8 billion of long-term debt and $300 million classified as current maturities of long-term debt. The $300 million represents our March 2017 senior note maturity which we expect to repay with cash on hand. The long-term debt balance reflects the early termination of $36 million of senior notes in April.

The debt-to-total capitalization ratio at June 30 was 34.6%, down from 37.5% at the close of 2015. Our liquidity position at the close of the second quarter of $3.3 billion improved relative to the first quarter as a result of the collection of the Freeport contract settlement of $540 million. The components of liquidity at June 30 were cash and equivalents of $823 million and a revolving credit facility of $2.445 billion which remains undrawn.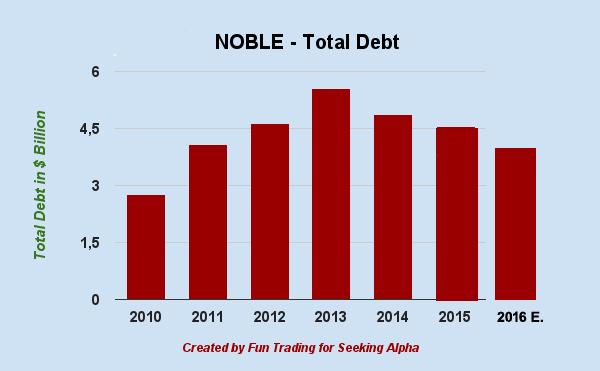 Noble Corp., Contract Backlog and fleet repartition estimated as of mid-July: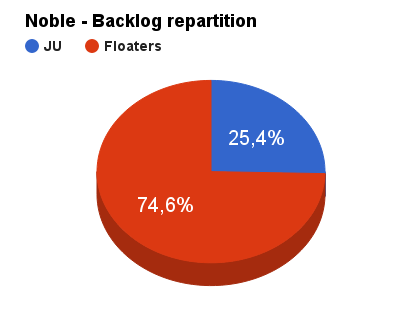 Click to enlarge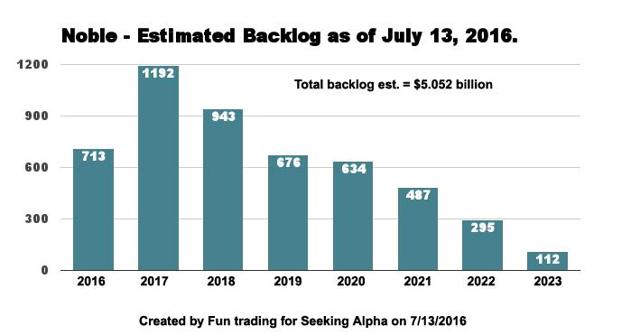 Click to enlarge
Our total backlog at June 30, 2016, stood at $5.1 billion with contracts extending out as far as 2023.
Commentary:
Noble Corp. released its 2Q'16 results on July 27, 2016, followed by the 2Q'16 conference call.
After commenting on the balance sheet, and to complete my recent July fleet status report published on July 15, 2016, I want to add three important topics regarding the July FSR:
1 - New one-well contract for the Noble Bob Douglas in Suriname. Simon W. Johnson, VP Marketing, said in the conference call:
Interest in the region extends to Suriname where Apache will drill a deepwater well in the first half of 2017. The customer has awarded a one well plus options program to our ultra-deepwater drillship, the Noble Bob Douglas with an expected commencement around April 2017 in direct continuation of the rig's current contractual commitment to Anadarko in the U.S. Gulf of Mexico.
Class: Drillships
Name

Spec.

K feet

Contract

End

Current

Day rate

K$

Location

(0-rate)

2013

10/40

Mid 2/17

Mid 2/17 (About 45-day)

636

~385(?)

[Anadarko]

GOM

[Apache]

Suriname
Assuming 45-day and $385K/d it is an estimated $17-$20 million in backlog, plus mobilization.
2 - The JU Noble Loyd Noble is now "en route" to the UK North Sea, Mariner Field, working for Statoil. CEO David W. Williams said in the conference call:
I'm delighted to report that on July 15 we took delivery of the ultra-high-specification jackup rig, the Noble Lloyd Noble. The rig is arguably the world's largest jackup with some very unique advanced capabilities, including the ability to operate in water depths of up to 500 feet and drill to a total well depth of 33,000 feet. The Lloyd Noble was completed in a period of 31 months and well under budget. The rig has commenced an estimated 12,300-nautical mile journey to the UK, where it's expected to begin a four-year primary term contract with Statoil in the fourth quarter on the Mariner field in the North Sea.
3 - Capital Expenditure for 2016 has been revised down from $800 million to now $675 million.
And finally, we've reduced our capital expenditures in 2016 to an estimated $675 million, down from our previous guidance of $800 million. The lower spending expectation is driven by reduced spending across all categories, especially in the areas of maintenance capital and major projects.
The conference call brought many interesting information regarding the actual situation of the offshore market. I always listen carefully to this expose, to catch the first signs of a possible recovery. I was pleased to learn that despite a very challenging market in 2016, the outlook for 2017 is slowly changing for the better.
Noble has remained very busy since our last update in April. Customer inquiries have been on the rise, with a number of requests in support of operators' 2017 budget cycle while others relate to evaluation of new work programs or reexamination of stalled or deferred projects. While we're encouraged by the continuing positive trend, the international rig market nevertheless remains in a challenging state with regard to the fundamental interaction of rig supply and demand.
Rig attrition is accelerating with 158 rigs now cold stacked and potentially retired.
Conclusion and stock price recommendation: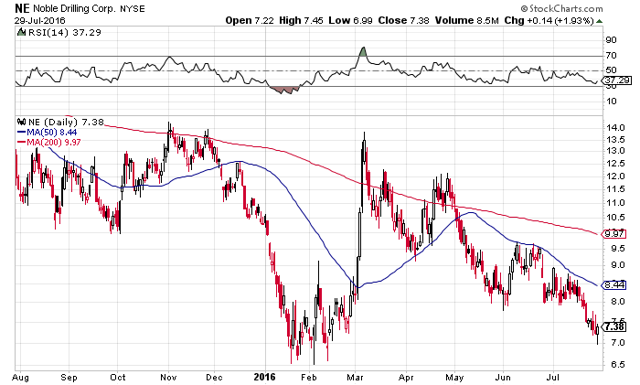 Click to enlarge
Looking at the chart, it is obvious that NE is now reaching a very strong support at $6.50-$7.25, and it should be an excellent opportunity to start a long-term investment.
NE, as well as Ensco (NYSE:ESV), has outperformed its peers in 2016, and I have a hard time to find the underlying fundamental reasons that could explain this excessive drop?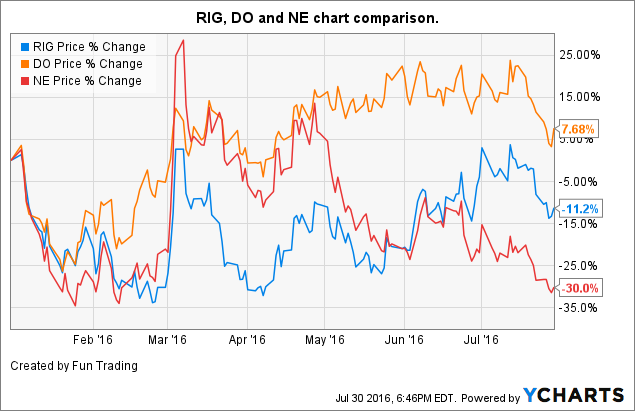 I recommend NE as a buy at or below $8.
Note: Do not forget to be one of my followers on NE and get updated on the most recent NE news (contracts, sales and earnings results).
Disclosure: I am/we are long NE.
I wrote this article myself, and it expresses my own opinions. I am not receiving compensation for it (other than from Seeking Alpha). I have no business relationship with any company whose stock is mentioned in this article.