Click to enlarge
Express Scripts (NASDAQGS: ESRX) is a pure-play pharmacy benefits manager and the leader in a space shared with CVS Caremark (NYSE: CVS) and UnitedHealth's (NYSE: UNH) Catamaran and OptumRx. However, they are all different as investments due to CVS owning their well-known retail stores and UnitedHealth being a major health insurance giant. I plan on doing a series on all three of these. The market share of the PBM space is broken down below: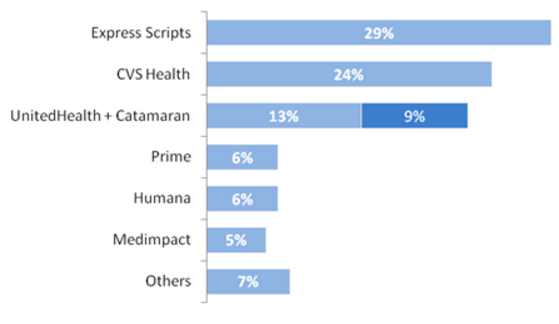 Source: Forbes
How Pharmacy Benefits Managers Work
Pharmacy Benefits Managers (PBM's) are the intermediaries between pharmacies, manufacturers, and insurance providers that negotiate drug pricing for the insurance companies. PBM's work to get discounts and mitigate high prices on certain drugs, something that has been a hot topic the last few years. They maintain profitability by charging a premium on the drugs to the insurance companies. The successful PBM's are those that can negotiate the best deals with manufacturers while also having the largest distribution network of pharmacies. These go hand in hand, as manufacturers of drugs are more likely to give the better prices to the large PBM's that can guarantee their drugs will be sold in a larger market. Because of these large deals, however, PBM's can end up relying heavily on only a few large deals.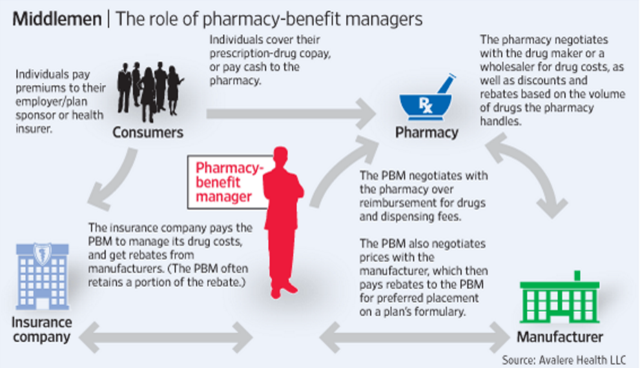 Click to enlarge
Source: WSJ
Governmental Scrutiny
A well-known trend affecting healthcare today is the increased scrutiny being paid to the pharmaceutical industry. High profile cases of extortionate drug prices have led to a public outcry and the potential for governmental interference into the space. Excessive drug costs have been a hot-button issue for the political season, and that has led to many great companies being overly beaten down in the health care space. Some believe that the PBM's actually bear a good amount of responsibility for the high prices due to taking their cut as the middle man between manufacturers and insurance companies. This could very well cause legislation changing the way that PBM's operate. However, these companies don't exist solely to take a cut. By all accounts, PBM's manage to keep drug prices down by extensively negotiating with drug manufacturers for the best deal. In my opinion, the most likely outcome from all this is increased transparency in PBM operation. A better view of the PBM process and their role in negotiating pricing should keep them safe from future regulation causing loss of revenue.
Macro Industry Trends
Macro trends supporting health care are well-documented, and so I won't go into depth here discussing them. Suffice it to say that PBM's are well positioned to take advantage of the increased use of prescription drugs with an aging population. The large players like ESRX, CVS, and UNH should be able to maintain large contracts which are likely to see above average growth for years to come. With that growth, investors get above average safety, as well. Healthcare stocks are recession resistant since pharmaceuticals are not an area that people cut back on during a recession, and that will keep earnings and thusly share price from dipping as low as the overall market. In the case of CVS and UNH, it will also grant them higher dividend safety than those companies in more cyclical industries.
Growth Prospects
ESRX has achieved excellent growth over time through acquisitions. Consolidating what was once a relatively fragmented sector of healthcare has allowed them to become the market leader, which has given them efficiencies of scale. However, looking at the market share of the top companies today (at top of page), this trend probably won't continue into the future.

Click to enlarge
Source: Company Presentation
By my estimation, this leaves 2 likely avenues for future growth. The first is one that they have been addressing in a significant way already, and that is to cut costs. Streamlining operations and automating their process will drive earnings gains going forward, but not at the rate investors may have become used to in the past. The other likely avenue for management to take is to drive higher margins through increased rebates and discounts from manufacturers. However, it seems to me that this has most likely plateaued. As the market leader, their efficiencies of scale already give them above-average access to large partnerships. The likelihood that they will be able to drive meaningful improvements in this area when the aforementioned governmental scrutiny is bearing down on the space is low. The company is well-run, and I believe they will find growth, but it is going to be much more difficult going forward than it has been in the past. Branching out into other avenues could definitely be a consideration for them in the future. CVS and UNH benefit from not being specifically focused on their PBM segment, and this could be something to watch for ESRX going forward.
Quantitative Analysis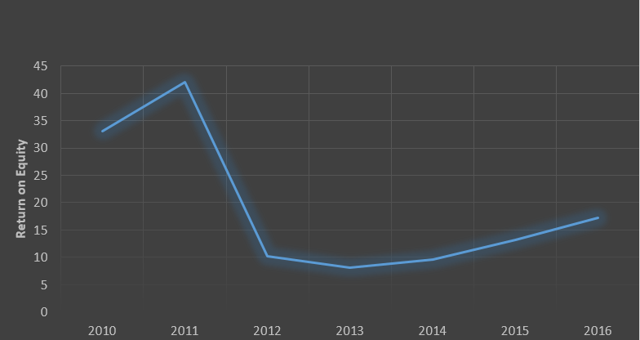 Click to enlarge
Return on equity has been trending upwards since 2013, and is in line with peers. The stark decline prior to that was due to share issuances from acquisitions. As stated above, that is less likely to happen in the future (especially in such large amounts) and investors should watch to see ROE continues its upward trend.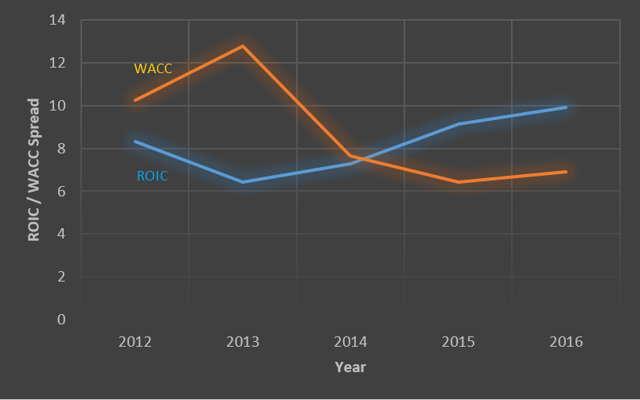 Click to enlarge
ESRX has improved and now has a positive ROIC-WACC spread, showing shareholder value creation as they grow. This is very important for a company that grew as fast as ESRX did, and is an important metric to watch going forward. They have generated around $4.5 billion in FCF every year since 2012, so they have no issues regarding liquidity. One of my major complaints is that they have yet to initiate a dividend. Generally speaking, when a company starts to run low on organic growth, I would like to see some of their capital returned to shareholders (and not just in buybacks).
Valuation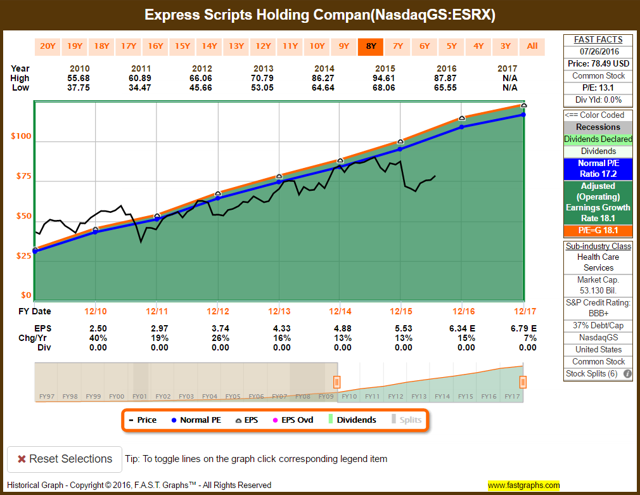 Click to enlarge
FAST Graphs shows a visual rendering of how ESRX's share price has disconnected from their earnings growth. This is due to the factors I discussed above. Although analysts have predicted 15% EPS growth over the next 5 years, that is not priced into the stock based on their low P/E ratio. Although I believe growth will slow going forward, I still think ESRX is undervalued here.
Conclusion
ESRX is undervalued now based on fears over governmental interference with pharmaceutical stocks. However, due to their lack of a dividend and slowing growth prospects, I believe that other companies look more attractive and will expound upon that in future coverage of CVS and UNH.
If you liked this article, and would like to read more like it, please click the follow button next to my picture at the top. Thanks for reading.
Financial statistics were sourced from FinViz, unless otherwise stated. This article is for informational purposes only and is not a formal recommendation to buy or sell any stock. Please do your own due diligence and/or consult a financial professional prior to making investment decisions.
Other excellent companies in the healthcare space:
Fears Over Cardinal Health Are Overblown
Buy AmeriSourceBergen On Drug Pricing Fears
Disclosure: I am/we are long CVS.
I wrote this article myself, and it expresses my own opinions. I am not receiving compensation for it (other than from Seeking Alpha). I have no business relationship with any company whose stock is mentioned in this article.