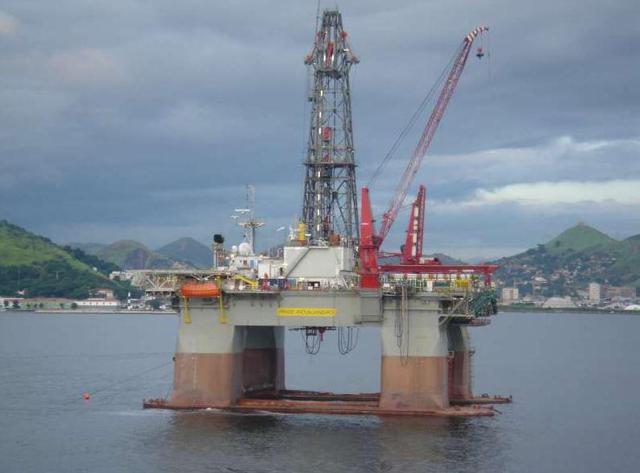 Click to enlarge
Picture: The Semisubmersible Ensco 6003
Ensco PLC (NYSE:ESV)
This article is an update of my preceding article on ESV published on April 29, 2016 about the Q1'16 results.
Please click here to look at my preceding article about the complete July 18 FSR. It will give you a better understanding of the situation, in which we learn among other things that the newbuild drillship DS-10 has been delayed another 18-month.
[I] Balance Sheet snapshot.
Second-quarter 2016 results snapshot - 6 consecutive quarters.
Q2 2016
Q4 2015
Q3 2015
Q2 2015
Q1 2015

Contract drilling revenue

in $ billion

0.9096
0.8140
0.8283
1.0122
1.0590
1.1639

Contract drilling expense

in $ million

350.2
363.7
415.2
433.5
502.6
518.3

Net Income

in $ million

592.6
175.3
(2,472)
287.5
262.7
324.7

G&A

in $ million

27.4
23.4
30.2
28.4
29.7
30.1

Cash flow from operations

in $ million

419.6
233.1
441.3
402.7
386.2
467.7

Cash on hand

in $ million

1,8033
1,379
1,3013
240.4
648.3
887.8

Long-term debt

in $ Billion

4.906
5.0
5.8951
5.9033
5.9113
5.9193

Non-cash impairment

in $ million

0
0
2,744.0
2.4
0
0

Backlog

in $ billion

4.1
5.2
5.1
6.6
7.4
8.4

Earnings per share

in $/share

2.04
0.74
(10.64)
1.24
1.15
1.38
Average day rate in $
194,754
208,117
216,372
232,008
237,263
243,902
Utilization
61%
65%
63%
62%
76%
86%
Long-term debt to capital
28%
33%
42%
32%
32%
31%

Shares outstanding (diluted)

in million

284.6
301.3
232.5
232.5
232.2
231.9

Dividend

$/share/Q

0.01
0.01
0.01
0.15
0.15
0.15
Financial Position - 30 June 2016 (from pr).
$4.1 billion of contracted revenue backlog excluding bonus opportunities
$4.05 billion of liquidity

$1.8 billion of cash and short-term investments
$2.25 billion available revolving credit facility

No debt maturities until second quarter 2019
$4.9 billion of long-term debt - down from $5.9 billion at 31 December 2015
28% net debt-to-capital ratio (net of $1.8 billion of cash and short-term investments)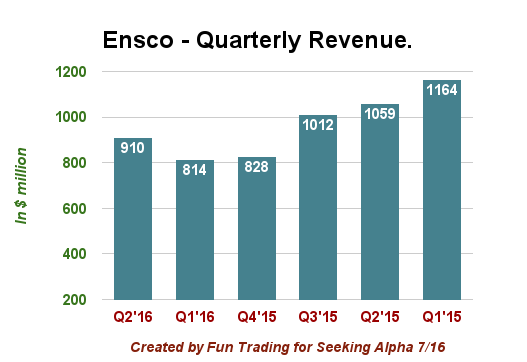 TAB 1 - Rig revenues and drilling expenses per segment.
Q2 2016
Q1 2016
Q4 2015
Q3 2015
Q2 2015
Q1 2015
Q4 2014
Floaters
Revenues
636.4
512.6
490.3
646.4
634.3
695.0
663.0
Drilling expense
208.6
211.3
239.2
242.4
277.7
293.5
514.0
Jackups
Revenues
251.3
277.9
307.4
325.8
384.1
428.3
454.5
Drilling expense
122.3
134.5
149.3
160.0
192.7
191.5
186.3
Managed drilling rigs
Revenues
21.9
23.5
30.6
40.0
40.6
40.6
42.3
Cost
19.3
17.9
26.7
31.1
32.2
n/a
34.3
Our offshore crews continued to deliver high levels of operational and safety performance during the second quarter, as evidenced by a record 99% operational utilization for our fleet and a record year-to-date total recordable incident rate of 0.25.
TAB 2 - Rig utilization and average day rate per segment.
Q2 2016
Q1 2016
Q4 2015
Q3 2015
Q2 2015
Q1 2015
Q4 2014
Floaters
Utilization
57%
64%
57%
59%
76%
86%
89%
89%
Average day rate $
359,575
364,771
397,146
421,903
417,463
425,278
428,734
Jackups
Utilization
63%
66%
66%
64%
77%
87%
88%
88%
Average day rate $
111,791
118,138
125,785
133,619
139,797
144,139
147,052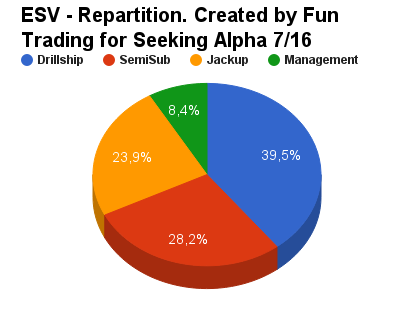 Click to enlarge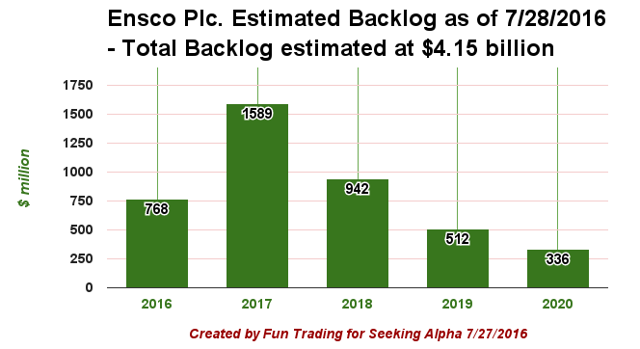 Click to enlarge
Investor presentation 2Q'16, click here.
Commentary:
Ensco released its second-quarter results on July 27, 2016. Revenues were $909.6 million in second-quarter 2016, compared to $1.059 billion a year ago.
Ensco has a very solid cash and short-term investments position of $1.8033 billion, after raising $586 Million of Net Proceeds Through Equity Offering in April 27, 2016.
M. Carl Trowell, CEO, said in the conference call:
During the second quarter we took decisive steps to further enhance our financial position. We completed a successful tender the reduced debt by $861 million, at a 28% discount. We purchased another $79 million of senior notes on the open market at a 21% discount. And we raised net proceeds $586 million through a secondary equity offering.

As a result we increased liquidity to more $4 billion at quarter end, composed of $1.8 billion of cash and short-term investments, and a fully available $2.25 billion revolving credit facility. Additionally, we improved our net debt to capital ratio to 28% from 40% at the end of the first quarter, better positioning Ensco to weather the current downturn and capitalize on opportunities in a market recovery.
Earnings from continuing operations were $2.04 per share, including gains on debt of $261 million and early termination contract settlements of $205 million (Ensco DS-9 and Ensco 8503).
M. John Baksht, indicated in the conference call what level of CapEx to expect for 2016-2017.
Moving to our capital expenditure outlook, total remaining newbuild CapEx is approximately $725 million. Forecasted CapEx for the rest of 2016 is $190 million, including final payments to the shipyard of $40 million for ENSCO 140 and $39 million for ENSCO 141. Today, we have paid approximately $157 million each for ENSCO 140 and 141. Our 2017, estimated CapEx budget is $450 million, of which $375 million is for newbuild.
Note: We learn in the conference call, that one of the newbuilds JU (140 series?) will be slightly delayed (30-day) and the company is discussing the matter with the shipyard. ESV will be potentially compensated for the delay, which is "outside the contractual window."
Also, in the North Sea, ESV is in discussion(s) with customers about some additional contracts, including extensions and new contracts about the Ensco 120 series. This is showing that the North Sea segment is still active despite a challenging environment.
Conclusion:
Of course, I could go on and on... However, I think you all got the basic picture no need to turn this article to an academic complete study.
Ensco is a solid and well-managed company, period. Its fleet is highly diversified (see repartition above), and, unfortunately, is experiencing the worst offshore drilling bear market in history.
Perhaps, it is important to put an emphasis to the words "bear market", which signify loss in revenue, loss and weakness in market share, struggle and idle time.
However, bear markets are usually followed by bull markets! Right? Then why panic?
Look at the oil prices history, and you will see that, what went down so dramatically, goes up with a vengeance one day.
The question is not IF, but When the offshore drilling industry will get back to a healthy pace? It will surely depend on the oil prices that should get back to a more coherent valuation, around $70+ per barrel ($55 should be sufficient for stabilization).
It is this simple thinking, and the certitude that the company is well balanced, that should motivate a buying position based on accumulation.
Often, investors do not understand the benefits of accumulating by increment when "there is blood in the street", and get panicked (manipulation), when their only purchase is not "in-the-money" anymore. My advice is that you study the company, stay focused and be patient and above all, do not listen at the so-called "prophets".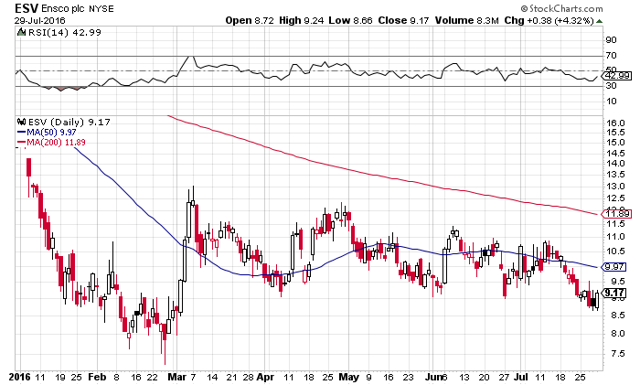 Click to enlarge
ESV has under-performed the offshore drillers, and is down quite significantly on a year basis. I find the same technical situation here, as shown in Noble (NYSE:NE), that I have just analyzed yesterday.
If we compare to Diamond Offshore (NYSE:DO) or even Transocean (NYSE:RIG), it is pretty clear that the street "punished" these two decent companies more than it should. For ESV the last equity offering was perhaps a reason?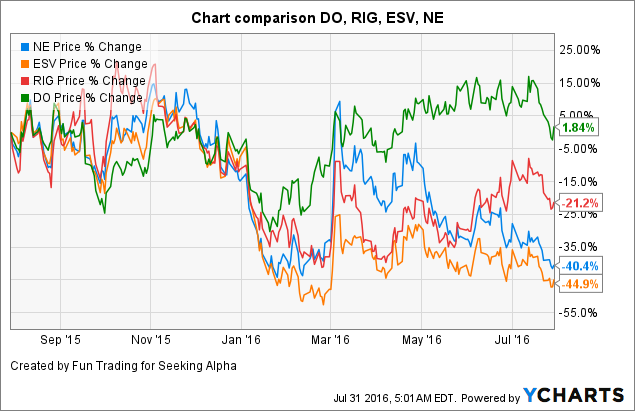 Conclusion:
I see ESV hovering from $8 (strong support) to about $10.50 in a short term. The only catalyst is the oil prices that are recently weakening a little, but will eventually resume a positive trend by 4Q'16. The offshore market is not providing any potential intrinsic positive news on the contracting side that could promote the stock.
I recommend a BUY at or below $9.
Important Note: Do not forget to become one of my followers on ESV and the offshore drilling sector in general. Thank you.
Disclosure: I am/we are long ESV.
I wrote this article myself, and it expresses my own opinions. I am not receiving compensation for it (other than from Seeking Alpha). I have no business relationship with any company whose stock is mentioned in this article.