As I have written before in this post, data usage in this mobile-first world is only going to increase. Companies such as T-Mobile (NASDAQ:TMUS) are offering subscribers unlimited data to stream video and music such as Apple Music, Netflix (NASDAQ:NFLX), standard broadcast networks, YouTube, HBO and so-on. T-Mobile's industry-leading 31% subscriber growth rate shows how powerful enabling data usage is to mobile consumers who are using data much more frequently to watch the content they crave on demand. With the implementation of live streaming through Twitter's (NYSE:TWTR) Periscope and Facebook (NASDAQ:FB) Live along with music streaming services such as Pandora (NYSE:P) and Spotify, increasing data usage of consumers is all around us. I believe tower companies are the best beneficiaries of this trend. Unlike telecom companies who need to fight for subscribers, tower companies own real estate in certain regions that create barriers to entry. There are heavy regulatory, initial capex, and maintenance requirements that prohibit other entrants contributing to the moat around tower stocks.
All the long-term charts of tower stocks look great so we look for clues as to which stocks may outperform. I believe Crown Castle International (NYSE:CCI) is well-positioned to hit higher prices due to its long-term chart in an uptrend and major long-term bullish options positioning in the stock.
First, let's look at the daily chart of CCI.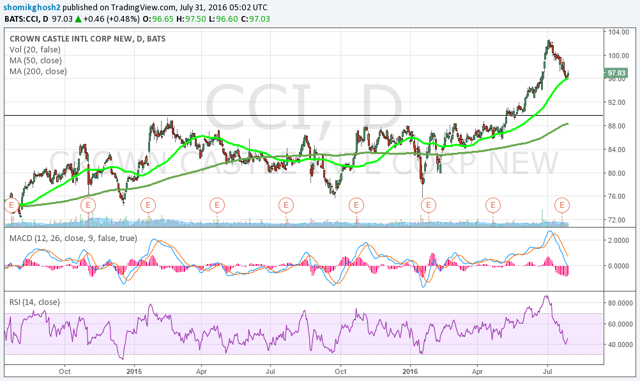 Click to enlarge
CCI had a huge breakout in April 2016 from a resistance level that had held since beginning of 2015. Since then, CCI has pulled back from its all-time highs, but is still holding above its 50-day moving average and even more importantly its 200-day moving average and breakout level. In the short-term, the stock may retest its breakout level around $90 which would also be close to the 200-day moving average as it climbs.
Now, let's take a look at the monthly chart of CCI.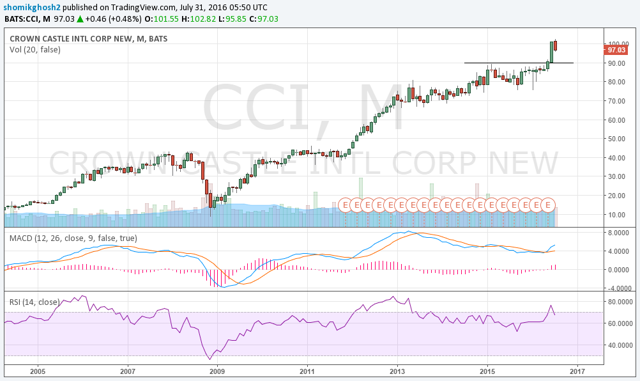 Click to enlarge
If you're a long-term investor, this chart is a piece of art. The RSI has never reached oversold levels besides 2009. That is the definition of an uptrend. The importance of the breakout at the $90 level can clearly be seen on the monthly chart. This resistance capped the stock for over a year allowing the stock price to correct through consolidation over time. The stock chart looks great on all timeframes, boding well for higher prices.
Finally, let's look at the long-term bullish options positioning in CCI.
On 4/7: over 10,000 Jan 2017 100-110 call spreads were purchased for $0.75.
The trader purchased $750k in option premium betting on the stock to rise higher. Over 12,000 calls are still sitting in OI. This means that the original trader has not closed the position and perhaps others opened new positions as well.
On 5/10-5/11: over 3,500 Jan 2017 80 puts were sold for $2.80 and the same amount of Jan 2017 95 calls were bought for $2.60
Institutional traders collected ~$980k in option premium while also purchasing ~$910k in option premium. This is a highly leveraged trade betting on stock prices rising higher. There is over 3,800 puts still sitting in open interest which means the traders have not closed their positions yet and new positions may have been opened.
In conclusion, based on the long-term industry tailwinds, bullish uptrends of the CCI stock chart on all timeframes, and huge amounts of bullish options positioning, CCI is a buy in my opinion. If the stock eventually retests the $90 level then I think that will offer a nice opportunity to buy the stock at a support level with bullish positioning and strong industry tailwinds.
Disclosure: I am/we are long TMUS, FB.
I wrote this article myself, and it expresses my own opinions. I am not receiving compensation for it (other than from Seeking Alpha). I have no business relationship with any company whose stock is mentioned in this article.