Constructing the following portfolio begins with over 100 ETFs. By starting with a larger pool of ETFs we provide greater diversity than is available in the IVY Ten. The ETFs are first run through a tranche momentum screen to pair the list to 15 to 20 securities. The original list is made up of bonds, commodities, international equities, U.S. equities, and dividend oriented ETFs. Once the first screen is finished, the goal is to find low correlated offerings from this group of high performers. Below is the current list
Correlations of Top Performing ETFs: The following seventeen ETFs made the first momentum cut. From this group we further reduce the number by running a correlation analysis. When the cutoff is set to 0.8 we end up with ten clusters or ten groups of low correlated ETFs. REM is one cluster, VNQ is a second cluster, EPI a third, etc. Note that VWO, FAN, and PICK are highly correlated and in this case we make a decision to keep only one for the final analysis. Since I frequently use VWO in portfolios as it covers emerging markets, that is my choice for the final analysis.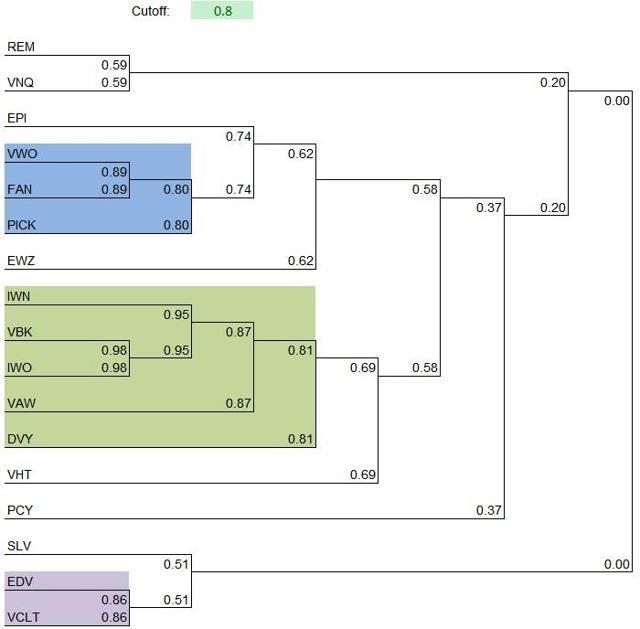 Click to enlarge
Screening for Top Performance and Low Correlations: From the original seventeen (17) ETFs I reduced the list to eleven (11). I could have paired it to nine by knocking out one in each of the clusters where two ETFs are highly correlated. Another decision I frequently make is to include VTI as an option as it is an inexpensive ETF that covers the entire U.S. Equities market. VTI did not come close to making the original cut this time so I left it out.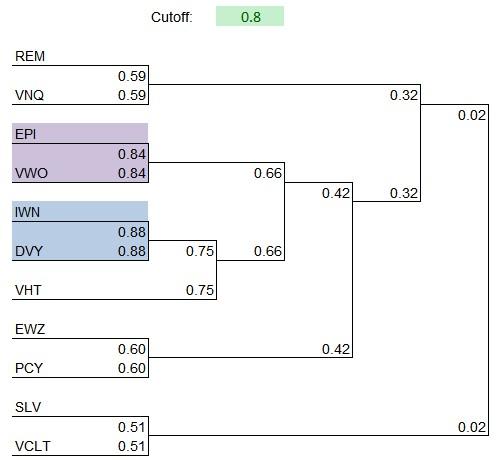 Tranche Momentum Recommendations: Now that these 100+ ETFs have been narrowed to eleven, we proceed with the analysis of building a portfolio. The following tranche momentum screen is exactly what was used to identify the original group of seventeen ETFs.
Four ETFs are identified as meeting the momentum standards based on performance over the past 60 and 100 trading days as well as showing lower volatility over the past 10 trading days. Those ETFs are: REM, VNQ, EWZ, and SLV. In some ways this is a rather odd combination for building a portfolio as we have two REITs, Brazil, and a commodity, silver. Keep in mind that these four ETFs include hundreds of companies so there is diversity. It may not be the diversity you want. As mentioned above, if this group of ETFs lacks "investor comfort," add VTI to the portfolio to fill the required need.

Click to enlarge
Position Sizing Recommendations: Building upon the above tranche momentum screen we move to the position sizing worksheet where we begin to take control of portfolio risk. The two primary control factors are the SD Multiplier and the Max Trade Position Risk percentage. In this example the former is set to 1.6 and the risk percentage to 1.4%. The latter percentage is set so the Maximum Portfolio Risk is no greater than 6%.
With these settings for a $100,000 portfolio, the recommended shares are displayed in the Shares column. Click on the table to expand for ease of reading.
Based on these recommendations, $42,000 remains in cash and the Suggested Portfolio Risk is 5.2%. The goal is to keep portfolio risk below 6%.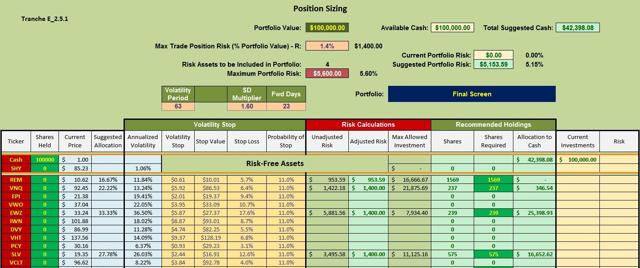 Click to enlarge
Risk Reduction Adjustments: The final worksheet looks nearly identical to the above table, but in this worksheet we are able to insert the number of shares we intend to purchase to populate this portfolio. Shares from under-performing ETFs are sold out of the portfolio.
Portfolios following the Tranche Momentum Model are reviewed and updated every 33 days so as to rotate the review thoughout the month rather than do it the closing Friday of each month.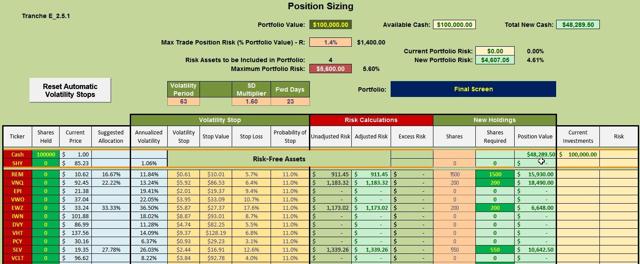 Click to enlarge
When a portfolio construction model is presented, readers frequently ask - Where are the back-test results? While I do not have performance results for this exact model, I have some data for a similar momentum system that will be of interest to readers. You can find it at this site.
Disclosure: I am/we are long REM, VNQ, SLV.
I wrote this article myself, and it expresses my own opinions. I am not receiving compensation for it (other than from Seeking Alpha). I have no business relationship with any company whose stock is mentioned in this article.