ARMOUR Residential REIT (NYSE:ARR) just declared their dividends for August and September at $.22 per share, in line with previous dividends. The mortgage REIT has suffered a troubled history as a series of incorrect calls on the MBS to LIBOR swap spread resulted in declining book value quarter after quarter. That trend should be coming to a very abrupt halt. By my estimates, book value for the mortgage REIT should be up substantially quarter over quarter. The portfolio carried positive duration from agency RMBS and a significant volume of non-agency RMBS. Both of those situations should be winners on the quarter.
Prior Prediction
In my last article on ARR, I referenced the 13% yield (down now because of price appreciation). My comments were:
"At $.22 per month, the annualized dividend represents a 13% yield on the current stock price and a 10.78% yield on the book value of common equity from the start of the quarter. In my estimation, book value for ARMOUR Residential REIT should be doing fairly well on the quarter because the portfolio was structured to benefit from a small decline in interest rates."
ARR's decision to declare the next two dividends at $.22 supports my assessment of the mortgage REIT's position.
Earnings Preview
The earnings date has not been announced. I expect it to come up next week. Consequently, I put together my range of estimates on book value for the end of the second quarter. The prices in this chart reflect the prices from 07/01/2016. Consequently, terms like "current" are a reference to the end of the second quarter.
The table below shows my range of estimates for book value and the discount to book value as of the end of the second quarter: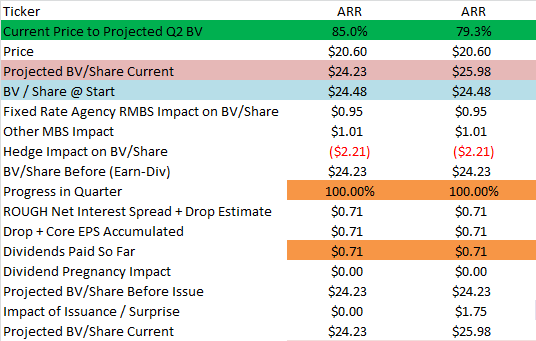 My best guess is that the book value will come in relatively close to the middle of that range, so I will go with something in the ballpark of $24.95 to $25.30. The latest share price was $21.28.
Using the latest price of $21.28 to my estimated range of $24.95 to $25.30 puts the "price to estimated Q2 book value" at a range of .853 to .841. That is a lower price to book ratio (larger discount) than most comparable mortgage REITs are seeing.
I expect the total gains on MBS positions to exceed the $1.96 demonstrated in the model. This is a result of the acquisition of Javelin Mortgage Investment (NYSE:JMI). This should be the quarter where investors recognize the value created through the acquisition.
Values for "rough net interest spread" should be treated as being very rough estimates. The emphasis of this model is predicting book value, not predicting Core EPS.
Potential Trading
I am long ARR's common stock. I took this position to capitalize on the relative difference in discounts to book value between the mortgage REITs. I believe the gain in book value may surprise investors and some analysts and lead to a gain in share prices. If the discount shrinks to levels that are comparable enough to other mortgage REITs, I will look to exit position and lock in the profits.
I started my position on 06/03/2016. Macroeconomic events had just sent interest rates lower, and I saw book value for ARMOUR Residential REIT outperforming peers while the share price was underperforming. Shares were bought at around $19.70. The combination of price appreciation and two dividends has my total return so far at just over 10%.
Want to Know More About Mortgage REITs and Preferred Shares?
Since the Mortgage REIT Forum is a new exclusive research platform, the first 100 subscribers will be able to lock in their subscription rates at only $240/year. My investment ideas emphasize finding undervalued mortgage REITs, triple net lease REITs, and preferred shares. With the market at relatively high levels, there is also significant work on finding which securities are overvalued to protect investors from losing a chunk of their portfolio.
Disclosure: I am/we are long ARR.
I wrote this article myself, and it expresses my own opinions. I am not receiving compensation for it (other than from Seeking Alpha). I have no business relationship with any company whose stock is mentioned in this article.
Additional disclosure: Information in this article represents the opinion of the analyst. All statements are represented as opinions, rather than facts, and should not be construed as advice to buy or sell a security. This article is prepared solely for publication on Seeking Alpha and any reproduction of it on other sites is unauthorized. Ratings of "outperform" and "underperform" reflect the analyst's estimation of a divergence between the market value for a security and the price that would be appropriate given the potential for risks and returns relative to other securities. The analyst does not know your particular objectives for returns or constraints upon investing. All investors are encouraged to do their own research before making any investment decision. Information is regularly obtained from Yahoo Finance, Google Finance, and SEC Database. If Yahoo, Google, or the SEC database contained faulty or old information it could be incorporated into my analysis. Tipranks: Assign no new ratings. Leave existing ratings.