There are many critics of General Electric's (NYSE:GE) management team, and more specifically of Mr. Jeffrey Immelt, CEO, and anyone can understand why after reviewing the company's stock performance since Mr. Immelt took over as CEO of this storied conglomerate. Since Mr. Immelt became CEO, GE's stock price is down ~14% while the S&P 500 is up ~100%
(click to enlarge)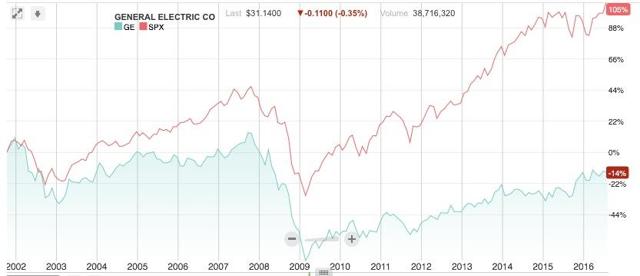 Click to enlarge(Source: Nasdaq)
This underperformance is a tough pill to swallow for the investors that have stayed committed to this company, but I want to take some time to explain why I believe that the stock performance over the next few years will be vastly different than what is shown in the chart above.
A Different Company, GE Today Compared To 2001
One of the most important things to remember is that investors had extremely high expectations for GE in the late 1990s and early 2000s, and these high expectations are shown by the extreme price-to-earnings ratios that the company was selling at during this period of time.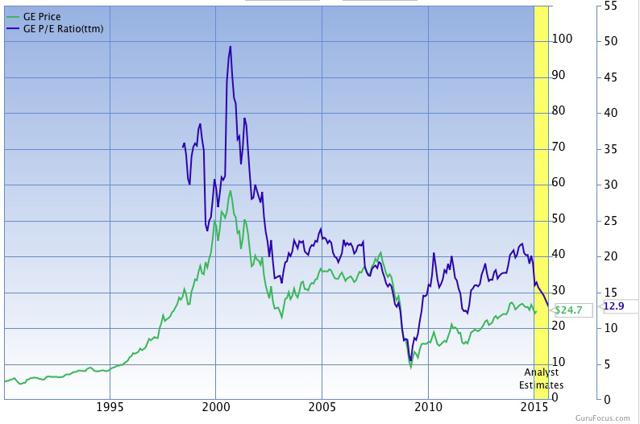 Click to enlarge
(Source: GuruFocus --taken from an article written by W.G. in Feb. of 2015)
Within the article linked above, I described GE has an overvalued company that Mr. Immelt took over from Mr. Jack Welch. Mr. Welch was a masterful salesman who painted GE as the next big thing in the financing world, and this was on full display in the company's 2000 Annual Report. Below are some direct quotes from the report:
"GE Capital net income grew 17% in 2000, another record year in two decades of double-digit earnings increases. Assets exceeded the $370 billion mark and our businesses combined to deliver $5.2 billion in net income. In all, a terrific year for our global financial services companies"
"Capital Structured Finance Group made great strides in 2000, as net income rose 28% for the year"
"Mortgage Insurance had another terrific year in 2000, again delivering record earnings while helping make the dream of home ownership a reality for nearly a quarter-million families"
"Commercial Finance continues as one of GE's fastest-growing businesses with revenues accelerating 19% in 2000, capping a fourfold revenue increase over the last five years"
The annual report was mainly focused on the financing businesses, and honestly, after reading through the report, it was hard to tell that GE was an industrial company. So, investors were buying into the financing business hype and simply overpaid for expectations that were flat out not met. Moreover, let's not forget that GE's businesses were directly impacted by two significant events since Mr. Immelt took over: the September 11, 2001 terrorist attacks and the financial crisis.
GE was poorly positioned before the financial crisis, and this nearly brought the company down. Yes, Mr. Immelt could have sold off the financing businesses after he took over as CEO but let's be real and consider what the investment community would have thought about GE selling the businesses that were making up 50% of profits and that were viewed as the "future" of the company. In hindsight, it would have been a prudent decision to sell GE Capital before 2007 but I do not believe that anyone would have done any differently than what Mr. Immelt did; he played the hand that was dealt.
Today, GE is a vastly different company that is trading at a more reasonable valuation. In 2015, Mr. Immelt and the board decided to sell the majority of GE Capital and bring the company's focus back to its industrial businesses, and this decision has been receiving praise since the announcement was made.
In a recent article, I highlighted the fact that GE reported better-than-expected Q2 2016 earnings and that the company has been able to beat the earnings estimates in each of the last five quarters. More importantly, the Q2 2016 results show that GE is progressing well towards the goal of achieving $2.00 plus of EPS by 2018 with 90% of the earnings coming from the industrial businesses.
The Industrial Focus, The Top Performer
In Q2 2016, GE reported impressive industrial operating results, with the exception of the weak orders numbers, as adjusted industrial EPS were up almost 30%.

Click to enlarge
(Source: Q2 2016 Earnings Presentation)
However, not every industrial segment of GE is performing well in the current environment. For example, the Oil & Gas segment again had double digit declines in both revenue and profit during the quarter. On the other hand, the Power and Aviation segments have continued to report impressive numbers over the last few quarters. I want to focus on the segment that management spent a great deal of time discussing during the Q2 2016 conference call -- Aviation.
To just say that the Aviation segment is important to GE's long-term prospects is, in my opinion, understating the significance of the segment. Aviation is becoming a vital component of management's long-term strategy. For the most recent quarter, the segment's revenues and profit were up mid-single digits with margins improving by 40 bps.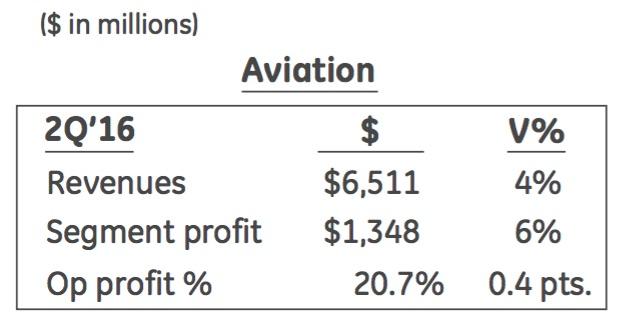 (Source: Q2 2016 Earnings Presentation)
In addition, the Aviation segment's backlog is sitting at $156b, which is up almost $50b since 2013.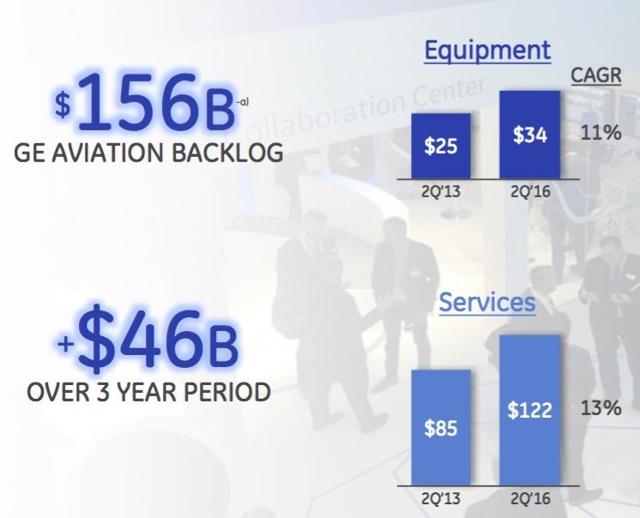 Click to enlarge
This segment has established itself as a top performer for GE over the last few years and I anticipate the company will heavily rely on this segment to meet the 2018 EPS guidance.
The weak Q2 2016 orders numbers that GE reported has been in the news a lot since the earnings release, and the Aviation segment contributed to the YoY decline in orders. For the quarter, Aviation saw total orders decline 15%, which were pulled down by the 37% drop in equipment orders (services orders were up 8%). However, management mentioned in the conference call that the $25b of orders and commitments from the Farnborough Air show were not included in the most recent quarter.
I have high expectations for the Aviation segment's business prospects over the next few years, and one quarter of unimpressive orders numbers is not enough to change my mind. I fully expect for the company, and this segment, to report improving operating results over the second half of 2016.
Bottom Line
General Electric is a very different company today than it was when Mr. Immelt took over as CEO, and I believe that the plan to return the company to its industrial roots was the right decision. Many investors are critical of the CEO, but, in my opinion, Mr. Immelt's plan will unlock a tremendous amount of value over the next few years.
The company did not hit a homerun with the Q2 2016 results, but the results show that there is a lot to like about this company's future prospects. Analysts are worried about GE not being able to meet management's long-term financial targets, but I believe that the Aviation segment, along with the Power and Healthcare segments, will allow management to stay committed to its strategy of investing in the future while also being able to meet the earning estimates in the quarters ahead. As such, GE should still be considered a long-term investment at today's price. I believe that Mr. Immelt agrees with this assessment, because he recently purchased an additional 50,000 shares for $31.45 apiece.
If you found this article to be informative and would like to hear more about this company or any other company that I analyze, please consider hitting the "Follow" button above.
Disclaimer: This article is not a recommendation to buy or sell any stock mentioned. These are only my personal opinions. Every investor must do his/her own due diligence before making any investment decision.
Disclosure: I am/we are long GE.
I wrote this article myself, and it expresses my own opinions. I am not receiving compensation for it (other than from Seeking Alpha). I have no business relationship with any company whose stock is mentioned in this article.