Overview
The Lean Long-Term Growth Portfolio, or LLGP, was created in early February 2016. The objective of this portfolio is for long-term capital appreciation and will include companies that pay dividends. Not all companies in the portfolio will pay dividends however, as this is not the primary objective for wealth creation at this time.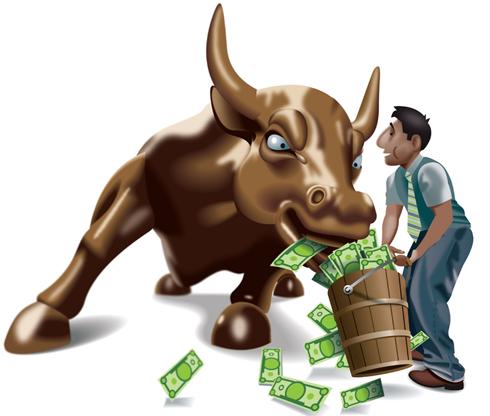 The portfolio will remain lean for the foreseeable future. What this means is that the number of holdings will most likely remain somewhere near the 10, or so level. The limit placed as of this update is 15, so ideally this limit will be maintained.
As of July 31, 2016, the fund currently comprises 13 companies including: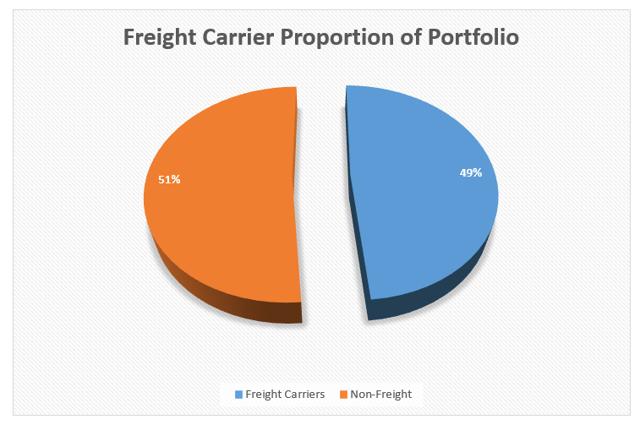 Click to enlarge
Source: Personal database
The focus of the portfolio will tend to dictate that a majority of the holdings will be in the freight sector. Other companies will be added to provide for a diversified portfolio based upon historical analysis. Compared to last month, the percentage of non-freight holdings within the LLGP decreased by 6 percentage points to 51 percent, resulting mostly from the exited WhiteWave and Netflix positions.
Current Holdings Performance - Update
As of May 31, 2016, the table below provides the initial date of purchase and stock price paid, including transaction fees, for each of the current 14 holdings. All dividend payouts are included in the performance to illustrate total returns.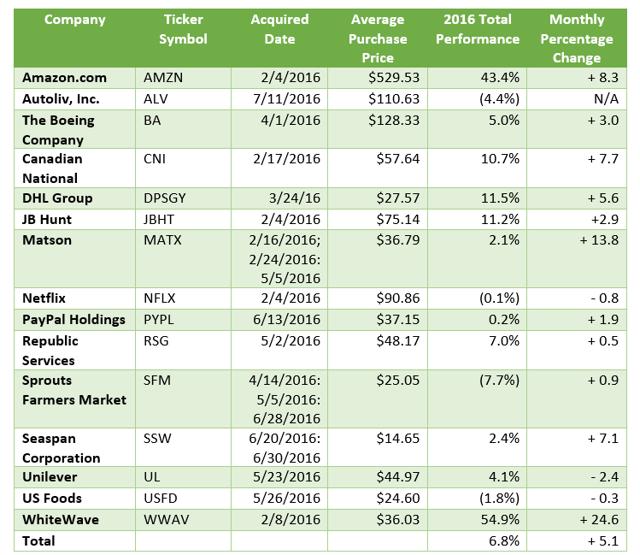 Click to enlargeSource: Personal Database
The WhiteWave and Netflix positions are displayed for the final time to reflect their performance as each position was exited. The only position added during July was Autoliv. Autoliv's initial weakness is a combination of selling pressure after earnings, and Ford's (NYSE:F) results and guidance leading to negative speculation for the automotive industry in the near-term.
Overall, performance in July was very strong, with ten of the remaining holdings posting positive increases from June. This was led by Matson, Amazon, Canadian National and Seaspan. Sprouts continued to weigh on the portfolio and is the second largest holding currently to Matson. There are still earnings reports forthcoming for DHL Group, Matson, Sprouts and US Foods.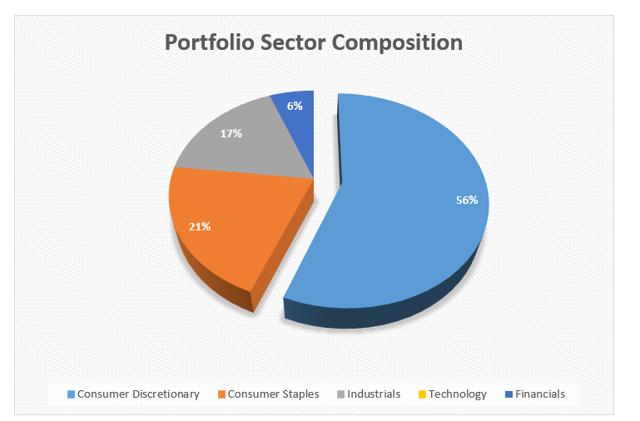 Click to enlarge
Source: Personal Database
The major change in percentage points for both consumer discretionary and consumer staples categories was largely a result of the WhiteWave and Netflix position exits. Netflix was the only company within the technology category, so this has been eliminated moving forward.
There is no urgency to replace these gaps with new companies at the moment. The focus remains on transports and other select companies as they become attractive with a focus on free cash flow and valuation multiples.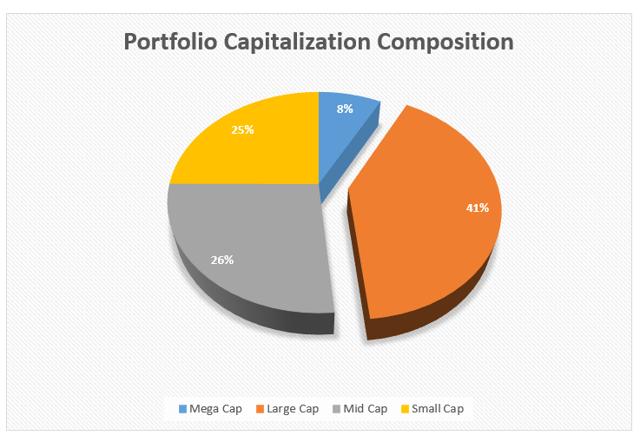 Click to enlarge
Source: Personal Database
WhiteWave and Netflix reduced the mid-cap and large-cap categories by 2 and 3 percentage points respectively. These results correspondingly increased the performance of the small-cap and mega-cap categories. Amazon remains as the lone mega-cap holding in the portfolio.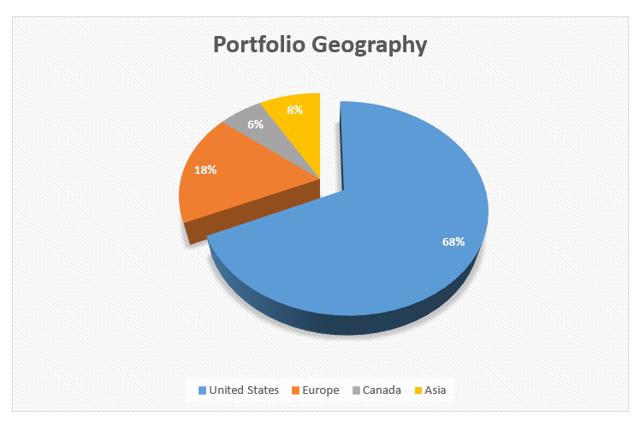 Click to enlarge
Source: Personal database
The majority of companies within the portfolio remained U.S.-based; but the proportion declined by 8 percentage points as both WhiteWave and Netflix were U.S.-based companies. European exposure witnessed the greatest percentage point increase as a result.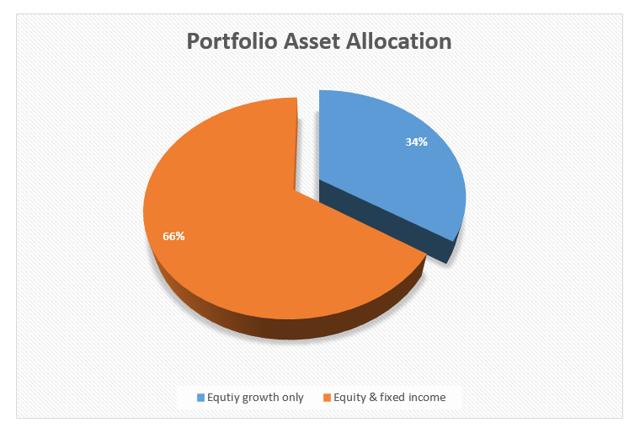 Click to enlarge
Source: Personal database
The change in the mix of equity growth only versus equity and fixed income growth was substantial during July as both WhiteWave and Netflix were equity growth holdings. Equity and fixed income proportionally increased by 11 percentage points.
Benchmark Comparison and Performance
As noted, the portfolio was developed in February 2016 - so the benchmark performance below is as of February 4, 2016 to provide a comparable review.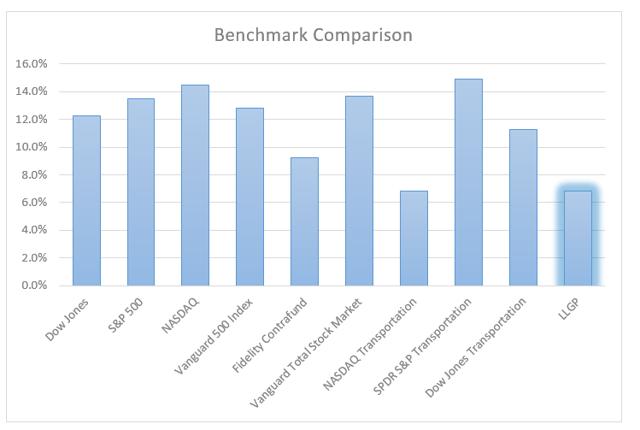 Click to enlarge
Source: Yahoo! Finance and Personal Database
To date, the portfolio has returned 6.8 percent, including dividends. The portfolio has underperformed the majority of its primary benchmarks through July. The LLGP displayed substantial improvement from June, but the broader market indices have generally performed just as well, so the major gap between them continued to remain with exceptions being the Fidelity Contrafund and NASDAQ Transportation index.
Matson and Sprouts earnings reports this upcoming week will be the most important in determining whether or not the LLGP will continue to make further progress through the remainder of the year.
The LLGP expense ratio stood at 1.4 percent from all transactions for the year, reflecting a very marginal increase from the transactions for the exited positions during July. It should be noted that all performance includes transaction costs, so the 6.8 performance is the pure return to date of the portfolio. The LLGP yield on cost stood at 0.4 percent through June 2016. Nearly 0.5 percent has been realized through dividends, while the remainder is unrealized. The yield on cost is forecast to be at 2.0 percent during 2017.
Conclusion
April performance witnessed a decline of 1.9 percentage points, May witnessed a decline of 2.2 percentage points and June has witnessed a 2.5 percentage point decline. The 5.1 percentage point increase during July was very strong.
Exiting the Netflix position was predicated on multiple assessments of free cash flow. The thought is that Netflix will not be able to generate substantial operating cash flow from earnings alone and that the company will need to transition to a media business model. This will necessitate that Netflix be able to amortize original content development at a rate to offset increasing streaming and production costs. Without transparency that this will be able to occur in the near-term, the position was exited due to it not meeting free cash flow standards.
Overall remaining performance was solid and no other positions at the moment raise concerns based upon free cash flow generation or valuation multiples from past purchase prices. The LLGP will continue to defend these holdings in the event further weakness occurs.
Disclosure: I am/we are long ALV, AMZN, BA, CNI, DPSGY, JBHT, MATX, PYPL, RSG, SFM, SSW, UL, USFD.
I wrote this article myself, and it expresses my own opinions. I am not receiving compensation for it (other than from Seeking Alpha). I have no business relationship with any company whose stock is mentioned in this article.
Editor's Note: This article discusses one or more securities that do not trade on a major U.S. exchange. Please be aware of the risks associated with these stocks.