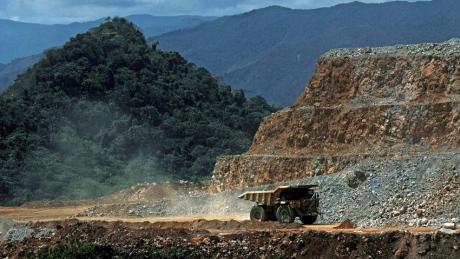 Goldcorp Inc. (NYSE:GG)
This article is an update of my preceding article about Goldcorp Inc. published on April 30, 2016.
Goldcorp released its Second-quarter 2016 results on July 28, 2016.
Click here for the conference call transcript.
Mines - Production and Location.
Location
Mines

2014 gold production

Estimated

Troy Oz

Production

Oz/2015

Reserve P1+ P2

in Troy oz

Canada & USA

Red Lake
400k to 425k
375,700

2.55M

12 years-Life

Éléonore

290k to 330k 2015E

575k-625k by 2018

268,100

4.03M

Commercial on 4/1/15

Porcupine

(Extension) Probe mine 01/19/15

300K to 320K
274,300

3.01M

13 years-Life

Musselwhite
230k to 240k
270,300

1.85M

13 years-Life

Coffee Project Yukon
Development Projects
Cochenour (Red Lake)
225k to 250k
See above
-
Mexico
Peñasquitos
700k to 750k
860,300

reserve N/A

Gold/Silver

13-year Life

Los Filos
265k to 290k
-

7.95M gold and 54.52M Silver

14-year Life

Development Project
Camino Rojo
Completion Q1 2016
-

1.63M gold

32.07M silver

Central & South America
Marlin
175k to 185k
-

0.65M gold

30.09M silver

5-year Life

Alumbrera [37.5% JV with Xstrata and Yamana]
125k to 130k
-
Gold/copper

Pueblo Viejo

[GG 40% ABX 60%]

425k to 460k
381,700

16.15M gold

>25-years Life

Cerro Negro

425k to 475k

2015 Est.

507,400
5.75M gold
Development project
El Morro [70% GG, New Gold 30%]
In progress

6.7M gold

4.9 B lbs copper

[70% of basis]
A quick look at the financials: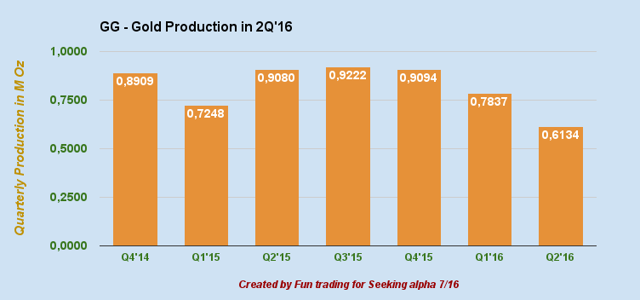 Click to enlarge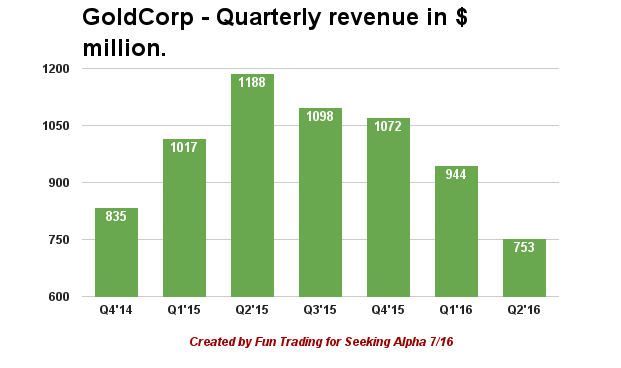 Q2'16
Q1'16

Q4'15

Q3'15

Q2'15

Q1'15

Basics

Revenues

$ billion

0.753
0.944
1.072
1.098
1.188
1.017

Operating Cash flow

in $ million

234
59
401
443
528
51

Net income

in $ million

(78)
80
(4,271)
(191)
392
(87)

EPS

$/share

(0.09)
0.10
(5.14)
(0.23)
0.47
(0.11)

Cash and cash equivalent

in $ million

398
401
326
257
940
365

Impairment

in $ billion

0
0

4.906/

3.9 (net)

0
0
0

Dividend

$/sh

0.02
0.02
0.02
0.06
0.06
0.15

Total debt (long-term)

$ billion

2.603
2.727
2.476
2.522
3.361
3.670

Outstanding shares

in million

853.4
831
830
830
830
817
Mining highlights

Gold Production

in K Oz

613.4
783.7
909.4
922.2
908.0
724.8

Copper Production

in Lbs

14,400
17,200
21,400
12,300
8,600
9,200
Silver Production in K Oz
5,300
7,700
10,096
11,314
10,433
8,520

Gold price

Oz

1,277
1,203
1,098
1,124
1,189
1,217
Copper price Lb
2.53
2.11
2.07
2.29
2.67
2.45
Silver price Oz
15.51
13.61
13.14
13.01
14.00
15.30
AISC gold/oz
1,067
836
977
848
853
885
2016 GUIDANCE
The Company remains on track to achieve 2016 production guidance of 2.8 to 3.1 million gold ounces at AISC between $850 and $925 per ounce. The company expects production to increase in the third and fourth quarter of 2016 compared to the second quarter as Peñasquito returns to normal operations after its maintenance shutdown and increased grades are expected across a number of mines. In addition, AISC are expected to decrease in the third and fourth quarter as compared to the second quarter of 2016 as a result of higher production.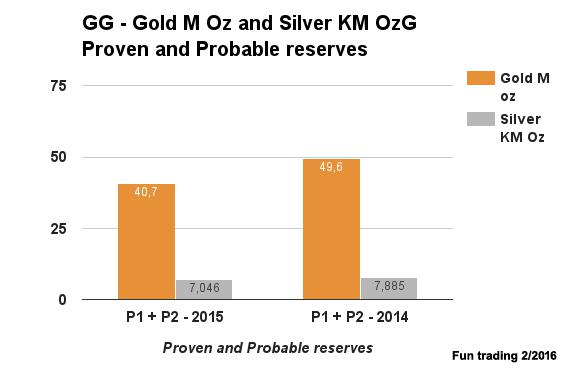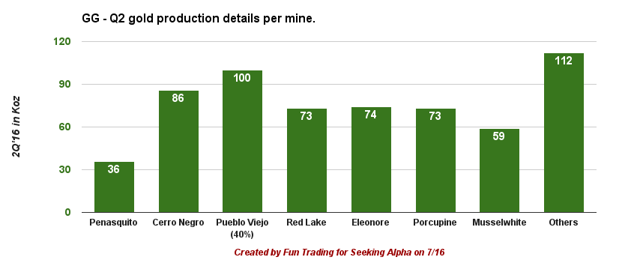 Click to enlarge
Commentary:
The quarter was characterized by a very low gold production of 613.4 Koz. It should not have been a surprise, because GG warned about the drop in the preceding conference call.
M. David Garofalo, CEO, said the following:
The 2Q'16 gold production is expected to be lower by approximately 15% due to a 10-day shutdown for preventative maintenance at Penasquito mine, and over two weeks of planned maintenance at Pueblo Viejo (two autoclaves). Consequently, AISC will increase in 2Q'16.
This is what GG has delivered this quarter. Production was down a whopping 21.7% quarter over quarter, which was more serious than what has been announced. Consequently, the AISC jumped up to $1,067/ Oz due to the poor production, compared to $853/ Oz year over year.
This extremely weak production translates to an adjusted cash flows from operations of $307 million compared to $523 million in 2015. Net loss of $78 million or (0.09) per share.
However, the company is confirming the 2016 guidance production, which implies a much stronger production for 3Q and 4Q, which means GG believe that the 2Q production numbers are atypical and will improve starting 3Q.
Throughput during July returned to normal levels and gold production is expected to steadily improve over the remainder of the year as gold rates are projected to decline to an average of 0.7 grams per tonne for the full-year.
Cerro Negro was also weak this quarter. However, Eleonore seems to improve and it is encouraging.
Three important projects/acquisition, that have been approved by the board in July, were:
1 - The Pyrite leach Project at Penasquito.
Yesterday, the Board approved the Pyrite Leach Project at Penasquito with initial capital investment of approximately $420 million. The Pyrite Leach Project is expected to recover approximately 40% of the gold, 48% of the silver currently reporting to the tailings and add incremental annual gold production of between 100,000 and 140,000 ounces and between 4 million and 6 million ounces of silver.

Commercial production is expected in the first quarter of 2019.
2 - The Materials Handling Project at Musselwhite.
It is anticipated to be operational in the first quarter of 2019 and is expected to add incremental production of approximately 20% and reduce operating cost by approximately 10% for the life of the mine.
3 - The acquisition of Kaminak Gold Corp. and its Coffee project.
On July 19, 2016, the company announced the following:
Pursuant to the Arrangement, Goldcorp acquired all of the issued and outstanding common shares of Kaminak for consideration of 0.10896 of a common shares of Goldcorp for each outstanding Kaminak share. Goldcorp now owns 100% of the outstanding Kaminak shares. On closing of the Arrangement, Goldcorp issued an aggregate of 20,997,312 Goldcorp Shares to former Kaminak shareholders, including former holders of Kaminak options, who now hold approximately 2.5% of the 853,398,240 Goldcorp Shares issued and outstanding, on an undiluted basis.
Conclusion:
It is really difficult to be a strong supporter of this gold miner. Many disappointments have paved a difficult road between the company and its shareholders. This quarter's results are another such case.
However, it would be wrong to totally disregard this top-tier gold miner, which presents some definitive opportunities down the road (see above). I can consider some potential by 2018-2019 if the company can deliver, which is a big IF considering the prior accomplishments.
The question is: when and at what price GG can be considered a good candidate for a long-term investment? Not now in my view.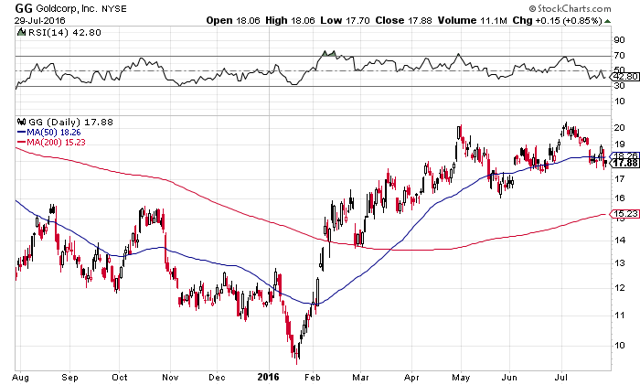 Click to enlarge
Anyone invested in gold majors, such as GG, at the start of the year, will have done extremely well. GG jumped from below $10 to above $20. However, the euphoria surrendering the gold price has subsided recently and the outlook is now more cautious despite the Brexit effect.
Consider that GoldCorp jumped almost solely in connection with the recent gold price momentum, and meanwhile presented a poor fundamental intrinsic performance. It is easy to imagine that the stock has reached resistance at the $19+ level for the time being.
Accordingly, I will not recommend any buying at the actual levels unless gold price can "renew with success", and goes up again.
I may be tempted to recommend to take a large amount off the table, instead, and wait for a meaningful retracement below $16 (200MA) which is quite possible under certain circumstances.
Important note: Do not forget to become one of my followers on GG and other gold miners. Thank you
Disclosure: I/we have no positions in any stocks mentioned, and no plans to initiate any positions within the next 72 hours.
I wrote this article myself, and it expresses my own opinions. I am not receiving compensation for it (other than from Seeking Alpha). I have no business relationship with any company whose stock is mentioned in this article.