Since our article last month predicting a biotech rally and subsequent breakout following post-Brexit lows, shares in the iShares Nasdaq Biotech Index ETF (NASDAQ:IBB) have rallied almost 12%, with our top two picks Amgen (NASDAQ:AMGN) and Celgene (NASDAQ:CELG) both picking up close to 15%. While some say the breakout is already in, we are holding back the pats on the back for now.
While we are currently in a state of cautious optimism, our outlook on the underlying fundamentals that we like about biotech have not changed: Q2 results have shown healthcare to still be one of just three of the 10 industry sectors within the S&P 500 showing earnings growth in 2016, with the highest growth of any of the 10 sectors; and biotech is one of the core drivers of that growth. In addition, the long term secular drivers of increased drug spending remain in place. The population of the developed world is aging, a greater amount of the healthcare pie is going to treatments, and new technologies are enabling development of new drugs that would have been unthinkable even a decade ago. Prescription drug spending rose some 13% domestically in 2014 and just over 12% in 2015 (see Figure 1 below), and FDA approval rates for new drugs continues to grow at a robust clip.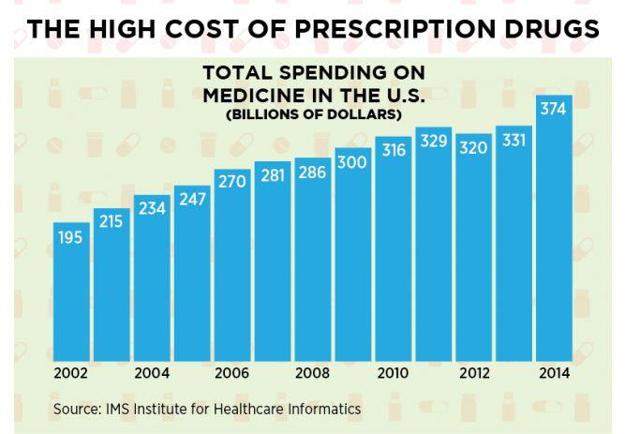 Click to enlarge
Figure 1
Additionally, biotech Q2 results were very good on the whole. A significant portion of gains, though, were attributable to price increases, which is typically not what you like to see. However, this is a sign that payers are tolerating increased prices and that earlier worries about heavy pricing cuts may have been overstated (exception: Gilead (NASDAQ:GILD)). Large cap tech giants including Microsoft (NASDAQ:MSFT), Alphabet ((NASDAQ:GOOG), (NASDAQ:GOOGL)), Facebook (NASDAQ:FB), Amazon (NASDAQ:AMZN) and Apple (NASDAQ:AAPL) also all delivered strong results, reaffirming healthy expansion within growth businesses and risk-on sentiment going forward.
Fundamentals like these have a tendency to lag price action, though. For long-term investors, confidence in these growth catalysts will likely pay off eventually, but for more intermediate momentum investors, false breakouts can be costly. In such cases, we like to examine certain momentum and breadth indicators to see if a rally has staying power. One metric we like to track in these types of situations is total dollar volume, which is just the product of share price and volume. For daily dollar volume, we take the product of hourly closing prices and volumes for the hour and sum over all hours of the day, which is not totally precise, but it's good enough. Early stages of a breakout are usually accompanied by a strong uptick in dollar volume. Figure 2 below shows the daily total dollar volume summed over all 189 IBB holdings along with a twenty day moving average. So far, the recent biotech rally has not been supported by an uptick in total dollar volume, suggesting that investors are not yet confident in the rally. We will be following this closely in the coming weeks for signs of a reversal in the falling dollar volume seen so far.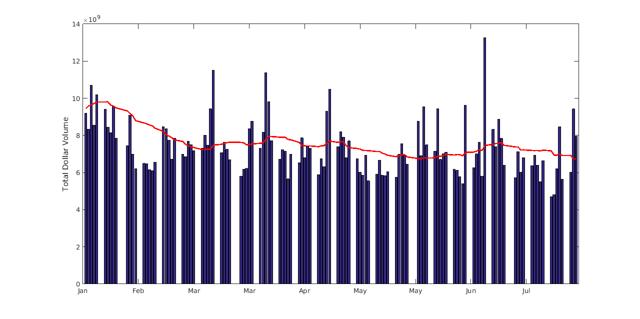 Click to enlarge
Figure 2
In terms of price alone though, assigning a firm resistance level is not totally trivial. Many technical analysts like to use trend line ranges to forecast S/R levels (see Figure 3 below). This implies a resistance level at roughly $284 per share, which has already broken, suggesting that breakout mode is in progress.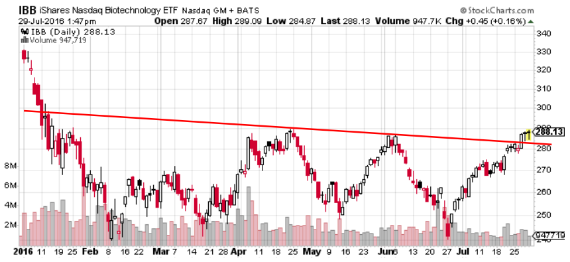 Figure 3
Others will look Figure 1 and see a range bound trend. They then do some simple statistical analyses to determine what price level is "different enough" from recent price history to constitute initiation of a new trend. This method implies statistically significant resistance at $288.6 per share (see Figure 4 below for mean and two standard deviation price lines), which we are just on the cusp of now.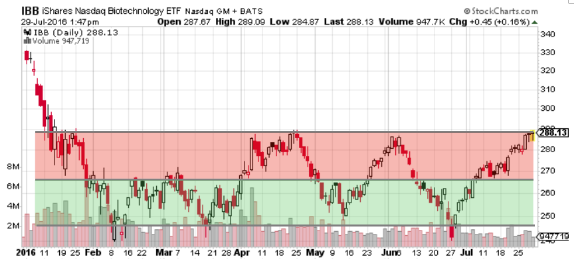 Figure 4
Both of these represent valid technical methods, but both are prone to falsely predicting breakouts. We like to use volume-by-price data to identify price ranges for which shares are relatively overweight, usually where profit taking and short covering tend to occur. For example, the histogram for Regeneron (NASDAQ:REGN) in Figure 5 shows that REGN shares are overweight in the $375-$425 range. In this regime, the bounds of this heavy volume price range represent support and resistance levels. We see this as the most fundamentally sound method of forecasting areas of technical pressure.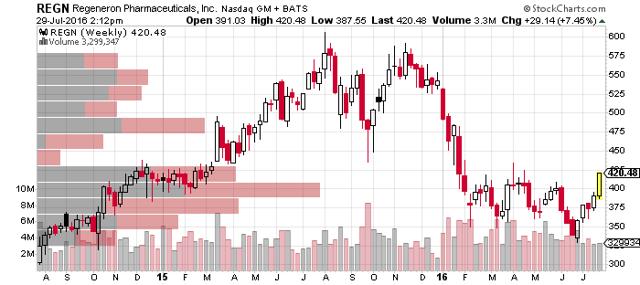 Click to enlarge
Figure 5
We extrapolate this S/R analysis to the entire index with algorithms that identify price ranges with irregular volume for all 189 components of the index. We then simulate every possible scenario where a combination of components accounting for half of the total market cap of the index (minimal majority) have exceeded their target resistance level, with the other half seeing commensurate price growth. Averaging over all of these potential combinations gives our consensus resistance level at $303 per share.
We expect dollar volume to pick up at these levels and will be watching closely for a breakout above this level to potentially employ uses of leverage based instruments ((NASDAQ:UBIO), (NASDAQ:ZBIO)) for short term speculative momentum trades. The longer term implications of a breakout above this level are far more significant though. Q2 results are mostly in now, and have showed strong continued growth within the sector. Sentiment in the broader market also seems to have shifted, as major indices continue to make new highs. Momentum carrying IBB past $300-303 would likely be able to sustain a rally to $320, out of bear market territory potentially also to new highs, presenting the most attractive risk-reward setup among the major S&P sectors.
Disclosure: I am/we are long IBB, CELG, AMGN, GOOG.
I wrote this article myself, and it expresses my own opinions. I am not receiving compensation for it (other than from Seeking Alpha). I have no business relationship with any company whose stock is mentioned in this article.