Bank of America (NYSE:BAC) recently ramped up its capital return program for shareholders. The Fed OK'd the bank's capital return program on the heels of passing its Comprehensive Capital Analysis and Review (CCAR) for 2016. With an increase in the dividend to $0.075 on a quarterly basis, BAC now pays $0.30 per year to shareholders; that equates to a yield of 2.1% with BAC's share price as of writing. On top of that, BAC's board authorized the repurchase of $5 billion in common stock over the next year. The $5 billion in repurchases would eliminate 345 million shares at BAC's current price and provide support to the stock price going forward.
Recent Results
What I like from the latest quarter is that BAC's business lines experienced growth in net income across the board save 'All Other' activities, which are not core to the bank's profitability and include hedging activities, equity investments, and its international card business. Global Markets led the way with a 42% increase in net income followed by Global Banking with a 21% jump in net income. The performance for each business line in the second quarter is as follows: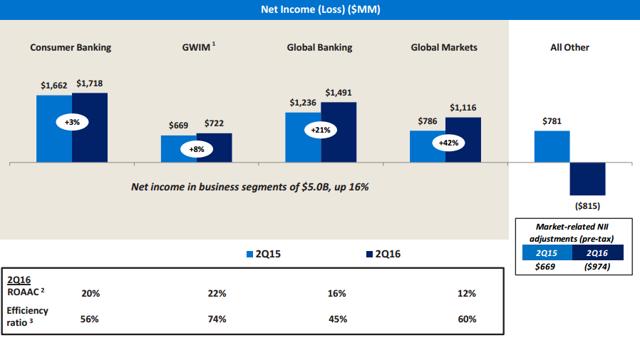 Click to enlarge
Source: Bank of America 2Q16 Presentation (Attached)
Improving Credit Quality
On an accounting, net income basis - it seems BAC is firing on all cylinders, which is reassuring but can be transitory if other metrics are deteriorating. Further, net income is not necessarily a harbinger of cash flow and availability of dividends. I like to take a look at a bank's loan portfolio to see if cash is coming in one door in order for some of it to exit out another to shareholders. In this respect, BAC is performing well.
In the credit card division, for example, charge-offs and delinquencies are stable and declined year-over-year. For the first six months of 2016, net charge-offs came in at 2.68% versus 2.76% for the first six months of 2015. Net charge-offs represent the credit card debt that BAC will likely not recover. Adding to the positive ramifications of a declining charge-off rate, delinquency rates also declined for the first six months of 2016 compared to 2015. 30+ day delinquencies dropped to 1.58% versus 1.68%, and 90+ day delinquencies fell to 0.79% versus 0.84%. These delinquency rates are positive signs because delinquencies become charge-offs and their decreasing nature foreshadows that charge-offs will keep decreasing and BAC will keep collecting not only the principal on its outstanding credit card debt but also collect the fees and interest that come along with the business.
Looking at BAC's credit quality from a holistic perspective sheds further light into the bank's ability to turn customers' and clients' interest payments into income and capital returns - dividends and stock buybacks. Credit analysis deals with cash so you can be sure that when credit quality metrics decrease for a bank, there could be negative consequences for shareholders in the future. Luckily for BAC's shareholders, the bank's credit profile has improved year-over-year with the overall net charge-off ratio dropping to 0.44% in 2Q 2016 versus 0.49% in 2Q 2015. Likewise, the nonperforming loans, leases and foreclosed properties ratio took a steep dive to 0.98% in 2Q 2016 compared to 1.32% in 2Q 2015. I think this shows that BAC has been prudent in its lending standards and is a sign that macroeconomic conditions are not causing harm to BAC's credit strength. This should assuage any shareholders wary that further capital returns will be poor or that the bank is peaking.
Going Forward
The macroeconomic news has been mixed as of late and has been mixed really since the Financial Crisis. Identifying when the Federal Reserve will raise rates is a guessing game now more than ever. Still, better economic news should be construed as a good sign for BAC and the higher rates that should come along with it should dually benefit BAC by widening its interest margin. If rates were to rise, capital returns to shareholders could come quicker and be more robust. I think that the downside for BAC is limited given its exemplary credit quality, which should also serve as a catalyst to bring returns to shareholders in the future. The bank is massive and has traded under accounting book value and tangible book value pretty much since the Financial Crisis. The price to book and price to tangible book values are currently 0.61 and 0.87, respectively. Pressure could grow to rectify this more quickly and investors could see an increased pace to the divestiture of noncore assets, brick-and-mortar banking centers, and widening of its mobile capabilities. Given all this, it seems that BAC is a solid investment with its financial health and growing capital returns but could also provide a chance of capital appreciation as well.
*Bank of America Presentation, Supplemental Information, and Press Release used as sources are attached.
Disclosure: I/we have no positions in any stocks mentioned, but may initiate a long position in BAC over the next 72 hours.
I wrote this article myself, and it expresses my own opinions. I am not receiving compensation for it (other than from Seeking Alpha). I have no business relationship with any company whose stock is mentioned in this article.