Natural gas futures prices staged a 3.6% recovery last week, as the September contract closed the week at $2.88. Prices have been relatively stable over the past three weeks.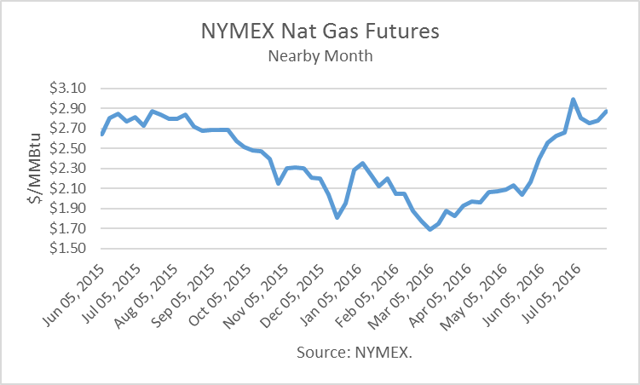 Click to enlarge
A smaller-than-expected injection reported by the Energy Information Administration Thursday morning ignited a rally. As a result, the year-over year storage glut was cut to 15.3%.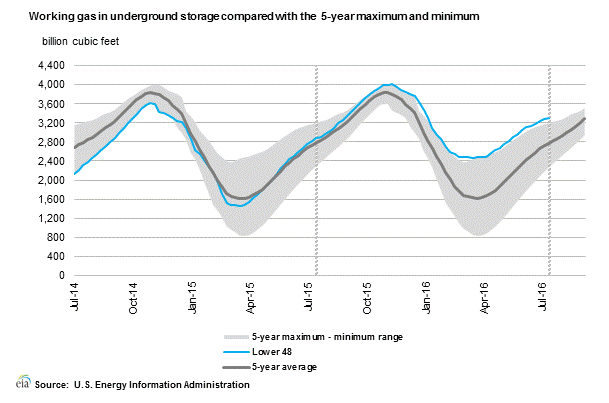 Commitments of Traders
Utilizing the Commodity Futures Trading Commission (CFTC) Commitments of Traders (NYSE:COT) reports for natural gas, I was able to dissect how traders were re-positioning last week.
The four groups I follow - Hedgers (Producer/Merchant/Processor/User) Longs and Shorts, and Speculators (Money Managers) Longs and Shorts - are defined below:
Hedgers: A "producer/merchant/processor/user" is an entity that predominantly engages in the production, processing, packing or handling of a physical commodity and uses the futures markets to manage or hedge risks associated with those activities.
Speculators: A "money manager," for the purpose of this report, is a registered commodity trading advisor (CTA), a registered commodity pool operator (CPO) or an unregistered fund identified by CFTC. These traders are engaged in managing and conducting organized futures trading on behalf of clients.
The latest data are for the week ending July 26th and include data for both options and futures combined for the New York Mercantile Exchange (NYMEX). All comments below pertain to each group as a whole, on balance, noting there are exceptions among individuals.
Findings
Hedge longs closed 27,471 contracts last week, reducing their long interest to 133,998 lots. Over the past three weeks, the total reduction was almost 65,000 contracts. The most logical reason for doing so is the belief that the price rise has run its course for now.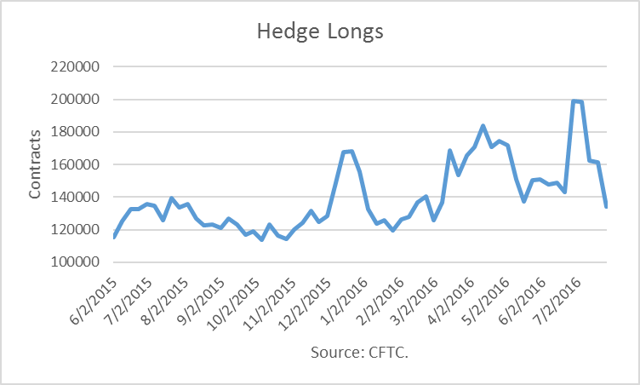 Click to enlarge
Short hedgers, primary natural gas producers, closed 12,606 positions last week, holding 128,120 lots. Over the past three weeks they have covered (bought) 67,343 contracts. As above, the most logical reason is that they expect prices to go even higher at some point and prefer hedging at higher prices.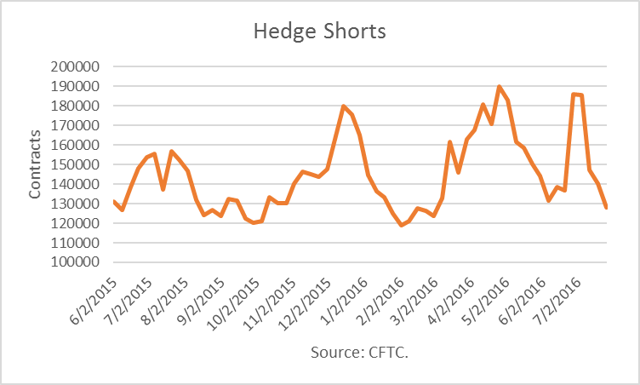 Click to enlarge
Short speculators added 3,477 contracts. They hold the largest open interest of these four groups of 261,476 lots. Though they have liquidated over 96,000 contracts since early March, when prices bottomed for this cycle, they have been adding shorts over the past three weeks, betting prices are more likely to go down instead of up.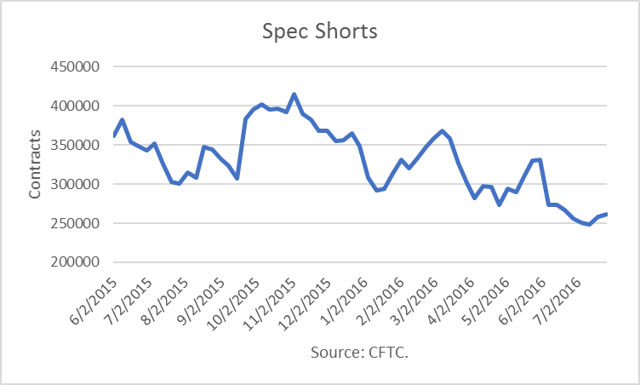 Click to enlarge
Finally, long speculators added 2,563 contracts last week to end with 218,702 lots. The fact that they neither added nor decreased position sizes implies they are satisfied with price prospects at current levels.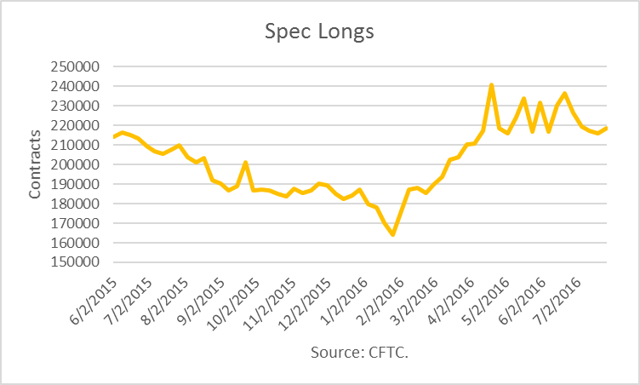 Click to enlarge
Conclusions
Both long and short hedgers have greatly consolidated their positions over the past three weeks. Significant buying was met with substantial selling, which is why prices have been range-bound.
Speculators have not changed net position sizes by much recently. This seems to imply that their price expectations have stabilized.
I think the overall implication of these trends is that prices have found an equilibrium price range for now, until the winter weather reveals itself, which I expect to be highly supportive.
Disclosure: I/we have no positions in any stocks mentioned, and no plans to initiate any positions within the next 72 hours.
I wrote this article myself, and it expresses my own opinions. I am not receiving compensation for it (other than from Seeking Alpha). I have no business relationship with any company whose stock is mentioned in this article.