Oil has fallen almost 20% after hitting 51.3 on June 8th. Oil reacted after a strong USD surge. The oil decline was supported by an explosion in short interests as the graph below shows. I retrieved the chart from Robert Boslego who wrote an article about speculative oil positions.
Speculative shorts are close to the February highs.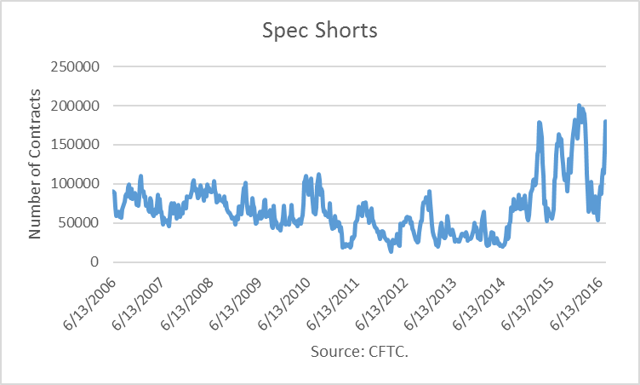 Click to enlargeSource: Robert Boslego
The long/short spread is almost at February lows which could cause a serious short squeeze.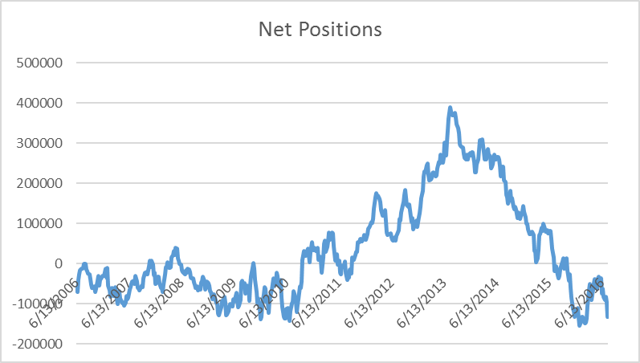 Click to enlarge
Source: Robert Boslego
What would be a strong bull case for crude? The perfect bull case would be a weaker USD and stronger economic growth. In other words, a dovish FED while the economy increases.
The first part of the bull case has been confirmed last week. The FED didn't hike because there was some uncertainty (risk) in the near future. Oil prices haven't reacted to the USD crash which could add to an interesting entry point.

Click to enlarge
The second part of the bull case is a bit more difficult. The economy has improved quite a bit after bottoming in February which is extremely good news. The bad news is that a few coincidence indicators have not reacted accordingly. In addition to that, we saw that many regional PMI surveys came in weaker this month which could add more pressure on tomorrow's ISM print (link). One of those reasons is a falling oil price.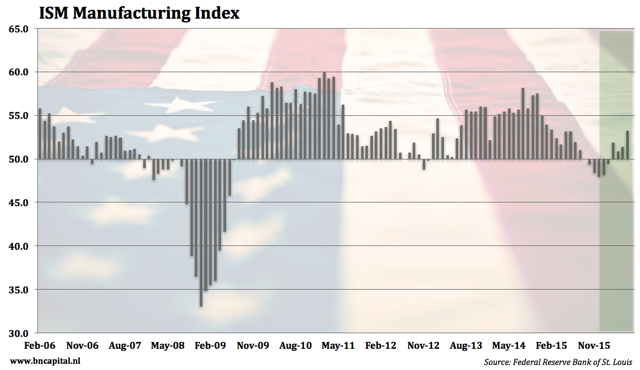 Click to enlarge
At this point, I like the odds of a small energy XLE position. The best case would be a strong ISM print on Monday which would trigger a short squeeze. The downside is a weaker PMI which would push oil prices even lower.
I am buying a very small position in Chesapeake Energy CHK and Helmerich & Payne HP. CHK is going to have the best performance once oil prices go higher. Helmerich will outperform other major energy stocks because the company is a drilling service & equipment provider. However, keep in mind that my positions are extremely small. This is going to be a short term trade that can't do much hard to my portfolio when I am wrong. The upside odds are just very interesting if the ISM surprises to the upside indeed along with a dovish FED.
Thank you for reading my article. If you have any questions or remarks, feel free to write a comment.
Disclosure: I/we have no positions in any stocks mentioned, but may initiate a long position in HP, CHK over the next 72 hours.
I wrote this article myself, and it expresses my own opinions. I am not receiving compensation for it (other than from Seeking Alpha). I have no business relationship with any company whose stock is mentioned in this article.