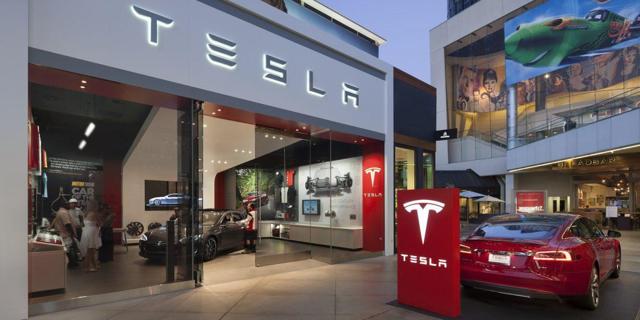 Click to enlarge
Readers should first review my previous articles for background (here, here and here) about the gap between SolaryCity's (NASDAQ:SCTY) market price and the price implied by Tesla's (NASDAQ:TSLA) offer, and why I believe the proposed transaction is destined to go through despite the valuation concerns about either company.
Further strengthening my argument, Fidelity, the second largest shareholder in both companies (after Elon Musk), announced its support for a tie-up between the two companies:
We foresee fruitful synergies between Tesla and any company in search of superior battery technology, and we modestly increased our position this quarter.
This is important, because Fidelity generally takes long-term positions in its portfolio companies and is a long-time Elon Musk supporter, meaning it would take a major fundamental deterioration in Tesla's story, or a significant rise in TSLA, for Fidelity to sell its shares.
TSLA is tight as a drum
Illustrating the intense disagreement between the true believers and the naysayers, the short interest in both TSLA and SCTY is near all-time levels. As of July 15, 2016, 29.3 million shares of TSLA, or ~28% of float, and 25.6 million shares of SCTY, or ~37% of float were short. Because of these large short positions, the two companies are strong candidates for significant moves up or down. The direction of this large move is more likely to be up rather than down for the following reason.
Long-term shareholder base
Elon Musk and Fidelity together own nearly half of both Tesla and SolarCity.
As the largest shareholder, Elon Musk has indicated that he has no intentions to sell his shares:
I subscribe to the notion that the captain is the last person off the ship.
In other words, nearly one-third of diluted shares held by Elon Musk are not available for sale. As stock prices are merely a function of demand and supply, less potential supply means less potential downward pressure on share prices, whether the stock is moving up or down (i.e. weaker declines and stronger increases than would otherwise be the case).
In addition, the investment teams at Fidelity generally have multi-year investment horizons as indicated by the funds' low annual portfolio turnover (for example, Fidelity Contrafund has a portfolio turnover of just 35%). Furthermore, many other major TSLA shareholders (such as T. Rowe Price Growth Stock Fund, Harbor Capital Appreciation Fund and other Fidelity funds that are shareholders in both TSLA and SCTY) also have low portfolio turnovers and long-term investment horizons.
This is important as such investors reduce down-side volatility of a stock. Not surprisingly, any decline below $200 per share over the last two years, induced by a knee-jerk reaction to news or rumors, quickly reversed.
I expect this strength to continue, as Tesla has not only met its production milestones, but more importantly, has brought forward its 500,000/year production goal from 2020 to 2018. Based on the available information (i.e. timely launch of Gigafactory, ability to issue equity without negatively affecting stock price suggesting that some capital raise is already baked in, increasingly positive management commentary, supplier commitments etc.), I expect this goal to be achieved. Furthermore, Elon Musk noted during the Gigafactory opening event that production will triple from 500,000 in 2018 to 1.5 million by 2020 and that it makes sense to build at least one Gigafactory on every continent. Not quite the stock one should short.
Potential catalysts
The following list of catalysts may ignite a short squeeze in TSLA (in order of probability of occurrence):
1) Tesla and SolarCity will soon announce a definitive merger agreement. As I noted in my first article, the tail-end risk of the deal falling through will still be there until closing, and if materializes, can negatively impact SCTY, given SolarCity's dependence on capital markets to securitize its receivables and fuel its growth. Tomorrow, however, the removal of some of the deal uncertainty may ignite a relief rally and a short squeeze in both stocks.
2) Apple has pushed back its Apple Car timeline from 2019 to 2021. This gives Tesla two additional years of limited competition (and pricing power) during which it could capture more profits than it would otherwise. This recent news may have already ignited the initial stages of a short squeeze.
3) Tesla will post its financial results for the second quarter ended June 30, 2016, after market close on Wednesday, August 3, 2016. If the company beats its production and delivery forecast, this may ignite a short squeeze. I maintain my opinion, however, that short-term misses or beats of quarterly delivery forecasts by a few hundred cars (as some SA contributors seem to track like a hawk) are inconsequential to the overall Tesla story in comparison to the long-term production ramp-up to 500,000 cars/year by 2018 and 1.5 million cars/year by 2020.
How am I playing this opportunity?
As of the market close on July 29, 2016, the difference between SCTY market and implied prices have again inexplicably increased to more than 9%; therefore I went into the weekend long SCTY. A possible short squeeze in TSLA may or may not translate to a rise in SCTY depending on the definitive agreement terms that will be announced Monday morning. In any case, assuming that the 0.122 to 0.131 exchange ratio remains unchanged in the definitive agreement, the announcement should cause a jump in SCTY. For now, I am sticking with my long SCTY position and will watch the price and news developments throughout the week for a potential long position in TSLA.
Bottom Line: A very painful few weeks may be in store for TSLA and SCTY shorts.
Disclosure: I am/we are long SCTY.
I wrote this article myself, and it expresses my own opinions. I am not receiving compensation for it (other than from Seeking Alpha). I have no business relationship with any company whose stock is mentioned in this article.