Prologue
The A-Team is a group of ten stocks that had been pooled together and launched (as a team) on March 31st, 2016.
While I find these ten stocks to be very attractive from a risk/reward perspective, the A-Team has one (and one only) very simple purpose: delivering a double-digit return, per annum, on average, over the 12-month period as well as over the 60-month period following its launch date.
During the first three months since its had been launched, I covered each and every stock of the A-Team in details through a focused article.
Following the completion of the single-stock detailed coverage, I've published the A-Team's first quarterly review. From now on, the A-Team review is turning into monthly review. This will allow me not only to follow the performance more closely, but also to highlight specific news and developments for each A-Team member as it happens.
If you haven't done so as of yet, please press the "Follow" button, as well as tick the "Real-time alerts" box, in order to get the A-Team series updates - and much more than that - in time.
The A-Team: Background
It was July 2015 when I first introduced the original A-Team - a group of 5 high-yield dividend stocks investors should stick with for the long run.
The original group consisted the following five stocks: Ares Capital Corporation (NASDAQ:ARCC), Apollo Commercial Real Estate Finance (NYSE:ARI), Gladstone Investment (NASDAQ:GAIN), Main Street Capital (NYSE:MAIN) and Starwood Property Trust (NYSE:STWD).
Back then, I also took advantage of the opportunity to nominate Prospect Capital (NASDAQ:PSEC) as a potential "sixth element" - a top candidate to enter my A-Team; and it eventually did (in mid-January 2016).
PSEC, together with additional four new names - Hercules Technology Growth Capital (NASDAQ:HTGC), Ladder Capital (NYSE:LADR), Newtek Business Services Inc. (NASDAQ:NEWT) and New Residential Investment (NYSE:NRZ) - became part of my current ten-member A-Team that, as you may well understand, turned from being a "Fab Five" into a "Top Ten".
At the end of Q1/2016, following an extensive purchases of interest rate sensitive instruments during the beginning of 2016, I've started a series of articles that breaks my A-Team into pieces. Each article is focusing on a different company that is part of my A-Team.
In order to know (or to be reminded) what the criteria for a stock to make it into my A-Team are, what the closing prices at the end of Q1/2016 were and to read the focused articles regarding all A-Team members, please look at articles that were published in conjunction with the A-Team series:
Following the end of Q2/2016, I've published the first A-Team's end-of-quarter review. From now on, I intend to published an A-Team monthly review that will provide data and opinions regarding the team as a whole as well as specific news and events regarding its components.
Inspection-Control Teams
During the past month, I've also introduced two inspection-control teams:
1. The H(edge)-Team: Ten real-life short positions that I hold within my portfolio. The group is mostly comprises of eREITs, but you can find other names in here that I deem to be attractive short candidates.
The H-Team ten components are: Physicians Realty Trust (NYSE:DOC), Equinix, Inc. (NASDAQ:EQIX), Healthcare Realty Trust (NYSE:HR), Healthcare Trust of America (NYSE:HTA), National Retail Properties (NYSE:NNN), Realty Income (NYSE:O), Retail Opportunity Investments Corp. (NASDAQ:ROIC), Tesla (NASDAQ:TSLA), Wingstop (NASDAQ:WING), and Ventas Inc. (NYSE:VTR).
2. The O(vervalued)-Team: The first ten names that appear in my "overvalued eREITs list" that aren't belonging to any of these sub groups:
H-Team; no duplication policy!
Data center eREITs; this is a hype-dream group that after shorting one of its members, EQIX - a name that anyhow belongs to the H-Team - I stopped shorting it and I declared so in more than a dozen of places of occasions, including the (overvalued eREITs) article itself. Names like COR, CONE, QTS, DFT, DLR, have, therefore, been granted immunity. Too late for EQIX, though...
The O-Team ten components are: ACC, AMT, DCT, DRE, EDR, FR, HIW, REG, TRNO, UE.
Each team will get its own, separate coverage but it would be most interesting to see the net, hopefully excess, performance that the A-Team may provide against these inspection teams.
Month in Review - July 2016 - Different Asset Classes
During the past month I've expressed my concerns regarding the overvaluation of many eREITs, the stretched levels of the markets and my preference for mREITs (and BDCs) over (certain) eREITs at this point in time.
In-spite of many warning signs, the markets marched higher, ignoring any negative gauge/barometer out there and solely focusing on either TINA ("There Is No Alternative") or FAINT ("Fed's Absolute Impotent Neutral Treatment"). I find both acronyms to be lame excuses, at best.
Unlike the equity market that seems peaceful and quiet, the debt market - a much more reliable market, both historically and fundamentally - is telling us a completely different, very troubled and agitated, story!
Since I wish this series to have a logic-concise structure, each monthly review would first look at the performance of the most common benchmarks that are relevant to the A-Team:
Equity indices: SPY, DIA, QQQ, IWB, IWD, IWF, IWM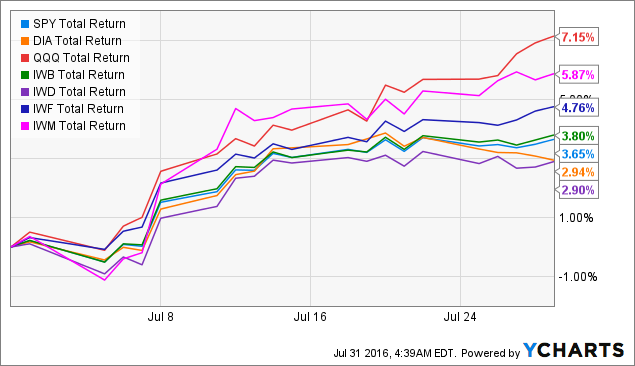 Most interesting observation: Technology and small caps led the way.
Real estate sector (including eREITs): Vanguard REIT Index ETF VNQ (=for eREITs), iShares U.S. Real Estate ETF (NYSEARCA:IYR), Real Estate Select Sector SPDR ETF (NYSEARCA:XLRE), iShares Cohen & Steers REIT ETF (NYSEARCA:ICF), SPDR Dow Jones REIT ETF (NYSEARCA:RWR), Schwab U.S. REIT ETF (NYSEARCA:SCHH), and iShares Residential REIT Capped ETF (NYSEARCA:REZ).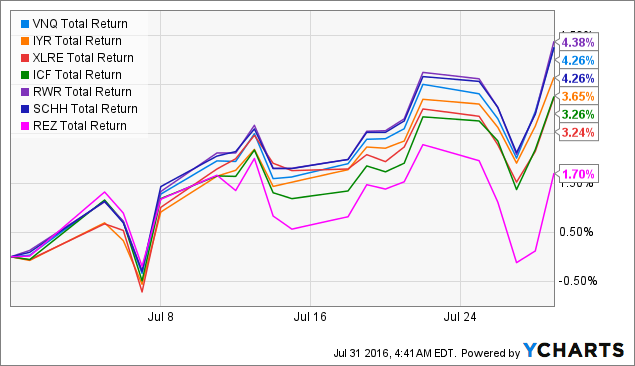 Most interesting observation: Residentials lag; a warning sign?
IG-rated bonds: iShares Core Total U.S. Bond Market ETF (NYSEARCA:AGG), Vanguard Total Bond Market ETF (NYSEARCA:BND), iShares iBoxx $ Investment Grade Corporate Bond ETF (NYSEARCA:LQD), Vanguard Short-Term Bond ETF (NYSEARCA:BSV), iShares 1-3 Year Credit Bond ETF (NYSEARCA:CSJ), Vacation Home Swap (OTCPK:VCHS), and Vanguard Intermediate-Term Bond ETF (NYSEARCA:BIV).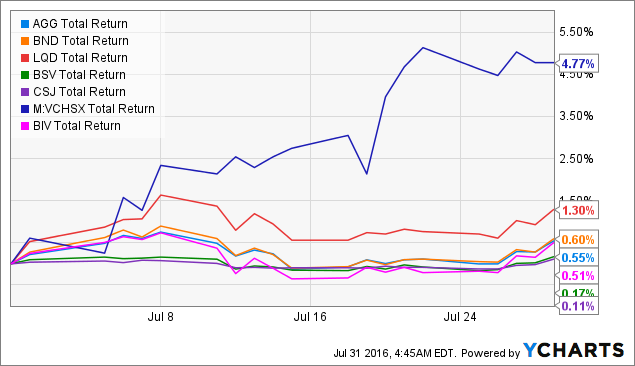 Most interesting observation: Diversification and safety win.
HY-rated bonds (including mREITs and BDCs): iShares Mortgage Real Estate Capped ETF (NYSEARCA:REM) (=for mREITs), UBS ETRACS Wells Fargo Business Development Company ETN (NYSEARCA:BDCS) (=for BDCs), iShares iBoxx $ High Yield Corporate Bond ETF (NYSEARCA:HYG), SPDR Barclays Capital High Yield Bond ETF (NYSEARCA:JNK), PowerShares Senior Loan Portfolio ETF (NYSEARCA:BKLN), iShares J.P. Morgan USD Emerging Markets Bond ETF (NYSEARCA:EMB), and PowerShares Emerging Markets Sovereign Debt Portfolio ETF (NYSEARCA:PCY).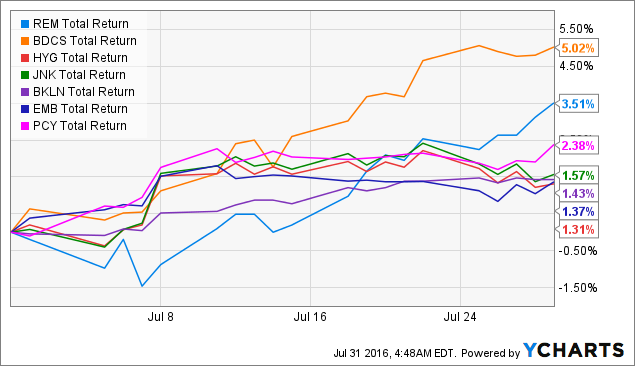 Most interesting observation: Good month for HY debt, but an even better month for mREITs and BDCs.
Long-term (7+ years) Treasury yields: iShares 7-10 Year Treasury Bond ETF (NYSEARCA:IEF), iShares 20+ Year Treasury Bond ETF (NYSEARCA:TLT), ProShares UltraShort 20+ Year Treasury ETF (NYSEARCA:TBT), iShares 10-20 Year Treasury Bond ETF (NYSEARCA:TLH), Schwab Intermediate-Term U.S. Treasury ETF (NYSEARCA:SCHR), ProShares Short 20+ Year Treasury ETF (NYSEARCA:TBF), and iShares TIPS Bond ETF (NYSEARCA:TIP).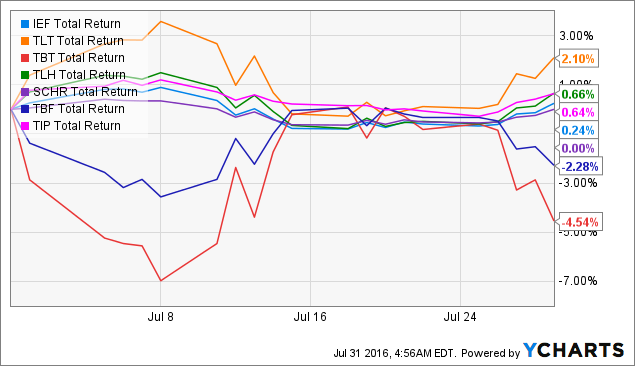 Most interesting observation: The long-end of the US Treasury yield curve had a very positive month.
Short-term US government debt: iShares 1-3 Year Treasury Bond ETF (NYSEARCA:SHY), iShares 3-7 Year Treasury Bond ETF (NYSEARCA:IEI), iShares Short Treasury Bond ETF (NYSEARCA:SHV), iShares Core U.S. Treasury Bond ETF (NYSEARCA:GOVT), SPDR Barclays 1-3 Month T-Bill ETF (NYSEARCA:BIL), Schwab Short-Term U.S. Treasury ETF (NYSEARCA:SCHO), and Vanguard Short-Term Government Bond Index ETF (NASDAQ:VGSH).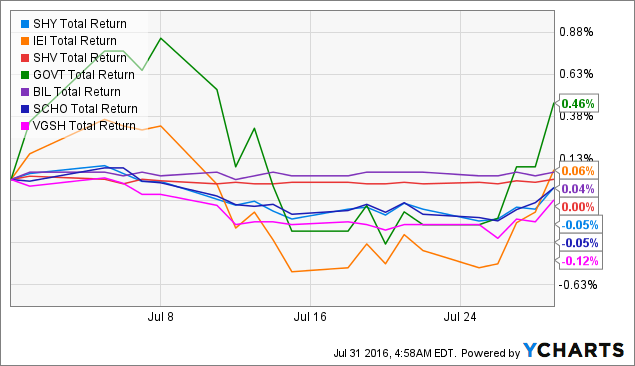 Most interesting observation: The short-end of the US Treasury yield curve had a quite good month overall.
Month in Review - July 2016 - A-Team
Here is how the ten components of the A-Team have performed over the past month:
What an amazing month it was for the A-Team!
Not only that all ten stocks recorded positive returns, but they all delivered more than we "need" them to deliver on average per month, i.e., 0.833% (= 10% per annum / 12 months).
Average return of 4.936%, beating both BDCS and VNQ and almost as good as REM performed as a standalone.
The names that I highlighted a month ago as having the best near-term potential, GAIN, LADR and PSEC, have did just what I expected them to do: played a fast and furious catch-up.
The VC-oriented HTGC, just like GAIN, enjoyed a very positive month in which valuations of most of its equity (direct or potential) holdings most probably went up. On the other hand, NEWT, another VC-oriented name, underperformed mostly due to its announcement of a potential near-term new stock offering at the beginning of the month. Nonetheless, it's worthwhile noting that since its $12.26 month low (recorded on July 12th), NEWT is up 6.44%!
ARCC, which suffered from the post-ACAS deal's "hangover", has released itself off the "uncertainty chain" and has performed very well too. The stock has recently been named a "top pick" at SunTrust.
The cash cow, STWD, has performed so well that its current stock price of $21.80 is about to get out of the Buy zone that I've set for this name (in the original focused article), to enter the HOLD zone. Don't get this wrong: STWD is a cash cow that perfectly suits the Hold zone. Although its current yield is "only" 8.81%, I still hold - and intend to hold - as long as it trade below my Sell target of $25. Those who hesitated can still get it now at a decent price for the long run.
It's no wonder that two of the best performers of the A-Team since it was launched, NRZ and MAIN, have lagged this month, if we can at all describe such great returns, 2.16% and 2.38 respectively, as "lagging". If only we could ensure that we get such a "lagging" return each and every month, I would have been thrilled!
As a matter of fact, the recent positive news (regarding a settlement with California) and research (by LL Funds) in regard to Ocwen Financial Corporation (NYSE:OCN) have and suppose continue to assist the NRZ stock price, as it may remove a major risk/setback that is still valid for at least another 10-11 months when NRZ, should it wishes to, may elect to take its business away from OCN that is one of NRZ's two main mortgage servicing provides. A possible upgrade of OCN by S&P will most probably be a major positive catalyst for the company, and consequently, though to a much lesser extent, for NRZ too.
The most noticeable laggard, ARI, is reminding me of ARCC a bit. Both are solid warriors, and I warned in advance in regard to this pair that I'm mostly holding these names for the double-digit dividend rather in anticipation of a significant stock price. Just like ARCC, ARI is suffering from a post-mega deal heightened levels of fear and uncertainty. ARI's takeover of AMTG is as significant (relatively speaking) as ARCC taking over ACAS.
What investors apparently forget (or are unaware of) is that the price tag of this transaction is being adjusted to AMTG's BV, which, since the deal was announced, fell quite substantially. I've said back then and I'm repeating myself right now that this BV deterioration of AMTG should come as no surprise to anyone. ARI's management are no suckers, and aside of the adjustment mechanism, it was crystal clear (at least to me) that in order to make this deal as accretive as possible, the "accounting magicians" would ensure that the remuneration to AMTG shareholders will be as low as possible (sorry guys).
Putting it differently, it's not only that ARI maintained the original 11% discount to AMTG's BV at the pricing date ($15.52), but it's paying way less for the same assets. (Total worth of the combined stock and cash remuneration is expected to be $13.83, per the most recent update.)
Now, let's do some thinking and ask ourselves: What happened to the overall (general and mortgage) market over the past five months (since 2/26, when the deal had been announced), and does AMTG book "suppose" to be (not accounting-wise but in real life) more or less attractive now than it was back then? My answer to this is very clear, and I must admit that I'm happy to be on the A-RIGHT side of this deal. While AMTG shareholders benefit from a very generous premium to the 2/25 closing price share price, those are mostly ARI shareholders who are going to benefit from an attractively-priced asset over the long run.
Will ARI play a quick and aggressive catch-up just like ARCC did? I don't know. I do know, however, that I'm perfectly fine with buying ARI at this level and a well-covered 11.32% dividend yield.
A-Team Dividend Distributions and Yields
Over the past month, none of the A-Team members has announced either an increase or a decrease to its periodical-regular dividend distribution.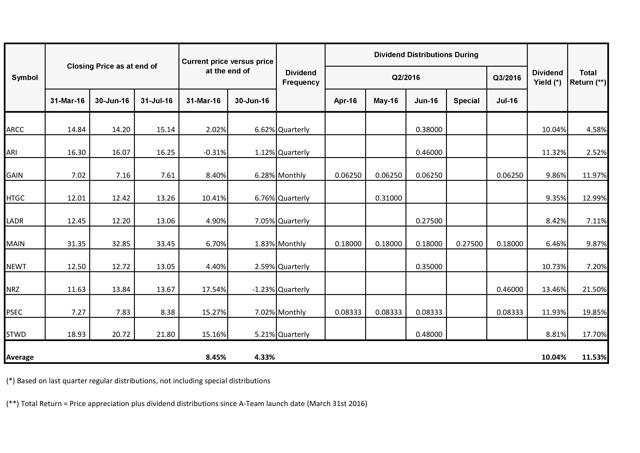 Click to enlarge
When it comes to potential future dividend growth, my projections obviously haven't changed since the end of the past month review, mostly because none of the A-Team components have yet reported its earnings for June 30th, 2016.
ARI is the only A-Team member to publish its earnings thus far, and generally speaking, I expect good results from the vast majority of, if not all, components.
The next month should be more interesting from that aspect, as there will be much more data to chew on. At the moment, even in light of what I expect to be positive earnings season for the A-Team members, I do not expect major changes - an increase or a decrease - for the rest of 2016. I expect all stocks to maintain their current distribution at the very minimum, and I also predict that if we see any change taking place, it should be an increase.
There are two possible expectations for my prediction: NRZ and NEWT. There two stocks are going through transitions phases that might expose significant value to shareholders. Should this value materialized sooner than I expect, we might see an increase in the distribution of these two stocks no later than following their end-of-year results, i.e., no later than the dividend announcement following the December 31st, 2016 earnings reports - and possibly sooner.
The A-Team's 4.33% price appreciation during the past month has been nothing short of phenomenal. This naturally is not a sustainable increase. Equally, the total return of 11.53% that the A-Team has recorded over a four-month period, 38.72% annualised... is unrealistic under any standard or expectation. As a matter of fact, the A-Team has already achieved its first 12-month target of a double-digit return. I surely hope the next eight months won't ruin the party.
What I'm most encouraged with is the running dividend yield, which, at 10.04%, is still above the required annual target even in case of no price appreciation whatsoever. For me, this is another indication that the A-Team has much more room to move up and outperform both the market as a whole as well as the main benchmarks, BDCS and REM.
Looking at the performance of few of the main benchmarks during the period since the A-Team launch date draws some interesting conclusions:
1. Interest rate-sensitive instrument rule, and REITs - REM and VNQ - rule the most.
2. Lower ratings - REM, VNQ, BDCS, HYG, JNK - outperformed higher ratings - AGG and LQD - substantially.
3. Although the A-Team contains six BDCs and four mREITs, its average total return is closer to the best-performing REM than to the third-best performing BDCS. As a matter of fact, if we would have added the A-Team performance to the above chart, it would have taken the second-best performing place!
4. While VNQ performed very well, I still find eREITs to be extremely expensive and overvalued. Many commentators keep throwing the following John Maynard Keynes famous quote to my face
The market can stay irrational longer than you can stay solvent
While this is factual truth that I can't - and don't intend to - fight, I always keep throwing back another at least as famous quote by the Indiana poet James Whitcomb Riley:
If it looks like a duck, swims like a duck, and quacks like a duck, then it probably is a duck.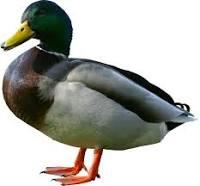 Sorry, folks... I know that I disappoint many by not accepting that the law of gravity doesn't apply to many eREITs, but when I see a duck, it takes more than a Keynes quote to convince me otherwise. Not only that I have great respect to Sir Isaac Newton, but in my career I've learned (the hard way) not to ignore price and valuations that can't be justified or explained unless people use non-conventional methods... and/or conventional quotes. A price/valuation that can't be explained or justified by common methods/laws is unsustainable in my book.
Epilogue
Four months since the A-Team been launched, and everything look rosy. I would dare say too rosy. Neither the price appreciation nor the total return are sustainable over time. Nevertheless, I do expect the A-Team to maintain its strength and, perhaps, even meet two years' target returns during the first year of its life.
While Brad Thomas, the well-respected and much appreciated SA author, still sees value (and no bubble) in eREITs' valuations, I respectfully disagree. Quoting the comment that Mark0f0, one of Brad's readers, has left in the referenced article:
REITs are highly correlated with 30-year US Treasury bonds, and the TLT ETF. So watch those. If there's a sell-off on the long end of the curve, watch out, REITs will come crashing down with it.
That, folks, is what I call factual truth.
If you believe that long-term yields are in a bubble - and most investors do - you can't claim that eREITs are not. The two are linked together, and the long-term yields record lows are the main reason for many eREITs' record highs. It's as a simple as that.
You know me already; I'm not a "prophet of apocalypse", but I am an investment manager with circa 30 years of experience who has seen more than a few bubbles burst and quite a lot of "unexplainable valuations" turning into "explainable valuations".
This is exactly why I hedge and protect my portfolio, and this is why the main message in each every article that I have written over the past month has been a call for investors to do the same.
It's never too early to start saving, and it's never too early to start hedging. At worst, you make less than what you would have gained without the hedge. At worst, however, you would be extremely sorry that you didn't listen to me.
There's no reason to confuse a duck with either a bear or a bull. Nevertheless, there's no reason to ignore the duck and, much worse, to treat it as if it's a vegetarian dish.
Disclosure: I am/we are long THE ENTIRE A-TEAM BUT MAIN.
I wrote this article myself, and it expresses my own opinions. I am not receiving compensation for it (other than from Seeking Alpha). I have no business relationship with any company whose stock is mentioned in this article.
Additional disclosure: I'm SHORT the entire H-Team.
Editor's Note: This article discusses one or more securities that do not trade on a major U.S. exchange. Please be aware of the risks associated with these stocks.