Merck's (NYSE:MRK) second quarter was not spectacular, but the company showed signs of progress. Sales increased 0.5%, ahead of estimates by $60 million, and EPS grew 8% to $0.93, beating estimates by $0.02. On a currency-neutral basis sales increased 3%, and despite new competition from generics Merck was able to grow sales in its pharmaceutical division nearly 2%. Figure 1 provides a breakdown of key drug performance in Q2:
Figure 1: Q2 Drug Performance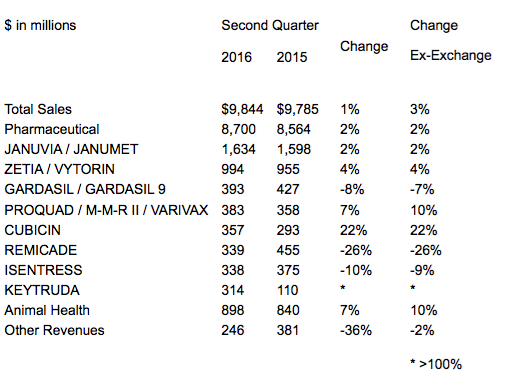 Source: Press Release
Merck's sales have declined for four consecutive years but we think the company is past the most challenging period of its patent fall-offs. While MRK will face increased competition in a few areas during the next two years, we believe that, thanks to new product introductions and a strong pipeline, MRK can return to growth by 2018 at the latest.
Due to patent losses on important drugs and a strengthening US dollar (MRK generates less than half of its revenues in the US), sales have declined for four straight years (Figure 2). The sales growth in Q2 suggested that MRK's worst days are behind it, however the company will continue to face intense competition from biosimilars. In the latest quarter, sales of Remicade declined 26% as the drug lost patent protection in Europe last year. We anticipate headwinds in the US as well, with Celtrion introducing its own version of the immunology drug. Gardasil and Isentress are also under threat from generics: sales of these drugs decreased 8% and 10% respectively in the second quarter. And, in 2017, MRK will lose patents on its cardiovascular drugs Vytorin and Zetina.
Figure 2: Merck Sales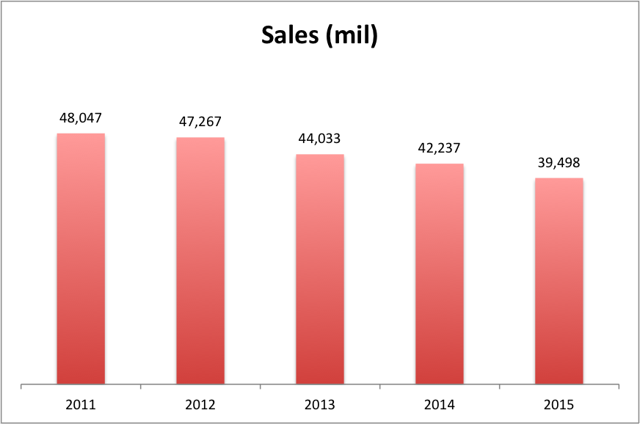 Click to enlarge
Source: Morningstar
But, unlike in many recent quarters, Merck was able to offset the increased competition from biosimilars and slowing growth in mature drugs through new launches. MRK's cancer drug Keytruda did particularly well, growing 186% in Q2, and we are optimistic that Keytruda will be a key driver of growth going forward. The drug is the first to market in "first-line" lung cancer, and also treats head and neck cancer. Keytruda should benefit from first-mover advantages in this space, and the drug can be a cash cow for MRK. Merck continues to show strong pipeline progress as well. The firm's diabetes drug, ertugliflozan, is undergoing Phase III trials, and assuming it gets approved the drug should help prop-up growth in the diabetes segment where Januvia has slowed. We are impressed with how MRK has become more productive with its R&D spending. As sales fell in recent years MRK lowered its budget and R&D as a percentage of sales fell to an average of 17%, compared to the low 20s between 2006 and 2010. The company's ability to maintain a steady pipeline while lowering spending is a treatment to the firm's expertise in drug development, which will serve the company well going forward with additional patent losses on the horizon.
Conclusion:
Merck showed solid currency-neutral growth in its pharmaceuticals division in Q2, despite increased competition from biosimilars in a number of drugs. MRK was able to offset these declines thanks to recent product launches, and the firm's strong pipeline should help mitigate upcoming patent losses in cardiovascular drugs. MRK is turning things around after four consecutive years of sales declines, and we expect the company to return to growth no later than 2018.
Disclosure: I/we have no positions in any stocks mentioned, and no plans to initiate any positions within the next 72 hours.
I wrote this article myself, and it expresses my own opinions. I am not receiving compensation for it (other than from Seeking Alpha). I have no business relationship with any company whose stock is mentioned in this article.