The treatment of NASH (non-alcoholic steatohepatitis), which currently has no pharmaceutical cure, is expected to become very big business within the next several years, reaching tens of billions of dollars in the next decade. Yet there are a couple of important limiting factors to achieving anything near this potential with the NASH drugs under development:
There is a need for a convenient, reliable diagnostic technique, in order to have a large market.
The ultimate success of competing drugs will depend on their ability to treat comorbidities.
I address these in more detail below. But first, I want to preface this article by stating that I don't intend to cover the NASH treatment development space here. There are plenty of other in-depth NASH articles on SA and on the web to do that.
Diagnostics Needed
This is the big one. NASH is not easily diagnosed and its treatment is not easily verified. Currently, the only way to verify the condition and its successful treatment is by biopsy. A minimally invasive test is needed to make detection and follow-up easy for physicians and patients, or the treatments will never gain a wide patient base.
The NASH population is estimated at 2-5% of Americans. With 250 million adults and an estimated treatment cost of $3000/year, the current potential U.S. market is on the order of $15B and could reach $35B by 2025. But this market cannot be tapped to any significant degree without an advancement in techniques for diagnosis and monitoring.
Part of the difficulty is that treatable NASH lies on a disease continuum, as shown in the following chart. To avoid unnecessary cost and side-effect exposure, diagnostics need to be able to specifically differentiate between not only NASH from NAFLD (nonalcoholic fatty liver disease), but also to discern the specific subset of NASH patients who should be treated.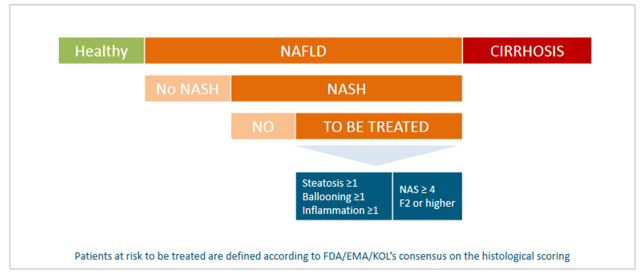 Click to enlarge
Source: Genfit's 2016 R&D Pipeline Review
Novo Nordisk's (NYSE:NVO) CEO, Lars Sorensen, at their annual shareholder meeting this year said regarding the NASH market that "only 5% are diagnosed and the business will not be transformed by the current diagnose rates. Thus, work should be made to finding better ways of diagnosing." With only 5% diagnosed, the current addressable U.S. market is less than $1B.
Novo is interested in diagnosis because they will be testing their GLP-1 analog agonist semaglutide against NASH after another version of GLP-1, Victoza, showed phase 2 success in resolving NASH with no advancement of fibrosis. Novo has time on their side because semaglutide, if successful, probably won't be approved for this indication for several years. Hopefully, by then, diagnosis won't be a limitation.
While there are likely many NASH diagnostic programs underway within pharmaceutical companies, perhaps the most publicly discussed is Genfit's (OTCPK:GNFTF) method. They are working on the development of a combination algorithmic-biomarker approach. Their technique makes use of a blood sample to enable a microRNA test with results derived using their algorithms.
Genfit is in the early stages of development, expecting further validation of their algorithms and reinforcing their predictive power through the first half of 2017. They have planned for a late 2019 regulatory approval followed by a market introduction by early 2020.
Comorbidities Require Concurrent Treatment
NASH is strongly correlated with type-2 diabetes, obesity, and cardio-metabolic diseases. Nearly 70% of obese or diabetic patients over 50 years old have NASH with an advanced fibrosis. Furthermore, the FDA and American Association for the Study of Liver Disease has jointly stated that "it is imperative that any drug developed for NASH be at least neutral from a cardiovascular risk perspective and ideally also reduce cardiovascular risks."
It's turning out that some of the current NASH treatment prospects beneficially impact NASH comorbidities. This may not be by design, but could be either by nature of the disease having related origins or by chance. It is believed that patient outcomes could be optimized by treatments that work on multiple conditions around the disease.
Here are two examples of comorbidities being addressed by current NASH candidates.
Novo's semaglutide is being developed for type-2 diabetes and investigated for NASH. It also provides weight loss and potentially cardiovascular improvement if it mimics Novo's current GLP-1 treatment, Victoza.
Genfit's elafibranor NASH treatment has been found to improve lipid profiles (cholesterol and triglycerides), which is believed to reduce cardiovascular risks.
So both of these potential NASH treatments would have comorbidity treatment advantages relative other treatments that solely affect NASH.
Another possibility is through drug combination therapies, which Genfit is pursuing. In such treatments, different pathways and methods of action are simultaneously activated with multiple molecules that act in a complementary manner. Genfit, for example, says they are using this approach to treat the largest spectrum of NASH patients and their comorbidities for global (beyond the liver) NASH clinical management.
Investment Implications
For biotech investors, it's important to keep these two factors in mind when judging the potential of NASH drugs. Especially, for smaller companies whose futures largely depend on the success of such treatments.
First and foremost, the NASH treatment needs to be effective. But the size of the market will be determined by the ability to identify the disease and track its progression or cure. There is no currently available non-invasive technique for easy physician screening. The fully addressable market will not be realized without such a development, which could be a few to several years away.
There is roughly a factor of 10 between the current state of such identifications and the potential population that could benefit. In the U.S., this is a difference between an addressable market of around $1B and one valued in the low $10B's. And remember that, with the expectation of multiple treatments in this space, the market will be divided up among the successful drug developers. There could be at least a few, and potentially several treatments eventually becoming available, including offerings from Novo, Genfit, Intercept (NASDAQ:ICPT), and Gilead (NASDAQ:GILD) among others.
Such market division is likely to hinge on a couple of factors. Of course, the specific subpopulation(s) for which the treatment is found effective will be the primary factor. But for drugs that have similar efficacy and treatable subpopulations, the next biggest factor will be the ability to treat comorbidities.
This has a few implications. Comorbidity testing will need to be addressed in development during Phase 3, adding cost and possibly time to the approval process. Different drugs will impact comorbidities in different ways, potentially leading to complex comparisons and physician-prescribing decisions. These differences may subdivide the market into many small pieces, diluting the success of some of the drugs.
Investors should be extremely cautious regarding investment in a company whose future depends primarily on the development of a NASH treatment. Only a marginal success factor should be included when evaluating a NASH drug in a company's pipeline. Intercept, for example, has publicly used 15% of the market in their projections. At this point, I wouldn't expect any drug under development for NASH to exceed 20% of the market.
The bottom line is that it is too early to accurately judge the market of any given potential NASH treatment. The addressable market is uncertain and, for those drugs that are eventually successful in treating NASH, it's too early to tell if they will come out on top when it comes to comorbidities. Invest accordingly.
Disclosure: I'm long Emisphere (OTCQB:EMIS) who is partnered with Novo Nordisk in the development of the oral version of their next-generation GLP-1 agonist analogue, semaglutide.
Disclosure: I am/we are long EMIS.
I wrote this article myself, and it expresses my own opinions. I am not receiving compensation for it (other than from Seeking Alpha). I have no business relationship with any company whose stock is mentioned in this article.
Editor's Note: This article covers one or more stocks trading at less than $1 per share and/or with less than a $100 million market cap. Please be aware of the risks associated with these stocks.