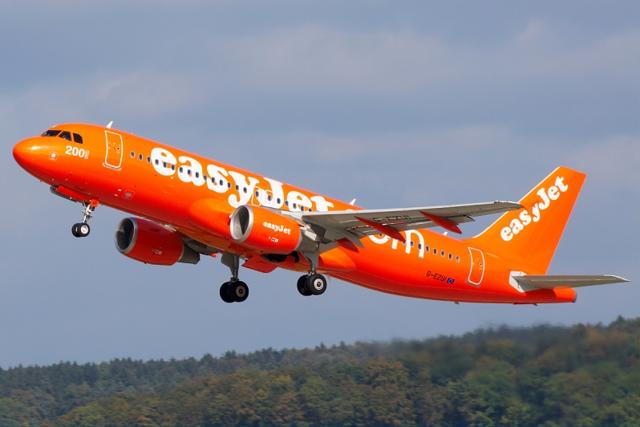 Click to enlarge
The referendum in the United Kingdom about leaving the European Union shocked investors heavily. As share prices are often valued on future cash flow, after the results were out, investors were dumping easyJet (OTCQX:ESYJY) (OTC:EJTTF) amidst fears of revenue losses in the future. The main reason is because easyJet has been clearly benefiting from a single European Market (ECAA) which acts as boost to revenue, and strikes and terrorist threats were not helping either. easyJet gets more than 50% outside the United Kingdom.
Now, nearly a month later, easyJet published a trading update for Q3 2016. As investors lost faith in the company's ability to turn around its business in the wake of a Brexit referendum, some questions need answers. Especially the ones like 'what are we going to do now?'. The stock is nearly down 50% year to date, and I'm sure investors are looking for some reassurance.
easyJet: Shareholders Dropped This Firm Like A Brick
Three important points to notice when looking at the share price of easyJet: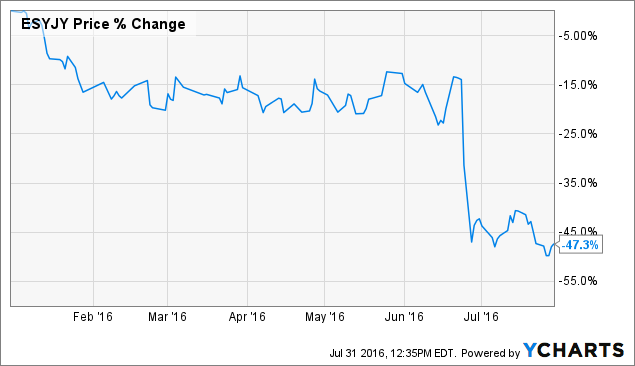 1) The firm did not drop in anticipation of a Brexit vote. This either indicates that investors were expecting a Bremain result, or they simply didn't think that a Brexit would impair the financial future of easyJet.
2) The firm dropped massively right after the results were announced. Investors didn't wait at all to check if Brexit would impact easyJet's business.
3) Since the results have been out for a month and the firm lost nearly 35% of its value in a few days, the firm has not been able to satisfy investors that it would get its business back on track.
The latter is the one which I'll discuss now. The key point here is to read the update which has been given in light of the nearly 50% loss year to date. If a firm loses half its value over a year, one would expect the firm to be in severe danger, which could jeopardize business going forward. Is that the case? I highly doubt that.
easyJet: Trading Update Q3
Not too long ago, easyJet published its trading update for Q3, which can be found here.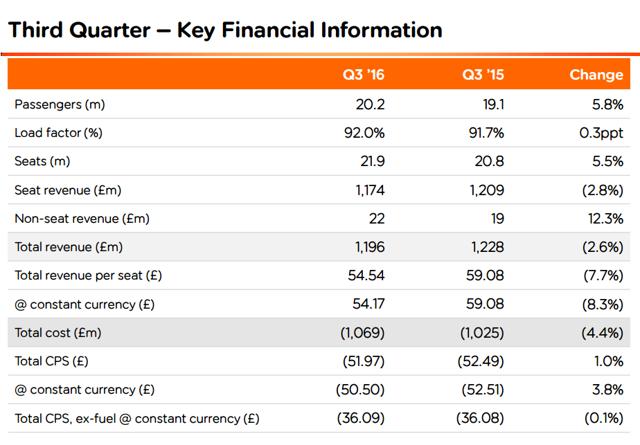 Click to enlarge
Source: easyJet Q3 Trading Update
In comparison to a year ago, revenue decreased, but not as much as costs increased (2.6% to 4.4%). Load factor only increased a little bit. This indicates that, as I've covered before on easyJet, the firm has already had significant issues before Brexit happened, and this is indeed the case (due to terror threats across Europe for example). One other problem would be the falling pound which is hitting every firm in the UK with business outside the island. The other issue would be the continuous stream of strikes and disruptions throughout the year: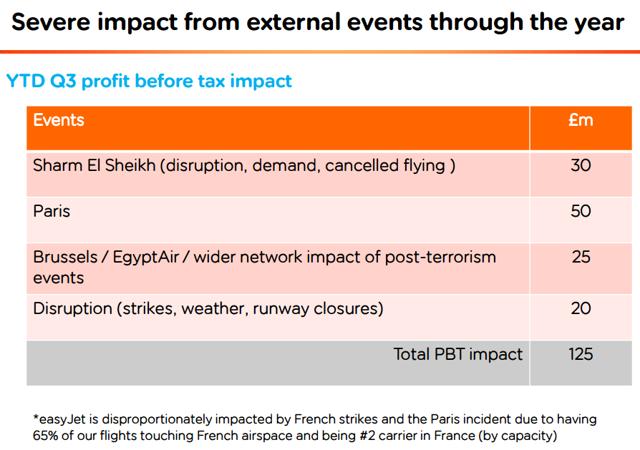 Click to enlarge
Source: easyJet Q3 Trading Update
But, among many airlines, easyJet should be fairly safe to take a few hits when we consider the balance sheet.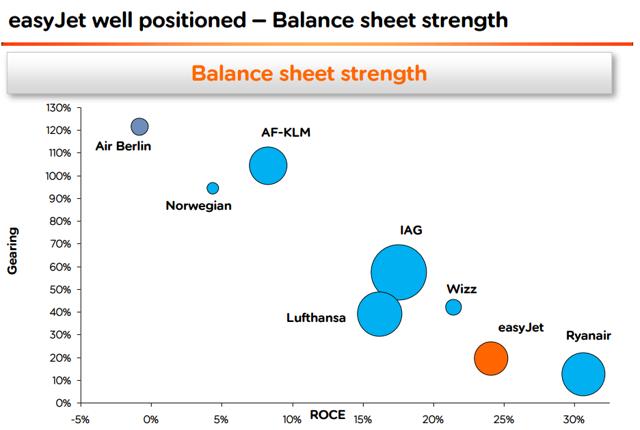 Click to enlarge
When looking at competitors like Lufthansa (OTCQX:DLAKY), Air Berlin (OTC:AIBEF), Ryanair (NASDAQ:RYAAY), many of which I've covered here on Seeking Alpha, it is clear that easyJet has got quite a robust balance sheet (especially from a debt perspective). Debt has always been a tricky factor in the airline industry (and causing other airlines to either go bankrupt or forced to merge), which is likely not going to be of risk to easyJet. It has a cushion to go through (and survive) severe storms such as this Brexit referendum and other issues.
Even though the firm mentioned that it was looking into exploring new opportunities outside the UK, it now has told media that it will not axe jobs within its headquarters in Luton, London.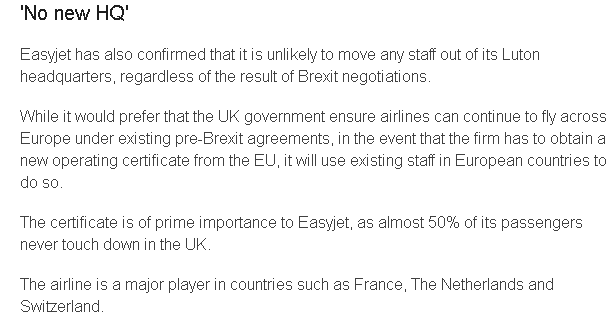 Source: BBC
Personally, I believe the statement is pure lobbying on easyJet's behalf to convince the British Government for lenience regarding the position in the European Common Aviation Area (ECAA) (which it is now part of).
Interestingly enough, ECAA membership requires the UK to accept EU aviation laws and would also depend on the agreement of existing members where it's likely they will be highly unwilling to accept this. After all, the airline industry is highly competitive and other airlines benefit with less players on the market. There is no such thing as a free lunch and many other airlines in the ECAA are struggling severely (Lufthansa, Air France-KLM (OTC:AFRAF), Air Berlin). I believe this negotiation of the British Government regarding the ECAA is not a done deal as it seems.
And in case this won't happen, I still expect easyJet to set up a paper-office with skeleton staff as losing out on the European market would highly impact easyJet's profitability. If we take the 50% loss of easyJet since January 2016 in consideration, that is exactly how I see the company being priced currently as of August 2016. Shareholders dropped its value in anticipation of significant high-double digit revenue losses due to not being able to play like it used to in the European market. However, I believe the likelihood of that scenario is relatively less.
Conclusion
All signs are pointing towards easyJet being slightly overvalued before the Brexit referendum, and the firm is cruising nearly 50% lower year to date, while the business will not be so significantly impacted.
Nevertheless, the business is going down, which means this potential investment is purely a price discrepancy play - a firm which got hit much harder by investors than it lost in actual business value. I'm highly interested in easyJet and I'm waiting for the firm to publish more information on how it wants to proceed as it gets more than 50% of its customers outside the UK. But it's hard to deny that there isn't a potential investment play here.
Disclaimer
This article provides opinions and information, but does not contain recommendations or personal investment advice to any specific person for any particular purpose. Do your own research or obtain suitable personal advice. You are responsible for your own investment decisions from beginning to end. This information is not a recommendation or solicitation to buy or sell securities, nor am I a registered investment advisor. I have no business relationship with any company whose stock is mentioned in this article.
Disclosure: I/we have no positions in any stocks mentioned, but may initiate a long position in EJTTF, ESYJY over the next 72 hours.
I wrote this article myself, and it expresses my own opinions. I am not receiving compensation for it (other than from Seeking Alpha). I have no business relationship with any company whose stock is mentioned in this article.
Editor's Note: This article discusses one or more securities that do not trade on a major U.S. exchange. Please be aware of the risks associated with these stocks.