Introduction
When first researching Shire (NASDAQ:SHPG) back in 2015, perhaps the most intriguing prospect was this drug in development dubbed "lifitegrast" (later to be named Xiidra). Sure, Shire had already established itself in the rare disease and hemophilia market, but it had yet to enter the ophthalmology field. In my first ever Shire article, I delved into the efficacy of lifitegrast, and why it would be approved in an upcoming FDA decision. And you know what happened? The FDA sent the NDA back for further review. It goes without saying that the healthcare market is a difficult one to tackle. With FDA decisions and guidelines, as well as congressional regulation power over the industry, it is not as simple as plugging a few metrics into a computer. One must really look into the qualitative aspects. Following the FDA request, Shire released brilliant Phase 3 data that met its primary endpoints, and shortly after they resubmitted the NDA. And on July 11th, it was finally approved by the FDA. This was the subsequent jump in price (not nearly high enough in my opinion)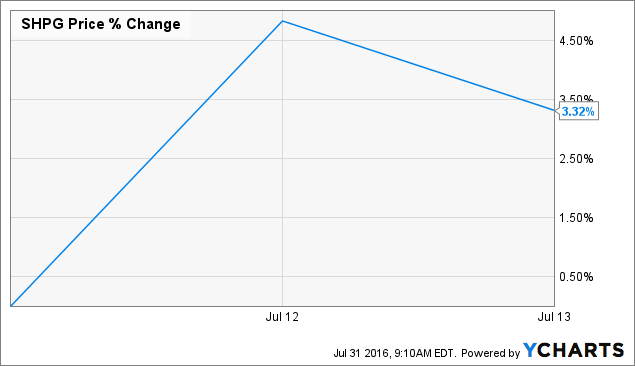 SHPG data by YCharts
I'll use this platform to break down the drug, the pricing platform, sales potential, and how it can steal away Allergan's (NYSE:AGN) precious market share.
The Drug And What It Cures
Dry Eye Disease is classified as:
A multifactorial disease of the tears and ocular surface that results in symptoms of discomfort, visual disturbance, and tear film instability with potential damage to the ocular surface. It is accompanied by increased osmolarity of the tear film and inflammation of the ocular surface. Dry eye, an often chronic and progressive ocular disease, is one of the most common complaints to eye care professionals, and represents a significant unmet medical need
Xiidra is a medication to treat Dry Eye Disease for people over the age of 17. According to the FDA,
"Dry eye affects about 5 percent of adults aged 30 to 40 and up to 15 percent of people over age 65"
That leaves Shire with a large market to address. When the disease goes untreated, it leaves scars in the victim's cornea, and with that comes a pretty significant damage to one's quality of life. Xiidra was able to secure a very strong label, one that will mention how it treats both the signs and the symptoms of the disease, something that will surely catch the eye of the doctor prescribing the medication. In a Q&A with Shire's Robert Dempsey (head of the opthalmics team at the company), he said:
We are focused on bringing a new treatment option for the estimated 16 million patients in the U.S. who are diagnosed with dry eye disease and for whom treatment could be appropriate. We also know that dry eye disease is a very common complaint to eye care professionals, both ophthalmologists and optometrists, so that is where we would like to focus our energies and activities.
That's a huge market for Shire to scale up its production to. By 2022, the market is expected to be valued at around $5 Billion, after growing at a Compounded Annual Growth Rate of 12.8%. And most importantly, Xiidra actually treats the disease, opposed to Restasis which generates natural tears. As I mentioned in my previous article, many online forums for patients read "Why is Restasis my only option?" and things of that nature. Restasis generally takes a longer time to alleviate symptoms that Xiidra does, if we are to go by trial data. Both patients and doctors are excited for this blockbuster, and so should investors. DB predicts a heavy revenue stream by 2020, and analysts believe it will reach $1 Billion in annual sales by that time. With that significant contribution to Shire's top-line, they can put more money into R&D, especially after purchasing Baxalta, Dyax, and Foresight. With plenty of drugs in the pipeline, Shire will be able to adequately fund each one using money generated from this future blockbuster and staple.
The Pricing Platform
Shire has made the bold move to price Xiidra at approximately $5,000 annually, putting it in direct competition with Restasis. The 30 day price tag of $426 is nearly identical with Restasis, according to Evercore's (NYSE:EVR) Umar Raffat. Xiidra could have easily been sold at a premium, with its significant label and that it actually treats dry eye disease. A big issue with tackling Restasis is "the power of incumbancy". It boasts an 85% coverage rate, which is to be envied. Allergan's Commercial Chief, Bill Meury, believes that Allergan will be ready to keep a chunk of its market share. Raffat wrote that even if Xiidra would capture 30% of the market base, Restasis can rebuff around 10-15% just by raising prices. They have strong refill numbers, but this is by far the most rational move on Shire's part. Doctors will have no qualms about prescribing the drug, and it will be affordable to the wide base of Restasis users. In other words, price will not be a deterrent for the drug, something that can almost never be said for pharmaceuticals.
International Expansion
Shire will deploy Xiidra in Q3 2016 (as I even write!). According to Robert Dempsey, Shire will look to file in Canada in Q4 2016 and in Europe in Q1 2017. After establishing itself as a go-to drug with significant benefits in the United States, it will not be difficult for the sales teams at the international level. Dealing with new regulations and populations will be a challenge, but the superiority of the drug will help it shine. People have been waiting years after Restasis' initial breakthrough, and Shire has finally delivered.
Conclusion
It looks like Shire has a true blockbuster on its hands. With significant revenue contribution expected, and minimal price change reaction, Shire is undervalued at current levels. Now is a chance to get a position before the stock price truly rockets up. This drug has the potential to be a staple in Shire's portfolio for years to come.
Disclosure: I am/we are long SHPG.
I wrote this article myself, and it expresses my own opinions. I am not receiving compensation for it (other than from Seeking Alpha). I have no business relationship with any company whose stock is mentioned in this article.