Introduction
Gilead's (NASDAQ:GILD) stock traded as high as $88.85 on July 25, 2016 and as low as $79.37 on July 29, 2016. A per share loss of nearly $10.00 in a week is enough to cause even the most loyal investors to take unfavorable notice.
Gilead's investors have definitely taken notice. Some have bailed, some trimmed, some are hunkering down, others are gleeful that a long awaited pullback is giving them a chance to buy Gilead at a reduced price. I fully expect its lows to endure tests in the near future, quite possibly before this article ever appears on SA. Does Gilead have sufficient protection to avoid a share price meltdown? My thinking on this is focused on four areas. I will explain.
Gilead's Four Protective Factors
Gilead's fourfold defensive characteristics that serve to protect investors who want to own Gilead until its next growth spurt are:
1. Continued (albeit with negative growth) Harvoni and Sovaldi revenues and profits allowing Gilead to fund pipeline maintenance activities, acquisitions and JV's as needed.
2. A thriving HIV franchise.
3. A culture of efficient drug development and processing through required approval processes.
4. A world-beating development track record that gives it top credibility when competing for acquisitions and JV's.
I will review how Q2, 2016 measures up on each of these four points.
Gilead's HCV sales
Slide 26 (below) from Gilead's slide deck shows that sequential patient HCV initiations on a Gilead HCV therapy are holding worldwide when compared to Q1, 2016, with notable slippage in Japan and slight slippage in Europe.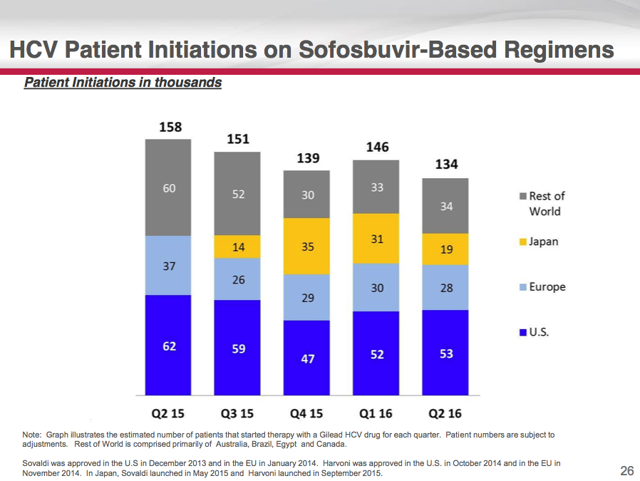 Click to enlargeSlide 52 below translates how these 2016 initiations, coupled with those already under treatment work into worldwide Q2, 2016 HCV sales. On this metric there is a 19% YoY reduction, that leaves nearly $4 billion in quarterly HCV sales.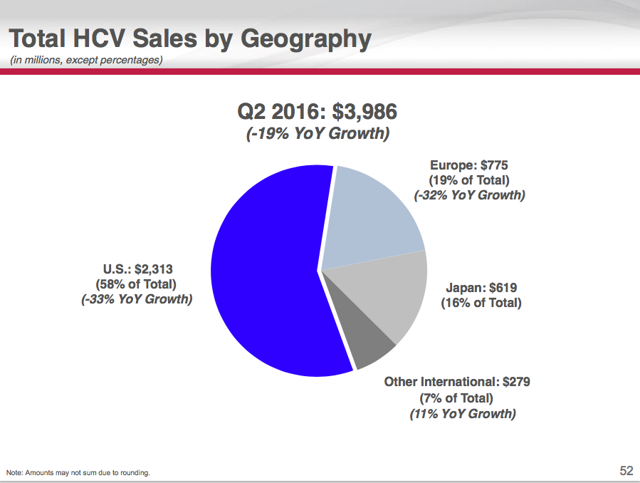 Click to enlarge
While the YoY percentage decline is sobering, it is not unexpected. Calendar year 2015 was a year like no other. It was the year that Gilead commanded almost 25% percent of the biotech industry's total revenues. In its latest annual report on the state of the biotech "EY-beyond-borders-2016" EY documents this incredible feat. This report makes repeated reference to Gilead's achievements.
YoY declines from 2015 are not indicative of a broken thesis for Gilead. The only question should be how are quarterly sequential revenues holding up? Slide 26 shows that they are holding reasonably steady in terms of starts on a Gilead HCV product.
Slide 12 below shows that while starts are somewhat steady sequentially, such is not so much the case for sales which are clearly declining in all geographies except for the United States where they appear to be sound compared to the previous quarter after backing out sales return reserve adjustment.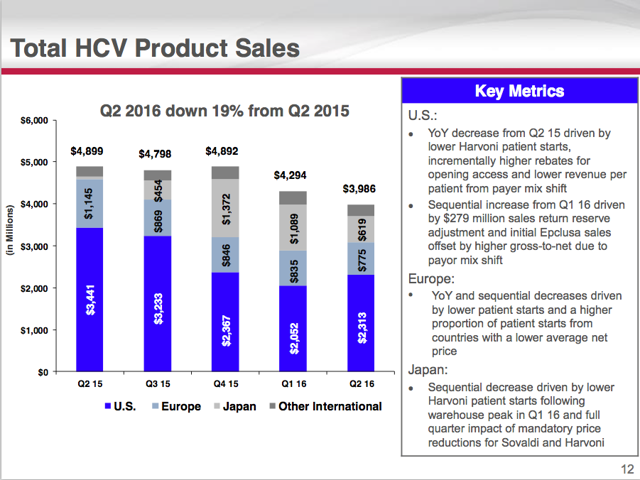 Click to enlarge
The pace of HCV declines is going to be a flash point for Gilead bulls and bears. Whether sales will hold on sufficiently for Gilead's needs will become clearer as time moves forward. The prevailing wisdom counts the Harvoni/Sovalidi juggernaut as a wasting asset. Even if patient loads exist in steady numbers for the next decade, continued revenue slippage is inevitable from a combination of competitive pricing pressure, healthier patients undergoing shorter treatment regimens and tougher payer mix (i.e. a higher proportion of public payers such as VA, Medicaid and state prison boards) who are under severe budgetary restraints.
Gilead's HIV Sales
Gilead's first FDA approved drug was Vistide. It was approved for treatment of a form of retinitis that afflicted AIDS patients. Since that time Gilead has become a dominant supplier of AIDS therapies throughout the world. This dominance has continued into Q2, 2016. Slide 13 below from the slide deck best captures the sum of this success.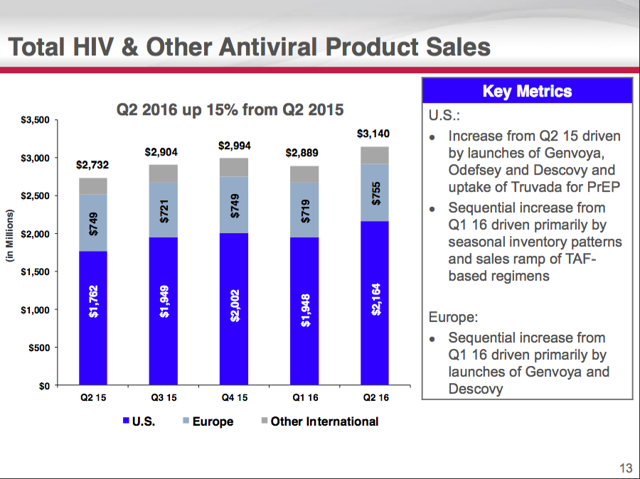 Click to enlargeThose seeking further HIV specifics can reference slides 31-38 which are not set out below.
Gilead's HIV business is living up to expectations. If HCV sales continue declining (from $3.98 billion) at the rate of 19% per annum, while HIV sales grow (from $3.14 billion) at the rate of 15% per annum then HIV will take over as Gilead's dominant revenue source well before closing the books on Q2, 2017. To the extent that Q2, 2016 figures are impacted by inventory patterns, this will impact the timing but the trend is clear nonetheless. Gilead's stronger more sustainable HIV therapies are destined to overtake HCV as the company's dominant revenue driver at some point in the very forseeable future.
Gilead's Culture and Credibility for Drug Approvals and Marketing
I will deal with points three and four together. This is something that you do not hear that much about. The relative silence in this arena is a good thing. I touched on it in a recent article. Gilead moved its recent spate of HIV TAF-based therapies through FDA approval processes with very little drama. In November 2015 the FDA approved Genvoya. In March 2016 it approved Odefsey. In April 2016 it approved Descovy.
In June 2016 the FDA approved Epclusa, the first pan-genotypic HCV therapy. Gilead had announced a priority review status for Epclusa in October 2015. This review targeted FDA action on June 28, 2016. There were no apparent hiccups along the way. Rather it was a case of target date set, target date approval achieved.
At the risk of jinxing things I note that Merck (NYSE:MRK) is having problems in getting final approvals for Zepatier in Europe. Gilead seldom has delays of this sort. The most recent such which I have been able to locate was a 2012 delay of Truvada. This approval delay was expected to resolve by September, 2012. In actuality, Truvada received FDA approval in July 2012. Accordingly one surmises that, even when problems arise, Gilead addresses and resolves them quickly.
Approvals in the European Union have generally proceeded on an orderly fashion as well.
Gilead's latest PDUFA is for its TAF-based HBV therapy. This targets a decision date of November 2016 per slide 45 on Gilead's slide deck.
By this review Gilead's culture for drug approvals is certainly intact.
How is it faring on the marketing front? In Gilead's Q2, 2016 conference call, Kevin Young reviewed Gilead's progress on its newly approved HIV therapies Genvoya, Odefsey and Descovy. Genvoya was the only one to have more than a quarter's worth of sales. As to its progress, Young was enthusiastic, stating:
…Genvoya revenue nearly doubled in Q2 versus Q1. The product represents the most successful HIV launch since the introduction of At[r]ipla, the first single-tablet regimen, a decade ago.
This is especially encouraging. It shows the way for the smooth flow of HIV revenues to the extent that Genvoya is not so much just about growing Gilead's HIV revenues, as it is about preserving them. Young noted that Odefsey and Descovy are quite early in their launch but that they appear to be following Genvoya's trend. It is also positive insofar as it indicates that Gilead maintains ample resources to effectively market the drugs which it develops.
Tallying Up
The purpose of this article is to assess whether or not Gilead continues to benefit from four factors which are key components of the investment thesis which has earned the company so many acolytes. My assessment is that all are firmly intact with the exception of its ongoing HCV revenues. For those investors who have come to the dance because they were bewitched by Harvoni's bodacious achievements, this one questionable factor is the most important. Those investors have suffered a one-two punch from the most recent quarters that has likely moved them to the sidelines or will do so soon.
Whenever a stock starts dropping precipitously it sets two processes in motion.
One such process is a calculation of whether they should "buy the dips" or "head for the exits". Gilead's recent price swings coupled with high volume show that there are plenty of investors in both camps. Are you a member of either camp or have you mapped a more creative strategy?
Another process that starts to take place is a search for someone to blame. Some investors feel that Gilead's management has let them down by failing to accurately signal the depth of the HCV revenue fall-off. A recent article by DoctoRx takes management to task for its commentary surrounding Harvoni's ongoing prospects as illustrated by the following bullet point introduction:
I do feel as though management could have been speaking more realistically about the HCV product line's sales prospects for some time
My recollection of past conference calls fully supports this as a legitimate point. In retrospect management could have been more circumspect. On the other hand the base causes of the fall-off were well known.
Many investors are holding on and plan to continue to do so. I am in this camp. I applaud management's ability to effectively keep its shop operating in the face of a tidal wave of Harvoni/Sovaldi revenues. It is easy to forget how astounding Gilead's achievements have been. Gilead has resisted the temptation to grow into a monstrous company. It has only 8000 employees in six continents. It makes incredibly effective use of those employees. It should be celebrated for how much it has achieved, and continues to achieve.
I have criticized management for its apparently ill-conceived share buyback policies. I vented my concern to the implementation of this buyback policy as shown on Gilead's Slide 20 to the slide deck in comment thread to a recent Alexander Poulos article. This comment string contains an excellent critique of Gilead's buyback practices from several members of the SA community, including interesting posts by suziclueless and others.
As disturbing as I find these points, I am heartened by the fact that they are peripheral to the operational focus which I believe is most central to Gilead's long-term success. Kevin Young summed up well when he said:
"…I'm reminded just how complex the delivery of healthcare continues to be. Gilead's focus on flawless execution on controlling the variables that we can control with the highest levels of conduct and compliance is critical and is my top priority."
The above emphasis appears in the SA transcript. I did not add it, but I agree it is most appropriate for emphasis.
Yes, Gilead's 8.000 employees must be an incredible bunch.
Summary
Gilead is enduring a protracted period of challenge. I definitely regard Gilead's thesis as dented but essentially whole. Gilead's stock is currently suffering. I expect that this period will be transitory because of the protective factors which are in place.
Disclosure: I am/we are long GILD.
I wrote this article myself, and it expresses my own opinions. I am not receiving compensation for it (other than from Seeking Alpha). I have no business relationship with any company whose stock is mentioned in this article.