I have written a good number of articles about Gilead Sciences (NASDAQ:GILD) and I have always had optimistic, encouraging things to say. The long-term prospects of the company are still intact and bright despite the poor stock performance, I claimed. Even when HCV revenue is subdued, Gilead's HIV business, pipeline, and perhaps some acquisitions would keep revenue growth chugging along, I said. Well now I'm changing my tune.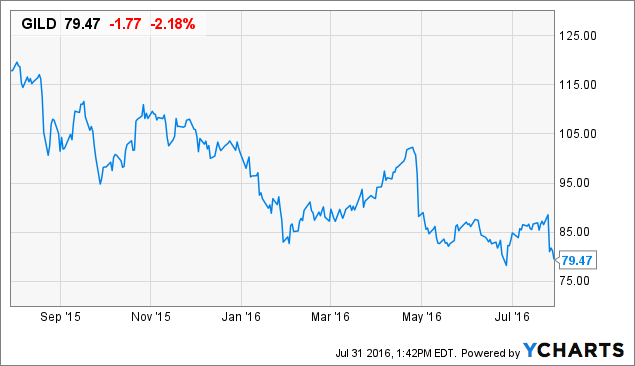 GILD data by YCharts
As some readers might recall, I wrote two articles on GILD in the run-up to earnings: one discussing whether the stock was a value play or value trap (here) and one recommending that investors buy put options on the stock as an alternative to selling shares before earnings (here).
In the first article, I concluded that GILD was a value trap short-term and a value play long-term. The decline of Gilead's HCV business coupled with management's decision not to try and fill in the resulting revenue gap led me to think that the market would not treat GILD kindly in the short-term. Nothing spooks the market more than uncertainty about future growth. Stocks that don't earn a dime yet grow revenue see significantly more stock price appreciation than stalwarts that rake in earnings and cash flow but don't have a clear path to increasing revenue. Maybe you disagree, but that's just the way things are. Which leads me to the admittedly click-baity, title of this article: Avoid Gilead like the plague.
Yes, I know what many of you are thinking. Long-term, GILD is a sure-fire winner! The fundamentals are pristine! Even with current headwinds, Gilead is still raking in profits and cash flow! Who cares about short-term price movements because I'm in for the long haul!
And I hear you. I see these points. But the reality is that management has provided little visibility into the company's future revenue growth prospects and little reassurance to skittish investors. Couple this with the decline of HCV revenues, Gilead's primary cash cow, and you get share price declines. Maybe some GILD investors are okay with that and are of the opinion that Gilead's management is waiting for the right drug or company to come around instead of rushing into any ill-advised acquisitions.
However, this has not been adequately communicated to shareholders or the market at large. In fact, I would say that management is communicating the opposite. While revenue growth heads sharply in reverse and the share price continues to remain stagnant, Gilead bought back $8 billion worth of stock in Q1 2016 and $1 billion in Q2. Provided on the company's Q2 earnings slides were the average prices for those buybacks: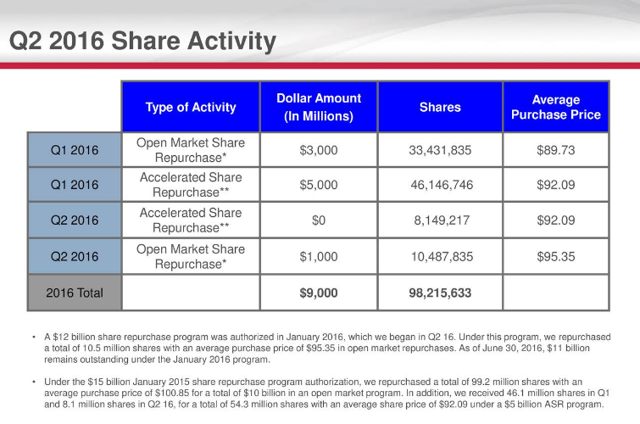 Click to enlarge
Now I'm not gonna do the math, but I think it's fair to say Gilead overpaid for those shares, and then some. $9 billion is a huge sum of money to be spending on share repurchases when the stock price is floundering and the market is questioning future growth. In the biotechnology sector there is always another, probably better, use of capital. And if you thought Gilead overpaid for those shares, the average share price for prior repurchases is even higher (think $100+ per share).
As it stands right now, in terms of solid and quantifiable revenue streams, Gilead has its thriving HIV business ($3.1 billion in sales in Q2 up 15% year-over-year), its declining HCV business ($4 billion in sales in Q2 down 18%), and about $600 million in other product revenue, which is about flat from Q2 2015. The pipeline has potential, but its contribution to future revenue and is either too uncertain or too insignificant to have an impact on the share price now.
So why buy GILD right now? HCV is shrinking faster than HIV is growing, no pipeline blockbusters are coming to fruition in the short-term to offset revenue losses, and management has been unwilling to spend cash on acquiring any other products or companies. That strategy does not appear to compare well to Gilead's large-cap biotech competitors: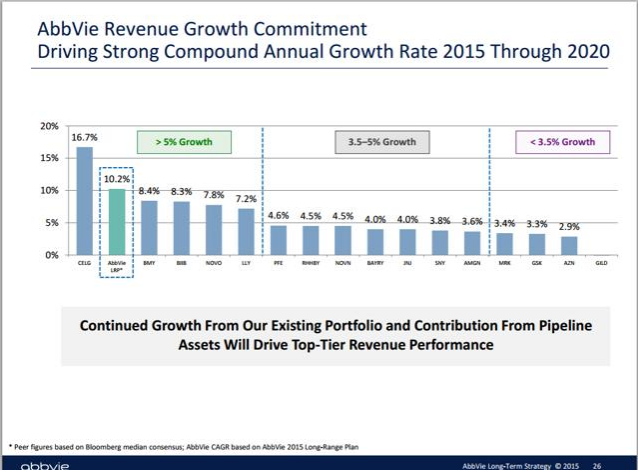 My fellow Seeking Alpha contributor Alexander J. Poulos penned an article that included this slide from AbbVie (NYSE:ABBV), which I found relevant. Gilead is all the way down at the end there with a CAGR of 0% through 2020. Ouch. While I disagree with his conclusion, I would recommend giving Mr. Poulos' informative and well-written article a read, here.
While this figure is obviously not set in stone, as things stand Gilead is projected by Bloomberg consensus estimates to show no growth for the next 5 years. It should be no wonder investors are leaving Gilead out in the cold: the current fundamentals are fine, but as far the market knows, they will only get worse from here on out.
Yet this does not have to be the case. Gilead had $24.6 billion in cash and equivalents at the end of Q2 and generated nearly $5 billion in operating cash flow. I find it hard to believe that with this much buying power management has not been able to find even one significant acquisition opportunity. Buying Nimbus Therapeutics for $400 million for its potential NASH treatment was a good first step, but not nearly large enough to ease the market's uncertainty.
And it's not as if Gilead management has any reason to fear or be wary of acquisitions. The $11 billion acquisition of Pharmasset almost single-handedly carried GILD to its previous highs! Yet management seems content to turn in two horrendous quarters of hemorrhaging HCV revenue and, from the Q2 2016 conference call, does not seem at all concerned about future growth. They may not be, but investors certainly are. GILD will continue to suffer until management does something to stop the bleeding.
Gilead has lost any semblance of positive investor sentiment and seems unfazed by the plight of the stock. I think the massive share repurchases, and the massive losses on those purchases, implies that management does not seem to understand how the market views the actual company. Gilead bought back shares because they think the stock is undervalued, and based on current fundamentals it is. But investors can see the deteriorating revenue. Most will not simply see that you have the means to grow revenue (like cash) and trust that you will be able to make it happen.
GILD's 2.4% yield isn't nearly adequate enough for investors to rationalize buying shares despite 0% projected revenue growth. And that is true even at a trailing P/E of 7. One can talk about the long-term potential, but without any new revenue sources the stock will remain in free fall. There is a reason GILD shares are so cheap, and until that reason is corrected, they will continue to be cheap.
Do I like Gilead Sciences long term? Yes, I do. But from what I have seen based on investor comments and the share price, the market obviously does not have the same view. Therefore, I feel it prudent that investors avoid Gilead until future revenue growth prospects materialize.
In my opinion, what Gilead's management communicated to the market by spending billions of dollars in share repurchases is that they believe the company has potential to justify its valuation through organic means (R&D -> clinical trials -> revenue). I, and the market, disagree with that notion. To justify its $105 billion valuation, Gilead needs more than what it has, especially short-term.
And okay I lied, I did do the math on Gilead's share repurchases. According to the bullet points on the share repurchase slide, under the $15 billion share repurchase program authorized in January 2015, Gilead paid an average price of $100.85 for $10 billion in open market purchases and an average price of $92.09 for $5 billion under an accelerated share repurchase program. Using Friday's closing price of $79.47, we can calculate that Gilead overpaid by about $2.1 billion on the open market purchases and $685 million on the ASR purchases. And we're not quite done yet.
Under the $12 billion share repurchase program authorized in January 2016, Gilead paid an average price of $95.35 for $1 billion in open market purchases. That's a loss of $167 million. Add it all up, and in one and half years of buying back stock, Gilead has lost approximately $3 billion. Fortunately for GILD longs, the company decided to repurchase just $1 billion this quarter and didn't test fate further. Well if I'm a Gilead investor, I want management to forget about buying back a rapidly depreciating stock and solve the problem.
Before anyone tries to argue that I am being too cautious and will be left in the dust when the Gilead rocket ship takes off for the moon, I would rather risk missing out on some of the upside than risk being exposed to, more likely, the further downside.
If you want to stay up-to-date on my articles, you can Follow me by going to my author page or by clicking "Follow" at the top of this page.
Thanks for reading!
Disclosure: I/we have no positions in any stocks mentioned, and no plans to initiate any positions within the next 72 hours.
I wrote this article myself, and it expresses my own opinions. I am not receiving compensation for it (other than from Seeking Alpha). I have no business relationship with any company whose stock is mentioned in this article.