You may recall that I wrote an article a few weeks ago called Debunking VNQ To Lavishly Fund Retirement. To be perfectly clear, that article and the one you're reading now are not written to beat up the Vanguard REIT Index ETF (NYSEARCA:VNQ) or those who invest in the product; instead, my goal is to assist articulate strategies that help investors gain greater insight into the broader REIT universe.
I think it's important for investors to own REITs and I would much prefer them to gain exposure to a broad basket of REITs like VNQ than no REITs at all. Furthermore, I would discourage investors to own just a handful of REITs with no diversification - simply for the sake of owning REITs, recognizing the fact that ETFs serve a valuable purpose for diversification.
Another positive for ETFs is simplification. Many investors just do not have the time to build out a diversified REIT portfolio, and ETFs provide a simple and relatively inexpensive method of gaining exposure to different REITs.
It's true, diversification is a powerful force that can reduce portfolio volatility (risk) while allowing an investor to execute simple, passive investment strategies; however, there's a price for the safety, in that, you are buying the good, the mediocre, and the bad equities.
We recently decided to publish a quarterly REIT ETF article in our newsletter (Forbes Real Estate Investor) where we track around 25 various ETFs. We expect that the ETF will continue to accelerate as there are around 1,700 ETFs in the U.S. that total $2.2 trillion in assets (source: UBS: A Guide to Investing with ETFs).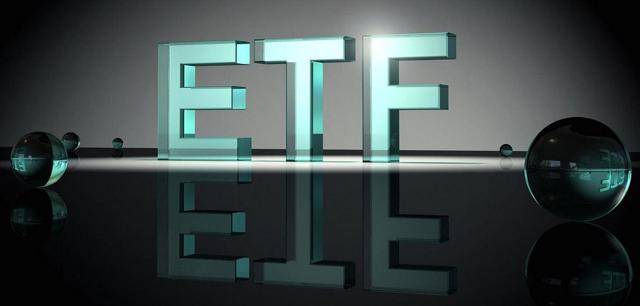 Click to enlarge
The ETF market remains concentrated with BlackRock, Vanguard, and State Street accounting for 82% of the industry's assets, while the top 20 largest ETFs represent 39% of US-listed ETF assets.
VNQ remains one of the most popular REIT ETFs that seeks to track the performance of the MSCI US REIT Index. The index is designed to reflect the performance of the US equity REIT universe, as defined by the Global Industry Classification Standard (of RICS).
REITs included in the index must have a market capitalization of at least $100 million with sufficient liquidity to be included in the index. Mortgage REITs, hybrid REITs, and Specialized REITs that do not generate a majority of their revenue and income from real estate rental and relating leasing operations are not included in the index. The index is free float adjusted, market capitalization-weighted and rebalanced quarterly.
To track its index, VNQ typically employs a full replication strategy in which it seeks to hold all of the underlying index securities in substantially the same weights as the index.
While researching the various REIT ETFs within our Intelligent REIT ETF Lab, we found that 12 out of 14 of the Equity-only REIT ETFs we track own Simon Property Group (NYSE:SPG) as a Top 10 company. Even more interesting, however, is that SPG is the #1 holding for 11 out of 14 of the same Equity-only REITs.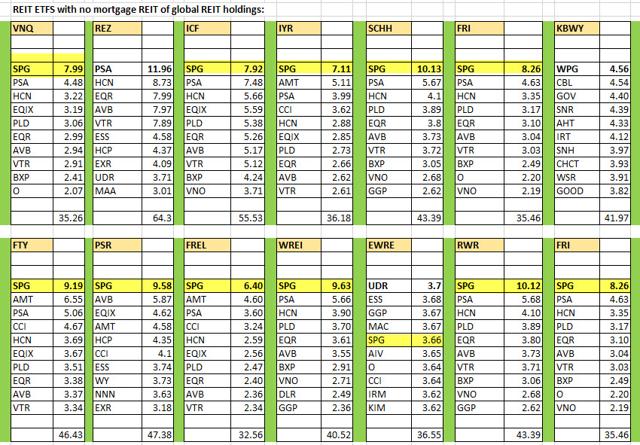 Click to enlarge
The average concentration of these 11 REIT ETFs that list SPG as the #1 REIT is 8.71%, with SCHH (10.13% exposure) and RWR (10.12% exposure) having the most exposure to the mega-mall REIT. Given the overall size of SPG, it should be no surprise that this REIT is the largest holding for 79% of the above-named REIT ETFs. So let's check under the hood to see how these REITs with SPG exposure have performed YTD:

Click to enlarge
As you can see, the REIT ETFs in red are the ones that hold SPG as the top company, and the performance has ranged from 8.99% YTD (total returns) to 13.48% YTD (total returns). VNQ, the gorilla ETF, is the best performer of all of equity-only REIT ETFs.
Given the fact that SPG is such a dominant name in the REIT ETF universe, I thought it would be timely to check under the hood and determine exactly why mediocrity is the normal mode of operation anchoring most all of the Equity-only equity REIT ETFs we cover. (Note: in our newsletter this month, we provide a comparison of the top 3 REIT ETFs with all of our portfolios).
Simon Property Group
We have recently written on many of the higher-quality Mall REITs including Taubman Centers (NYSE:TCO), Tanger Factory Outlets (NYSE:SKT), Macerich (NYSE:MAC), and Pennsylvania REIT (NYSE:PEI). As you can see below, SPG is a dominant player in the sector.

Click to enlarge
Simon's real estate properties consist primarily of Malls, Premium Outlets and The Mills. As of Q2-16, the REIT owned or had an interest in 230 properties comprising 191 million square feet in North America, Asia and Europe. Additionally, at June 30th, SPG had a 20.3% ownership interest in Klepierre, a publicly traded, Paris-based real estate company, which owns shopping centers in 16 European countries. As you can see below, SPG is a dominant mall landlord where the company generates around 80% of revenue.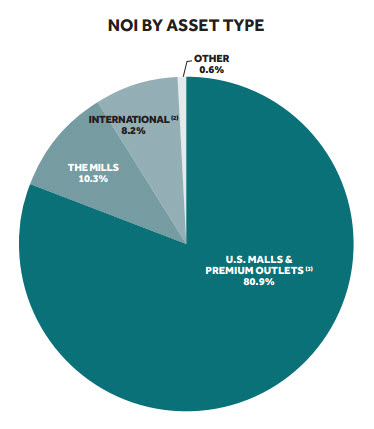 SPG is also well-balanced geographically as illustrated below: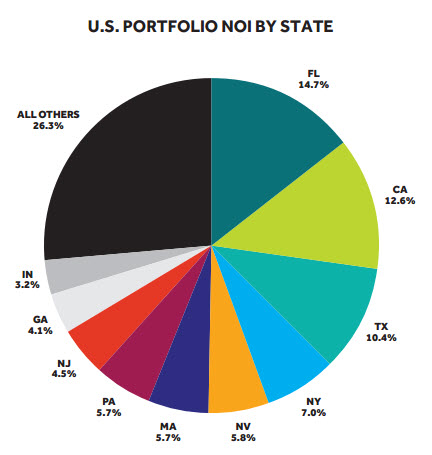 SPG's malls contain, in the aggregate, more than 13,900 occupied stores, including approximately 516 anchors, which are predominately national retailers. Premium Outlets generally contain a wide variety of designer and manufacturer stores located in open-air centers. SPG's Premium Outlets range in size from approximately 150,000 to 850,000 square feet of GLA. The Premium Outlets are generally located near major metropolitan areas and/or tourist destinations.
The 13 properties in The Mills generally range in size from 1.1 million to 2.2 million square feet of GLA, and are located in major metropolitan areas. They have a combination of traditional mall, outlet center, and big-box retailers and entertainment uses. Here's a snapshot of SPG's Top 10 in-line tenants:

Click to enlarge
As you can see, SPG leased 360 stores to Gap (NYSE:GPS), representing 2% of the REIT's total square footage. Last week, the first of 20 of 175 Gap stores have begun closing throughout North America, a signal that on-line sales are continuing to affect retailers.
Last quarter, the Gap division posted just more than half the U.S. sales of its Old Navy division, which has been doing better and is not seeing any closures. Poor performance was only one factor for the Gap retrenchment, which the company first announced on June 15th.
Brick-and-mortar stores have been under constant pressure from e-commerce, as well as from "fast fashion brands," such as H&M, Forever 21 and Zara, which churn out new fashions quickly, sell mass volume, and rely on cheap foreign labor for healthy profits.
"This is going to be a longer-than-expected process," Simeon Siegel, executive director and senior retail analyst at Nomura International Inc. in New York, said of the Gap closures.
E-commerce has basically destroyed all the barriers to entry. Having stores is no longer a prerequisite of doing business.
By limiting the number of stores, Gap is hoping to maintain demand for its products. The closures are "part of a comprehensive strategy to position Gap brand for improved business performance and build for the future," according to www.gapinc.com. Here's a snapshot of SPG's largest mall tenants:

Click to enlarge
As you can see (above) SPS leases 71 stores to Sears (NASDAQ:SHLD) and 70 stores to J.C. Penney (NYSE:JCP), two troubled brands. In addition, SPG has a few JVs with Seritage (NYSE:SRG) - see my recent article HERE. One analyst asked about Sears and the SRG JV on the recent earnings call, and SPG's President and COO, Richard S. Sokolov, replied:
We have continued to work with Seritage and Sears. We've got users identified for our properties in Seritage. As we mentioned last quarter, we're working with Sears just on how to downsize their stores, and that process is ongoing.

I will tell you, if you look over the years, we recaptured 93 department stores and we've done a very effective job of deploying them. If you look at our anchor schedule, we have been going on right now, it's an ongoing process. We have a whole team dedicated to it. And the good news is we have substantial demand identified in each of our properties, so we know how we're going to deal with any of these stores that we do get the opportunity to recapture.
Simon's Development Engine
At the end of the second quarter, SPG had 33 redevelopment expansion projects underway across the platforms. The company's share is $1.4 billion of the total estimated gross costs of $3.64 billion. Here's a snapshot of the development activity:

Click to enlarge
SPG's new development is focused on important markets where demand is there. During the quarter, the company opened a new Tanger Outlet in Columbus, and the company is set to open a project in Clarksburg, Maryland in the fourth quarter of this year. SPG also recently broke ground on a new outlet center in Norfolk, Virginia which will open in mid-2017.
Outside the US, SPG has an outlet center under construction in Provence, France, South Korea and Canada, all will open in 2017, also fueling the growth. SPG also recently started construction in Kuala Lumpur in Malaysia with Genting who is a partner in another Malaysia asset.
SPG is also nearing completion of Brickell Centre in Miami. The center is almost entirely leased with 80 retailers and restaurants. In Fort Worth, SPG is also continuing construction on its high end retail project anchored by Neiman called The Shops at Clearfork.
Beastly Liquidity
As of Q2-16, SPG's liquidity stands at $6 billion and there is no question that this mall giant has a fortress balance sheet. SPG is one of just a few REITs with an A-rated balance sheet.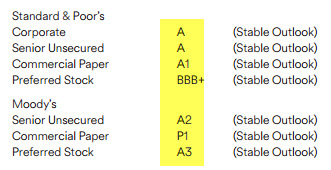 Other fundamentals are the fortress balance sheet can be viewed below: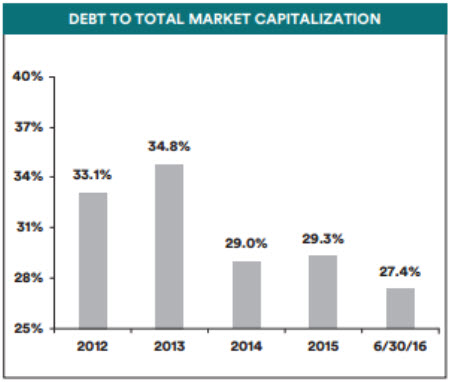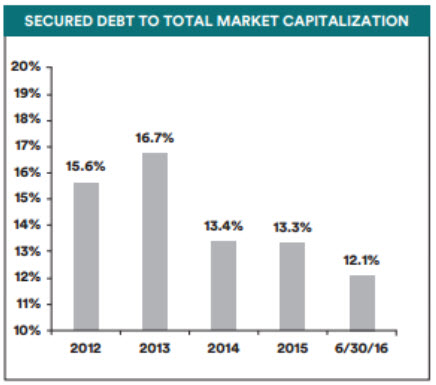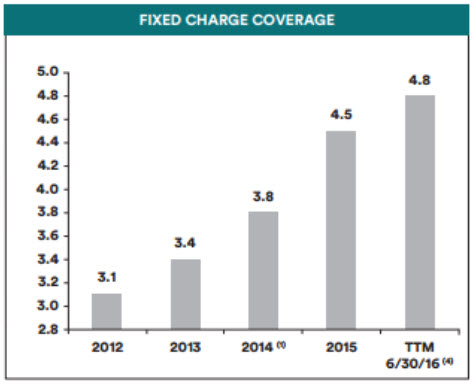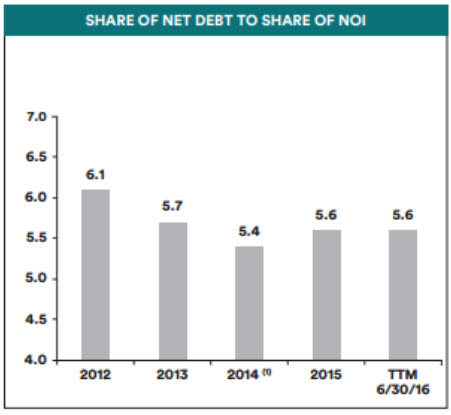 As you can see below, SPG has continued to improve its balance sheet by reducing its secured debt.

Click to enlarge
This has resulted in a highly attractive cost of capital:

Click to enlarge
As you can see below, SPG's weighted average interest rate is now 3.91%.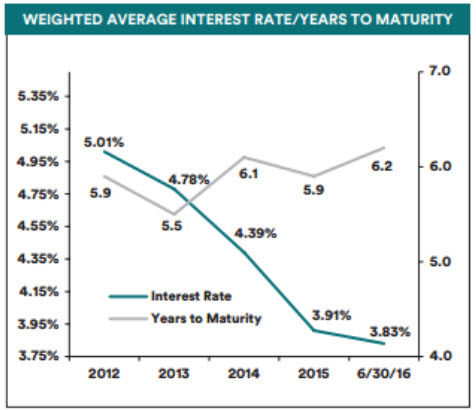 Also, SPG's weighted average years to maturity is 6.4 years (fixed rate) and the overall fixed-rate exposure is 94.5%.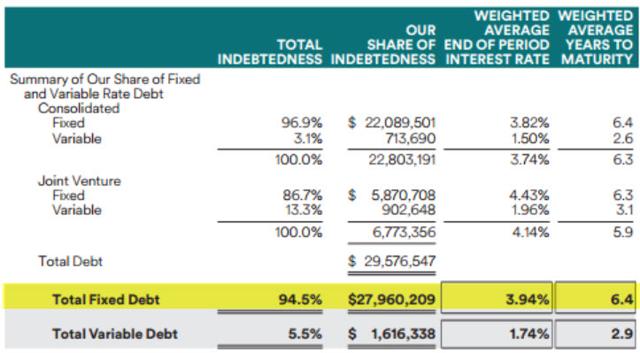 Click to enlarge
Superb Performance
SPG's results in the second quarter were highlighted by FFO of $2.63 per share on a comparable basis excluding a gain on the sale of marketable securities. In the prior year period, FFO per diluted share increased 9.1% or $0.22 year over year for the quarter. And for the first six months, SPG's comparable FFO per diluted share is up 12.1% compared to the prior-year period.

Click to enlarge
SPG's operating metrics were strong as well as overall cash flow. The company's mall and premium outlet occupancy was 95.9% (the 20-basis point decrease in occupancy from the prior-year period is a direct result due to the new developments and expansions opened recently). Leasing activity remains healthy.
The malls and premium outlets recorded releasing spreads of $8.88 per square foot, an increase of 14.8%, and the company's base minimum rent was $50.43 which was up 4.9% compared to last year, reflecting the strong retail demand for SPG's locations.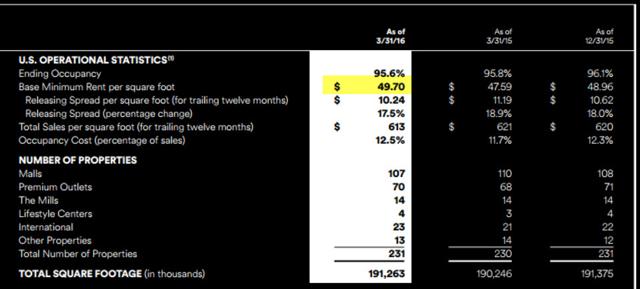 Click to enlarge
For the second quarter, SPG's total portfolio NOI increased 7.4% and has increased 7.6% year to date. The comp NOI increased 3.2% for the quarter and is up 4.1% year to date. Total reported retail sales per square foot at the mall and outlets were $6.07 compared to $6.20 in the prior-year period.
Looking back further, we can see that SPG has maintained a consistent earnings profile through various market cycles.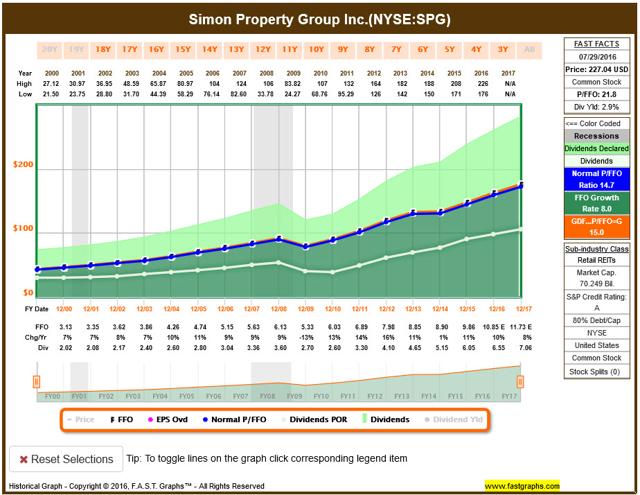 Click to enlarge
As you can see below, SPG has maintained a consistent earnings pattern - averaging 10% annual FFO growth since 2011.

Click to enlarge
SPG increased its dividend by 6.5% year over year (from $1.50 to $1.55), 3% from the second quarter in 2015.

Click to enlarge
Here's a snapshot of the annualized dividend history (averaging ~13% growth since 2011):

Click to enlarge
The payout ratio is currently 62%, as seen below: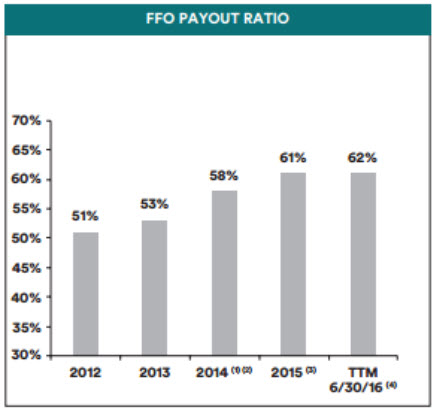 Why Wouldn't You Want To Own This Trophy?
You can see now why anyone would want to own SPG, but for "Average Joe" investor, the question is should you buy it now (like 12 out of 14 REIT ETFs referenced above)? Let's take a look at the dividend yield:

Click to enlarge
As one would suspect, a popular REIT like SPG is not going to pay out much of a yield. More interesting is the next chart I'll provide; it demonstrates the demand of another popular blue chip known as Realty Income (NYSE:O).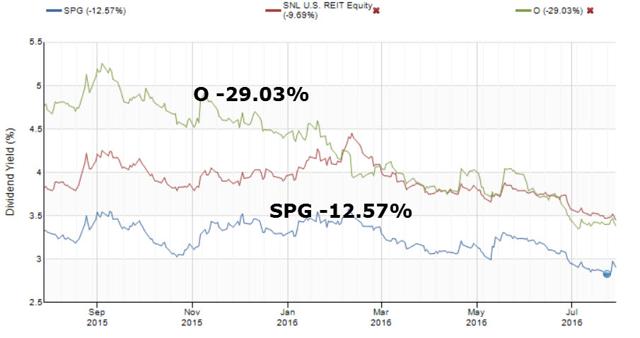 Click to enlarge
The demand for Net Lease (bond-like) income is well known and what I find interesting is that Realty Income is now beginning to look a lot like SPG - both REITs are well-diversified with wide-moat "low cost of capital" attributes. It will not take long for O to achieve A-rated investment rating status like SPG. Now take a look at the next chart: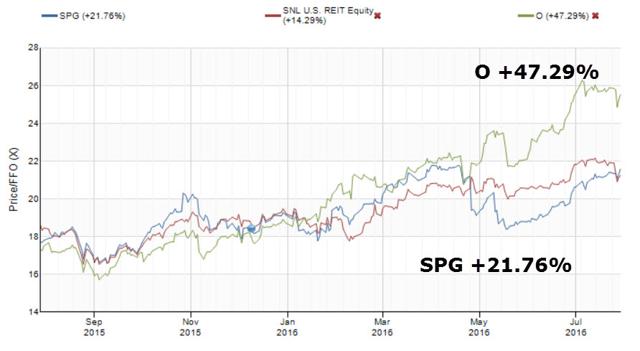 Click to enlarge
What this tells me is that Realty Income has surpassed SPG by essentially doubling its valuation (based on P/FFO) over the past 12 months. So how has SPG performed over the last 12 months?

Click to enlarge
Not bad, and of course, that's a good reason that VNQ is one of the top equity-only REIT ETFs today. Let's take a look at the YTD performance:

Click to enlarge
Again, not bad either.
How does SPG's value (based on P/FFO) compare with the peer group?

Click to enlarge
Maybe a luxury mall REIT deserves a luxury valuation. I'm not suggesting that SPG shares have reached nose bleed status, but I think I'll let the REIT ETFs gobble up the shares, instead of me. I'm more attracted to digging up the outliers or the high-quality REITs when I small a bargain.
But, as I said at the beginning of the article, some folks don't have the time or expertise to sniff out bargains, so they opt to buy into a REIT ETF like VNQ. There's absolutely nothing wrong with that!
It simply boils down to risk tolerance.
In closing, we have a BUY on shares of SPG, but we recommend waiting on a pullback. SPG increased its guidance from $10.77 to $10.85 (a habitual pattern), reflecting solid performance in the first half and clarity that the rest of the year should result in strong growth.
In other words, $227.04 is just too rich for us, but we can clearly see why so many ETFs like this dominant gorilla in their portfolio. We'll wait on a catalyst (softer sales, store closures, etc.) that will take some of the end of the sails, since we are just not buying into the "Simon Says" approach recognized most every REIT ETF. Simply put, I don't settle for mediocre, I like picking winners! (but there is nothing wrong with being mediocre).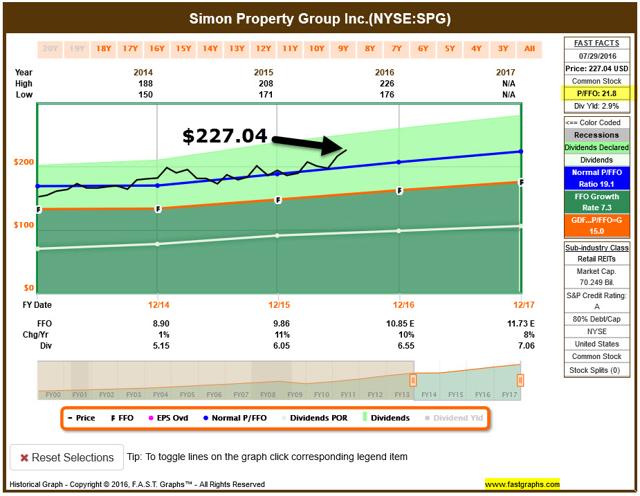 Click to enlarge
Author's Note: Brad Thomas is a Wall Street writer and that means that he is not always right with his predictions or recommendations. That also applies to his grammar. Please excuse any typos, and I assure you that he will do his best to correct any errors if they are overlooked.
Finally, this article is free, and the sole purpose for writing it is to assist with research (Thomas is the editor of a newsletter, Forbes Real Estate Investor), while also providing a forum for second-level thinking. If you have not followed him, please take 5 seconds and click his name above (top of the page).
Sources: FAST Graphs, SNL Financial, and SRG Q2-16 Supplemental.
Disclaimer: This article is intended to provide information to interested parties. As I have no knowledge of individual investor circumstances, goals, and/or portfolio concentration or diversification, readers are expected to complete their own due diligence before purchasing any stocks mentioned or recommended.
Disclosure: I am/we are long O, DLR, VTR, HTA , STAG, GPT, ROIC, HCN, OHI, LXP, KIM, WPC, DOC, EXR, MYCC, TCO, SKT, UBA, STWD, CONE, BRX, CLDT, HST, APTS, FPI, CORR, NHI, CCP, CTRE, WPG, KRG, SNR, LADR, PEB, BXMT, IRM, CIO.
I wrote this article myself, and it expresses my own opinions. I am not receiving compensation for it (other than from Seeking Alpha). I have no business relationship with any company whose stock is mentioned in this article.