This series of articles does not aim at predicting where precious metal prices will go, but at showing investors where they can get more value for their money.
Gold price has surged on Brexit and is now in a consolidation range for a few weeks. The next resistance level is a bit above $1400, which has played a role of magnet at the end 2010 and resistance in 2013 and 2014. The short-term support zone is around $1300, which has been a resistance in the last 2 years.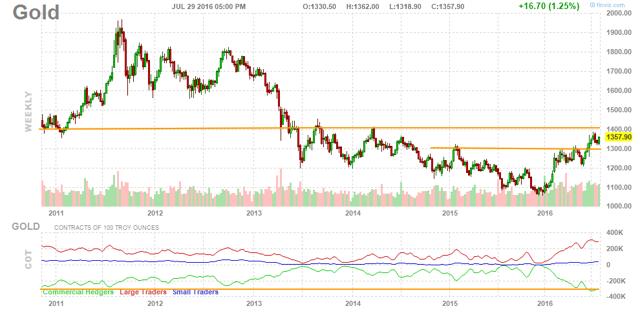 Click to enlarge
Gold weekly chart (source: finviz.com)
Gold chart is bullish for the short term, but the very large short interest of commercial hedgers is a concern. It may be a clue that precious metals insiders intend to profit by a correction. A note of caution: Commitment Of Traders data are published with a delay of a few days.
I don't know if it is a good time to buy precious metals as an investment, but there is no bad time to accumulate small amounts as an insurance. For this purpose, some closed-end funds are an alternative to GLD, SLV, PPLT and PALL. The next table shows discounts, premiums, and real metal allocated for some Canadian funds on 7/30/2016.
| | | | | |
| --- | --- | --- | --- | --- |
| | Tickers | +Premium -Discount | Annual Fees | % of NAV in bullion* |
| Central Fund of Canada | | -2.0% | 0.45% | 98.8% (gold 59.0%, silver 39.8%) |
| Sprott Physical Gold Trust | | +1.21% | 0.35% | 99.96% |
| Sprott Physical Silver Trust | | +1.55% | 0.45% | 99.55% |
| Sprott Physical Platinum & Palladium Trust | | +0.20% | 0.5% | 99.49% |
*complement is in certificates and cash assets.
Premiums and discounts are calculated with the price of latest LBMA fixing (12:00 p.m. for silver, 3:00 p.m. for gold).
CEF discount is providing a safety margin about 2%. I don't recommend a long-short arbitrage trade. Borrowing and margin costs may erase expected gains if the trade lasts too long. CEF has traded at a premium between 2009 and May 2011, and has always been at a discount since then, most of the time between -3% and -13%. It will probably be impossible to sell CEF at a premium until gold enters a new bull market, and the discount may increase again in case of a correction.
Investors preferring stocks and incomes may consider GAMCO Funds. Leverage and option strategies add some risks compared to a gold mining ETF like GDX, but they also provide high dividend yields. Holdings are mainly in mining but also in oil and gas. ASA is another closed-end fund in precious metal companies.
| | | | | |
| --- | --- | --- | --- | --- |
| | Tickers | +Premium -Discount | Dividend Yield | Annual Fees |
| Global Gold Natural Resources & Income Trust | | +2.97% | 12.77% | 1.15% |
| Natural Resources Gold & Income Trust | | +1.66% | 10.58% | 1.36% |
| ASA Gold&Precious Metals | | -11.14% | 0.25% | 1.64% |
ASA looks a better deal than GGN and GNT regarding the current discounts. GAMCO funds are more attractive for dividend investors, but the premium and embedded derivatives bring a higher risk.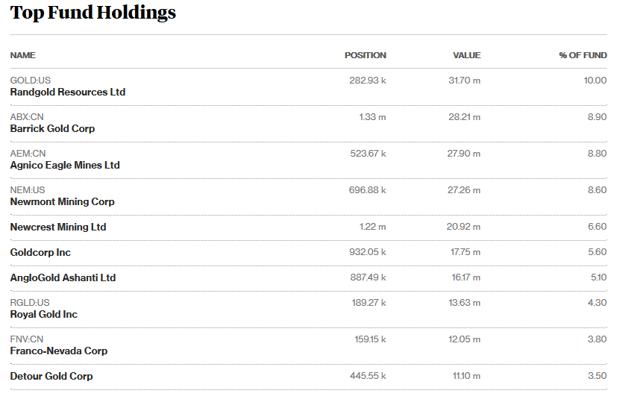 Click to enlarge
ASA top stock holdings (source: Bloomberg.com)
If you'd like to see other metal and mining closed-end funds added to this discount dashboard, tell me in a comment below or send me a private message later than 48h after publication (I read comments only on my latest articles). Funds must be traded with an average daily liquidity above $200.000.
If you want to be notified of monthly updates, click the "Follow" tab at the top of this article.
Disclosure: I/we have no positions in any stocks mentioned, and no plans to initiate any positions within the next 72 hours.
I wrote this article myself, and it expresses my own opinions. I am not receiving compensation for it (other than from Seeking Alpha). I have no business relationship with any company whose stock is mentioned in this article.