With this tale of two companies, Casey's General Stores (NASDAQ:CASY) and CVR Refining (NYSE:CVRR), it is definitely a case of the best of times and worst of times. Highlighted by CVRR's recent Q2 earnings announcement and follow-up earnings call, comparing these two side by side is night and day.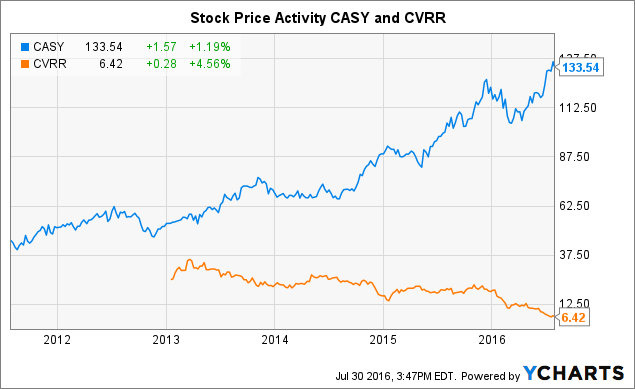 Two companies going in opposite directions. Yet, at first glance, the reader might be wondering why we should look at these two companies side by side. CVR Refining, after all, is a small refiner operating two refineries (Coffeyville and Wynnewood) in the Midwest. It is about as pure a refining play as you can get.
Meanwhile, Casey's Country Stores is mainly known for its retail shops. Even the corporate description here on the Seeking Alpha page information page on the company only lists its retail establishment:
Casey's General Stores, Inc. engages in operating convenience stores and gasoline stations. It provides food, beverages, dairy and bakery products, such as beer, fountain drinks, donuts, cookies, brownies, Danish rolls, ham and cheese sandwiches,... house wares, pet supplies, photo supplies, gasoline and other nonfood items. The company was founded by Donald Lamberti in 1959 and is headquartered in Ankeny, IA.
Nothing about oil, fuel or refining. And yet? Casey's is also a solid player in biofuel, blending its own fuel into gasoline and diesel bought from refiners, and selling RINs to refiners to make even more money.
CVR's CEO, Jack Lipinski, made no bones about the difficulties of the current refining environment in the company's July 28 Q2 2016 Earnings Call:
RINs continue to be an egregious tax on our business, and have become our single largest operating expense, exceeding labor, maintenance and energy cost. As a matter of fact, RINs have doubled our labor cost. Since 2013, we spent nearly $500 million on RINs, and we estimate our RINs exposure in 2016 to be approximately $200 million to $235 million.
Meanwhile Casey's CFO, William Walljasper, in his company's June 7, Q4 2016 Earnings Call, was practically crowing when he stated:
In the fuel category, we experience the favorable fuel margin environment in the fourth-quarter that caused the margin to rise above our annual goals to 17.8 cents per gallon compared to 16.9 cents a year ago. During the quarter we sold 12.7 million renewable fuel credits commonly known as RINs for $9.1 million. This represented a 1.9 cent favorable impact to the fuel margin. Currently RINs are trading around $0.80.
Yes, that's right - under the current refining environment, a refiner like CVR must pay out millions extra for RINs. Meanwhile, biofuel blenders like Casey actually have that cost turned into a profit center as they earn money from biofuel blending. Another note, RIN futures are currently running at $0.90-1.30/gallon.
In an earlier article, I gave a fuller description of EPA Mandates and RINs. In short, the EPA requires refiners and blenders to add biofuel, in the guise of ethanol or other biofuels, to fuels such as gasoline or diesel.
If the company cannot add biofuel, either because their refining setup doesn't allow it (ethanol cannot be used for fuels being transported in pipelines, for example) or because of the high cost of biofuel, or even the unavailability of enough biofuel in their refineries areas, they have an alternative - for each gallon of biofuel produced, a RIN (Renewable Identification Number) is assigned. A biofuel producer can sell that RIN to a refiner to allow the refiner to satisfy the EPA Mandate.
Biofuel producers, and especially blenders like Casey's General Stores, get a double advantage. They generally can produce gasoline and diesel at a cheaper cost then refiners like CVRR. Plus, they can sell any excess RINs they have to refiners.
In short, with the current system, refiners like CVRR are directly subsidizing blenders like Casey's General Stores.
The effects on the companies are an albatross hanging about the necks of refiners, and allows the blenders to practically print money, as these data charts show: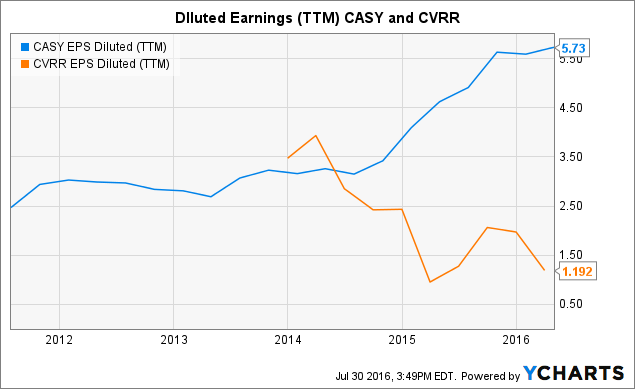 CASY EPS Diluted (TTM) data by YCharts
Since the need to use RINs started to escalate in 2013, the two companies' performances have gone in markedly differing directions.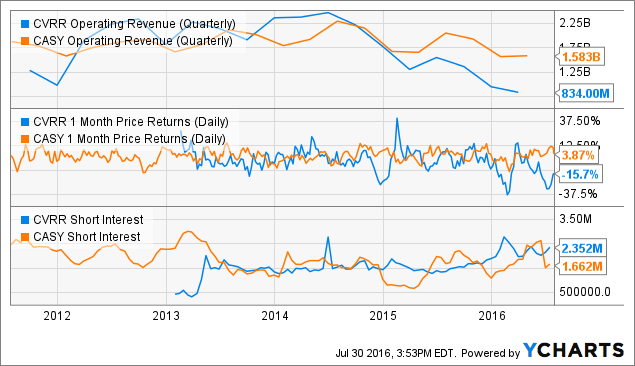 CVRR Operating Revenue (Quarterly) data by YCharts
What Lipinski thinks about the system is clear from the remarkable press release announcing the company's 2Q results.
Three full paragraphs of the announcement excoriated the current RIN system, using vocabulary such as "source of windfall profits," "completely disconnected," and "a failure."
RINs have become a black pool allowing exempt parties, and even speculators, to drive prices to confiscatory levels. We believe the market may be cornered, the effect of which will be to bring small merchant refiners to the brink of bankruptcy while unjustly enriching speculators and exempt blenders
And Lipinski continues by directly calling out Casey's General Stores as the poster boy of the problem:
Market experts like Goldman Sachs and Credit Suisse are advising investors to avoid companies with high RIN exposure and to buy shares in large retail and distribution chains, like Casey's General Stores, who are benefitting from this structural flaw in the EPA's rule," he said. "For example, Goldman Sachs predicts that Casey's will see a 1 percent increase in EBITDA for every 10 cent increase in the price of RINs.
With the current system, money is running like a torrent from refiners like CVRR directly into the coffers of blenders like Casey's General Stores. But that is now. In 2017, the EPA mandates sharply increase. The requirements for RINs, and the associated expenses for refiners and profit for blenders are set to escalate.
It is an environment shuttling blenders like Casey's General Stores into a bright future. Pure refiners like CVR Refining, meanwhile, are trudging towards a stormy horizon.
Disclosure: I/we have no positions in any stocks mentioned, and no plans to initiate any positions within the next 72 hours.
I wrote this article myself, and it expresses my own opinions. I am not receiving compensation for it (other than from Seeking Alpha). I have no business relationship with any company whose stock is mentioned in this article.