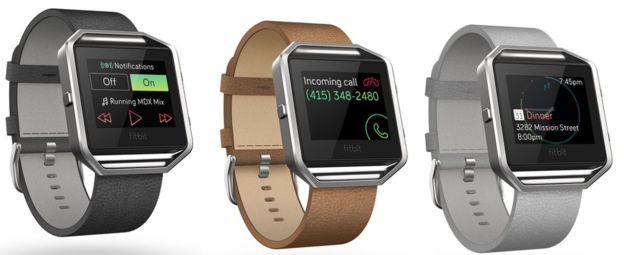 Fitbit (NYSE:FIT) is set to report Q2 2016 results after the closing bell on August 2nd and to much anticipation. While sales have been robust for the tech gadget-consumables company through the first half of the year, underwhelming earnings forecasts, increasing levels of spending, poor user engagement and the threat of competition, has maligned the stock. It seems as if Fitbit can do "no right" by investors and regardless of an outsized beat on the top and bottom-line for the Q1 2016 period. The table below identifies Q1 results and expectations for Q2 2016, which was lowered with respect to EPS in conjunction with Fitbit's dedicated marketing support for the launch of Blaze and Alta during the period.
Q1 2016

EST

Actual

Surprise

EPS:

0.02

0.1

Rev:

442.51M

505.36M

Q2 2016

EST

Actual

Surprise

EPS:

0.11

Expected
Prior to Fitbit's quarterly release, analysts have wavered with their sentiment for the coming quarters, as there has been the belief that demand is waning for fitness trackers. I compiled the latest verbiage, price target adjustments and adjustments to estimates in an article titled "Fitbit Analysts Offer Differing Views" for ease of review. Those analysts offer revisions have been found to lower their estimates and price targets prior to Fitbit releasing their quarterly results. Having said that, ITG was recognized last week as speaking more positively on demand for Fitbit products as well as Wedbush. Wedbush suggests that demand for Fitbit products remained brisk throughout the Q2 2016 period and maintained an $18 price target with expectations for the company to report $.13 in earnings for the period.
Regardless of where the Q2 2016 results land, be them meeting or beating estimates, as few are expecting a miss of any sort, guidance will remain the key for the stock. If we step back from quarterly expectations and look at the full year expectations, investors come to identify a key metric performance issue with regards to EPS. Presently the mean average amongst the 21 analysts covering Fitbit has offered only a $.10 rise in earnings YOY and with nearly 40% growth in revenues. The reason this is and has been an issue for investors is with respect to FY17 revenue expectations that are set to grow at a much slower rate, sub 20% YOY. So the question for investors will remain that if the company can only achieve muted EPS growth after growing revenues at roughly 40% in 2016, what will EPS look like when the company grows revenues at half that pace in 2017? It's the typical hardware stock conundrum for investors that tends to evoke a subdued multiple for hardware companies like Fitbit and Apple (NASDAQ:AAPL)
When it comes to Fitbit's executive team issuing forecasts, investors have not taken kindly to the forecasts, selling shares for each successive forecast issued since the company's IPO offering. But even so, let's take a look at the offered forecast for full-year and Q2 2016 period which can easily be found in the article "Fitbit Q1 2016 Results: Understanding The Typical Growth And Declines For Hardware Providers".
For the full year of 2016, Fitbit raised their expected revenue range by $100 million to $2.5 billion to $2.6 billion, while maintaining expected non-GAAP gross margins in the range of 48.5% to 49 percent. The firm expects this to result in higher non-GAAP diluted net income per share in the range of $1.12 to $1.24. For the second quarter of 2016, Fitbit now estimates revenue in the range of $565 million to $585 million. Non-GAAP gross margin is expected to be approximately 48 percent. This all results in Fitbit's expectation of non-GAAP diluted net income per share in the range of $0.08 to $0.11.
With regards to business operations, Fitbit is still in expansionary mode be it in the United States or around the world. The company is expanding its product offerings and distribution channels. Some of this expansion is blurring the lines with regards to sell-in and sell-through of Fitbit products and may continue to do so through year-end. A perfect example is the most recent home shopping sales participation by Fitbit with both the Blaze and Alta products. These products were offered individually, as "Today's Special Value" promotions on the Home Shopping Network (NASDAQ:HSNI) and QVC separately during the Q2 2016 period. As the company sold well over 40,000 units for the two special sales events, brick & mortar sales for Fitbit products slowed measurably and as identified by NPD Data Group results intra-quarter (NPD subscription necessary). Unfortunately, most analysts lack such sales consideration or inclusions with regards to their estimates that may prove to lower the efficacy of their forecast model and sentiment. In other words, traditional sales reads come from brick & mortar sales reads and negate sales impacted by other channels like that of home shopping sales channels.
A secondary impact on analysts' forecasts and sentiment comes from Fitbit's increased exposure at existing retail partners. Through dedicated channel checks intra-quarter, Capital Ladder Advisory Group and Focused Stock Trader have found that Fitbit has increased their shelf space at several national retailers in the United States.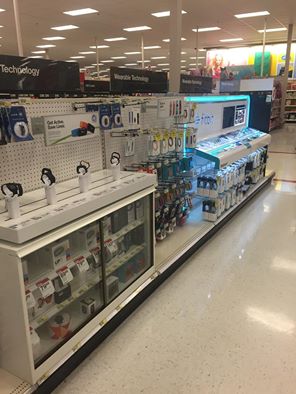 The photograph above was taken from a Florida-based Target location. It comprises an 8-foot visual shelf allocation for Fitbit products to lead into the wearables section within the Electronics & Entertainment department. What isn't shown in the picture is the end-cap space on the main aisle that leads into the category of wearable products and offers the latest Fitbit products including the Blaze and Alta. The combination of the 8-foot section and 3-foot end-cap encapsulates 11-feet of Fitbit selling space in prime real estate locations at Target stores around the country. At Target, the YOY allocated shelf space has more than doubled.
Wal-Mart (NYSE:WMT), Target (NYSE:TGT) and Best Buy (NYSE:BBY) have all increased shelf space for Fitbit products by some 50% during the 2nd quarter. Fitbit, regardless of the existing or pending competitive threats, is dominating at the point of sale. As such, if Fitbit is to falter with regards to future sales, it will likely come at the hands of "the rules of large numbers" and not by way of competition. Samsung (OTC:SSNLF), Garmin (NASDAQ:GRMN) and a host of companies have all come out with new fitness tracker and wearable products in the latest period ended, but not a single vendor has achieved more than the typical sku-slotting-space. Moreover, the increased shelf space noted had been expected from Fitbit as they disseminated on their last quarterly conference call.
In fact, we expect our top four retailers in the US will increase linear footage of our displays by over 50% to accommodate Blaze, Alta and related accessories. As part of this expansion, this quarter we should start observing retailers transitioning to more modular and interactive display systems that will allow for easier changes for new products yet to come this year.
I would be of the opinion that the combination of expanded shelf space and added distribution is blurring the sales and inventory recognition for Fitbit products both QoQ and YOY. As such, analysts have noted the bloated retail inventory levels of Fitbit devices and the slower sales turns on the shelf from the year ago period. BlueFin Research Partners, while not an affiliated analyst of Fitbit, is a research entity that has been covering the company since the IPO. The firm has been bearish on near-term and long-term prospects for Fitbit products. In a more recent note, here is what the firm's analyst had to offer as it relates to Fitbit:
BlueFin Research Partners analysts John Donovan and Steve Mullane today reiterate a bearish case on Fitbit that they laid out in April, namely that the company's fitness bracelets and smartwatch are destined to be overtaken by more complicated offerings from Apple and others.
As it didn't make any sense to conclude that more complicated offerings would overtake Fitbit then, it lacks logic to reiterate the claim as such complicated devices have proven ineffective in the marketplace to date. Every smartwatch has failed to generate positive YOY sales, even through greater distribution achievement. The latest IDC shipment tracking data shows a steep decline in sales of smartwatches and with the Apple Watch shipments falling YOY. It's important to note, that since the launch of the iPod more than a decade ago, not a single Apple product has witnessed YOY declines in just the first year of distribution. As such, the complexity of these more complicated devices has proven to be an impediment to sales and found more basic fitness trackers to continue to dominate the wearables category. Mr. Donovan and Mr. Mullane have been wrong and will likely continue to be wrong using the logic outlined above.
Furthermore, while offering an error with respect to BlueFin's research notes, one can't disagree with their identification of elevated inventory levels at retail locations. But it's a matter of appreciating or putting into perspective this point of inventory analysis as I've done so within this quarterly preview. With the current inventory levels, I'm no more favorable of the position Fitbit is in with respect to Q3 orders as the company will work to level set these inventories ahead of the all-important holiday period in the 4th quarter of 2016. Possibly more importantly, Fitbit will need to work through older inventory of Flex and Charge fitness trackers with the firm set to launch new iterations in the coming weeks. The deployment of iterations from former products is a new operation for the company and only adds a layer of uncertainty to the business model and ability to achieve EPS growth. Respecting this uncertainty, investors have been wise to avoid shares of FIT since the IPO. We'll have to see how the company performed in Q2 and projects for the back half of 2016 to see if that caution remains.
I believe the recently ended period for Fitbit will find the company reporting results that, at the very least meet their forecast, if not beat their forecast. Sell-in results, which is what Fitbit reports, have remained healthy during the 2nd quarter and are modeled to produce $.13-$.15 in EPS. While sales trends are more difficult to model due to international growth, I expect Fitbit to report revenue growth of 40% for the 2nd quarter. Additionally, investors would be wise to review the updated Fitbit guidance when offered as this will likely serve to forecast the direction of the share price movement post 2nd quarter results dissemination. In conclusion of this quarterly preview, investors might recognize that other hardware vendor stocks have benefited in the current earnings cycle, even with lesser-expected results. Both GoPro (NASDAQ:GPRO) and Apple had quarters of declining results, but managed to find their respective stocks appreciating in value despite such declines. Garmin also found its share price in better standing post reporting its quarterly results for which the firm noted a strength from results emanating from its wearables product segment.
Disclosure: I am/we are long FIT.
I wrote this article myself, and it expresses my own opinions. I am not receiving compensation for it (other than from Seeking Alpha). I have no business relationship with any company whose stock is mentioned in this article.