By Paul Price
(I wrote this article as a guest contributor to Lowenthal Capital Partners. To learn more about LCP's newsletter and take a free trial, please click here. ~ Dr. Paul Price)
Josh Brown, aka The Reformed Broker, is one of my favorite financial columnists. He also runs money at Ritholtz Wealth Management and is a frequent commentator on CNBC's television network.
Sometimes even the best give public advice which could end up hurting those on the receiving end. On Friday, July 29, 2016, Josh was gushing on the air about NVIDIA (NASDAQ:NVDA), a maker of 3D graphics chips and multimedia processing technology mainly used in personal computers (PC) intended for high-end gaming.
Mr. Brown called NVDA the leader in gaming chip technology while saying they were in the early stages of what was likely to be a multi-year uptrend. He was apparently quite convincing. The stock took off while he was speaking (see the Morningstar chart below), setting a new all-time high and ending the day just pennies below it.
NVDA has been around since 1993, and came public on Jan. 22, 1999 during the height of the tech/internet bubble. The firm's results and its share price have been all over the map since then.
NVDA peaked at $39.70 in 2007, with EPS of $1.31. It plunged by 85% to $5.80 at 2008's low as profit per share tanked to $0.29. NVIDIA then moved up and down in a wide range until last summer. It's been extremely hot since, tripling from about $19 to north of $57.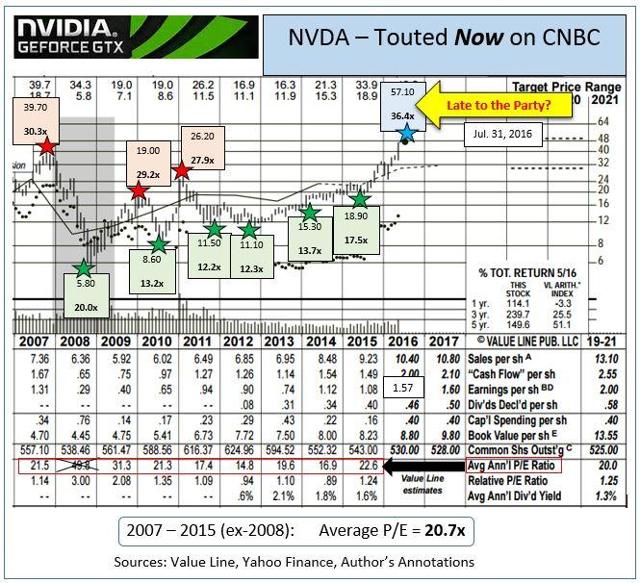 Click to enlarge
This time might prove to be different, but previous share price surges (red-starred above) did not end well for momentum traders. The post-2008 run from $5.80 to $19.00 sucked in buyers just in time to ride the stock back to under $9. A subsequent sharp upturn took NVDA back above $26, right before a collapse to the $11's.
There were six excellent entry points (green-starred) during the past eight years when the stock offered great risk-reward.
Value Line notes NVDA's high volatility and low predictability. Over the long haul the stock underperformed 70% of stocks in its 1700-company main research universe.

Buying now, or even holding, NVDA at its highest P/E in a decade seems like a bad bet. Independent research outfit Morningstar (NASDAQ:MORN) assigns NVDA a rarely seen, 1-star (out of 5) SELL rating.
They see it as "significantly overvalued" with a high uncertainty factor. Last week's closing quote represented the worst price to fair value on the entire chart shown below.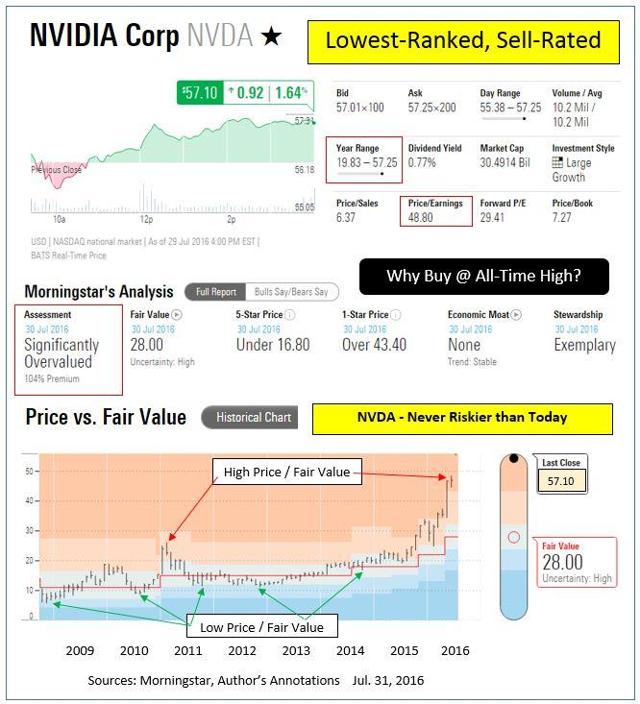 Click to enlarge
It is okay to listen to guests on CNBC or other media outlets to get potential investment ideas. Never plunge your hard earned money into them, though, without checking out the facts first.
NVIDIA is really expensive, has a spotty track record and competes directly with the big boys Advanced Micro Devices (NYSE:AMD) and Intel (NASDAQ:INTC). The shift towards mobile explains why the PC market has not exactly been booming.
Even if you believe NVDA is cutting edge, you'll almost certainly get a better chance to buy in than at the currently inflated price.
Put it on your back burner rather than plunging right after a major run up. Speculators might wish to buy puts, trying to profit from future pullbacks. Expiration dates run from a week to as far out as January of 2018.
Disclosure: No positions in NVDA shares or options
Disclosure: I/we have no positions in any stocks mentioned, and no plans to initiate any positions within the next 72 hours.
I wrote this article myself, and it expresses my own opinions. I am not receiving compensation for it (other than from Seeking Alpha). I have no business relationship with any company whose stock is mentioned in this article.