I'll begin with a quick rundown of Facebook's (NASDAQ:FB) earnings report;
· 1.17B Daily Active Users, increase of 17% YoY
· EPS of $0.97 beats by $0.15.
· Revenue of $6.44B (+59.4% Y/Y) beats by $420M.
· Operating Margin was 43%.
· $2B in Free Cash Flow.
· $23B in cash and investments at Q2E
In short, the numbers are fantastic. Facebook is an efficient operator with a financially solid business on its hands. However, Andrew Left of Citron Research is one of the few analysts that believes Facebook stock is heading lower. While he believes Facebook is a great company, he is short on the stock for three main reasons:
Rise of Snapchat (Private:CHAT) creates competition for ad dollars and user engagement.
Pokémon Go craze reveals how vulnerable Facebook is to different applications on users' phones.
Expectations have outpaced reality.
Let's take each of these points and determine the legitimacy of each argument he makes. I will present both a bear and bull case in order to play devil's advocate on his remarks. You can decide for yourself which scenario you find closer to reality.
The Rise of Snapchat
Bear Case:
I am not one of those Facebook bulls who is blind to the meteoric rise of Snapchat. In fact, I identified Snapchat as a possible large threat back in May, and you can read about it in depth there. Essentially, Snapchat is rocketing upwards in terms of user growth, relevancy, and revenues. Each ad dollar spent on Snapchat is an ad dollar that isn't going to Facebook. And with the highest projections calling for $1 billion in revenues this year (an increase of 233% YoY), Snapchat will quickly start eating into Facebook's earnings. Analysts with Jefferies argue that the popular app could affect 3% to 9% of Facebook's 2018 earnings per share, and those effects could materialize as early as the fourth quarter this year.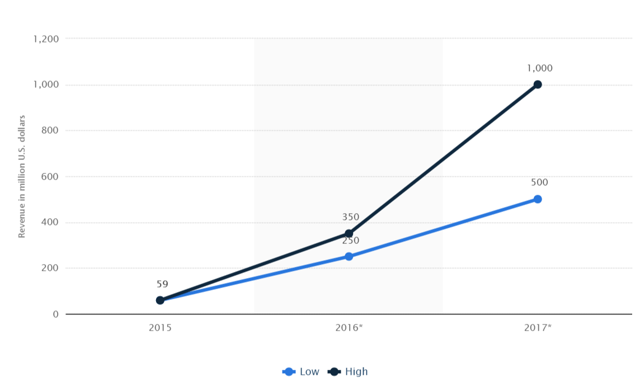 Click to enlarge
Snapchat is also finding ways to target groups of people in order to make its ad offerings more appealing. It recently filed a patent that would enable it to serve ads to people by recognizing objects in users' snaps. For example, Coke (NYSE:KO) could show ads specifically to people wearing sunglasses, since they are most likely outside in the hot sun and could use a cool beverage. Today's marketers demand efficient targeting in their digital advertisements, and this is just one of the ways Snapchat is providing that.
Bull Case:
Yes, Snapchat's growth has been exploding. Particularly in the older demographic, which will hinder growth and usage among younger users. Facebook became "uncool" when parents started joining, and Snapchat is susceptible to the same problem. Facebook was able to pivot and remain relevant; Snapchat will have to successfully manage the same transition.
Furthermore, Morgan Stanley's Brian Nowak wrote in a note to clients on Monday that he didn't believe Snapchat's surge was cutting into Facebook's daily active user growth and engagement. "Our comScore analysis shows strong FB DAU [daily active user] growth in the 18-24 year old, 25-34 year old and total US mobile user bases," Nowak wrote. Even if Snapchat steals engagement from Facebook, that doesn't mean the advertisers will follow.
Facebook has one of the simplest on-boarding tactics to gaining advertisers. It begins with a company making a Facebook page, which is pretty much necessary at this point. For many SMBs who don't have a company website, this is their website. And according to Facebook, the number of SMBs that don't have a company website stands at 35%. When a small business posts something on Facebook, Facebook asks them whether they want to pay a small sum to "boost" their content so that more people could see it. From this point on, the company is an advertiser and more comfortable navigating Facebook's ad offerings. This leads to more in-depth advertising campaigns where the business is spending a larger amount on Facebook.
If you need any proof of the success rate, Facebook boasts over 3 million advertisers on their platform. And if you think advertiser growth will slow anytime soon, there are 47 million business pages that have yet to advertise on Facebook. From Snapchat's perspective, there's very little reason for the majority of businesses to create an account on the platform. The account would be time and effort intensive when it comes to posting content, since everything erases in 24 hours. If there is no company Snapchat account, it makes it much more difficult to persuade that business to advertise on the platform. Snapchat is seeing a short-term boost in revenues from large companies with extensive marketing departments that have the time, effort, money, and technical know-how to advertise on the platform. Once this growth resource dries up, growth will be much slower moving forward.
Risk Level: Moderate
Pokémon Go and Other Applications
Bear Case:
Left cited the Pokémon Go craze as demonstrative of how "volatile and fragile" Facebook might be to new trends. "We all are addicted to our phones, that we know, but what it shows is that people will do different things with their phone if given a choice ... the company lives and dies on engagement levels," he said.
Engagement levels for Pokémon Go eclipse Facebook's average users' daily time spent on the site. People only use Facebook because there's no alternative on their phone. As more alternatives arise, less and less people will visit Facebook.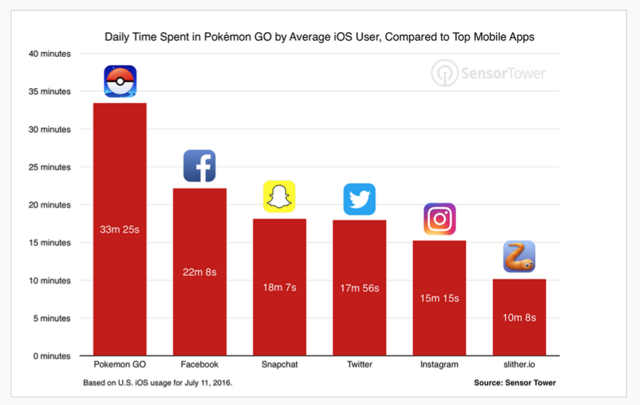 Click to enlarge
Bull Case:
Facebook is the undisputed king of mobile for a reason. It has staying power that won't be overthrown by the likes of Pokémon Go. This game, and any others that will arise, display the same trajectory. They boast tremendous upfront growth, but users get bored with the offerings. Facebook is constantly generating new content, since it merely acts as a vessel for 3rd party and individual content. It's been less than a month and Pokémon Go is already witnessing a drop off in users, as you can see in the chart below.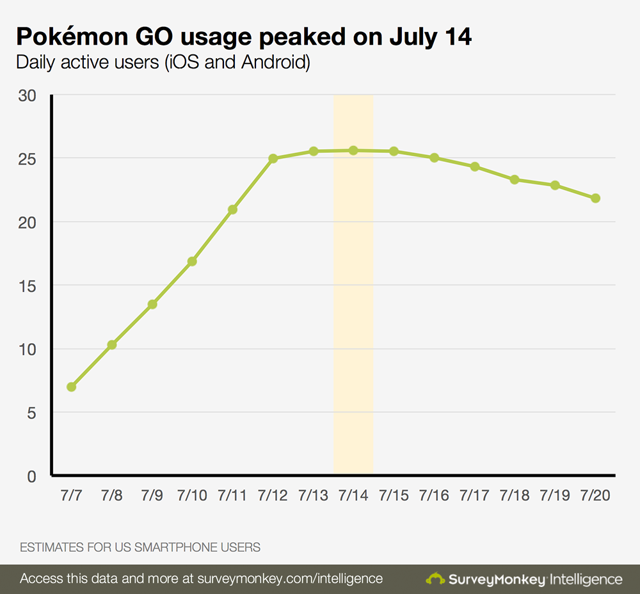 Click to enlarge
Risk Level: Low
Expectations Have Outpaced Reality
Bear Case:
As of 7/29/16, Facebook's P/E Ratio stands at 59.22. Yet, much of its user growth is coming from regions where ARPU is well below the average. And a large portion of its revenue growth was due to a 49% increase in ad impressions. There comes a point where ad saturation is too high to increase any further, and Facebook appears to be getting close to this level.
A previous Seeking Alpha article details why Facebook is overvalued on a traditional valuation metric as well, which you can read here - Facebook: Overvalued And Over-Owned.
Bull Case:
There is no denying that Facebook is expensive. But this is the price you have to pay for quality growth. The stock looks incredibly expensive on a traditional valuation metric, which is based on analysts' projections. However, these are the same analysts that were short in calculating Facebook's most recent earnings haul by a whopping 18.3%. Not to mention the fact that Facebook will soon monetize Messenger, WhatsApp and Oculus Rift.
Facebook's two messaging apps could be key growth drivers down the line and justify the current stock valuation. A messaging platform called Line (NASDAQ:LN) recently went public and is valued at $6.43 billion. Line only has 218.4 million active users and is growing much slower than WhatsApp and Messenger. If we use this same valuation metric to determine the market cap of Messenger and WhatsApp based on their combined 2 billion users, these services should be worth approximately $59 billion. Again, this is without accounting for Messenger and WhatsApp's much faster growth rates. Once we figure the $59 billion into the $357 billion valuation for Facebook, the market cap and P/E ratio appear more palpable.
By 2020, the virtual reality market will balloon to $30 billion. As I detailed in a previous article, the potential for VR is huge, and I believe this $30 billion figure is a highly conservative estimate. Facebook owns Oculus Rift, the most notable of all VR headsets. Oculus will be one of the most powerful and long-term drivers of growth moving forward.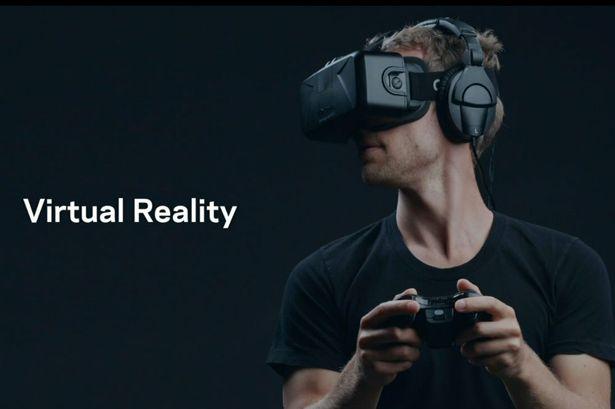 Facebook acquired the company for just $2 billion a few years back, which brings up a great point. Mark Zuckerberg and Facebook are incredibly gifted when it comes to acquisitions. WhatsApp, Instagram, and Oculus are all steals for the price Facebook paid for each service. Facebook even had the foresight to attempt to buy Snapchat when it was a much smaller business. With $23 billion cash on hand, Facebook has the potential to make another brilliant acquisition and add to its already robust growth pipeline.
Risk Level: Low
Author's Note: I encourage you to follow me as I cover a wide variety of current topics, with a special interest in the technology and entertainment industries.
Disclosure: I am/we are long FB.
I wrote this article myself, and it expresses my own opinions. I am not receiving compensation for it (other than from Seeking Alpha). I have no business relationship with any company whose stock is mentioned in this article.