By Kevin Hincks, Sr. Specialist, Trader Education Host, and Swim Lessons host
Pharmaceutical giant Pfizer (NYSE:PFE) raised its earnings and revenue outlook for 2016 when it announced Q1 results earlier this year. Analysts are waiting to hear if that's still on track when PFE reports Q2 results ahead of the bell Tuesday.
Analysts also say that products like Eliquis, Xalkori, Xeljanz, Ibrance and Prevnar 13 could boost top-line sales "meaningfully," while recent cost savings might help the bottom line. What else is in the pipeline? The recent acquisition of Hospira also is expected to contribute to growth. How is that integration going?
Last week, PFE won bankruptcy-court approval to purchase the assets of Bind Therapeutics, which develops cancer drug treatments that analysts say they'll also want to know more about. Also of interest is PFE's recent announcement of positive top-line results from oral trials tied to a drug treating moderately to severely active ulcerative colitis.
Analysts reporting to Thomson Reuters expect earnings per share of $0.62 on revenues of $13 billion. A year ago, PFE turned in a profit of $0.56 a share on topline sales of $11.9 billion.
Short-term options traders have priced in a potential 2.5% share price move in either direction around the earnings release, according to the Market Maker Move™ indicator on the thinkorswim®platform from TD Ameritrade.
Options trading was generally light last week, but there was some volume in the 36- and 36.5-strike puts. Volume on the call side was light as well, but some trading was taking place in the 36.5- and 37-strike lines. The implied volatility is at the 24th percentile. (Please remember past performance is no guarantee of future results.)
Note: Call options represent the right, but not the obligation, to buy the underlying security at a predetermined price over a set period of time. Put options represent the right, but not the obligation, to sell the underlying security at a predetermined price over a set period of time.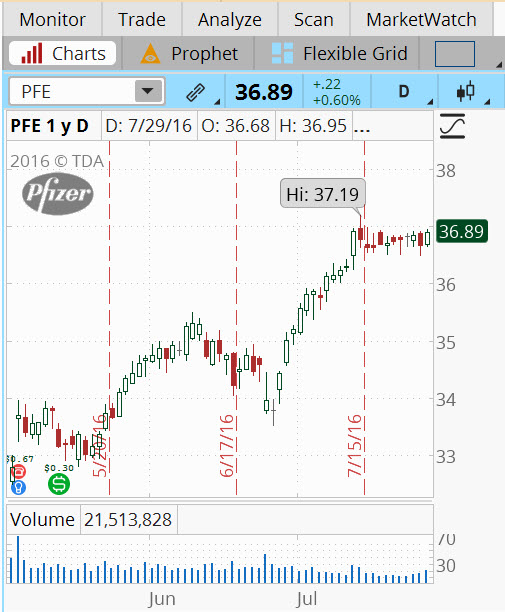 Figure 1: Tight Range at the Highs. PFE shares reached a new high just above $37 two weeks ago. The stock has since traded in a tight range ahead of earnings. Chart source: thinkorswim® by TD Ameritrade. Data source: Standard & Poor's. Not a recommendation. For illustrative purposes only. Past performance does not guarantee future results.
TD Ameritrade® commentary for educational purposes only. Member SIPC. Options involve risks and are not suitable for all investors. Please read Characteristics and Risks of Standardized Options.
Disclosure: I/we have no positions in any stocks mentioned, and no plans to initiate any positions within the next 72 hours.
I wrote this article myself, and it expresses my own opinions. I am not receiving compensation for it. I have no business relationship with any company whose stock is mentioned in this article.