Shares of senior housing REIT Ventas Inc (NYSE:VTR) have been on a roll for the last few months, with the stock price up almost 57% since hitting a trough in February. Since then, shares have pretty much gone up in a straight line. Have a look.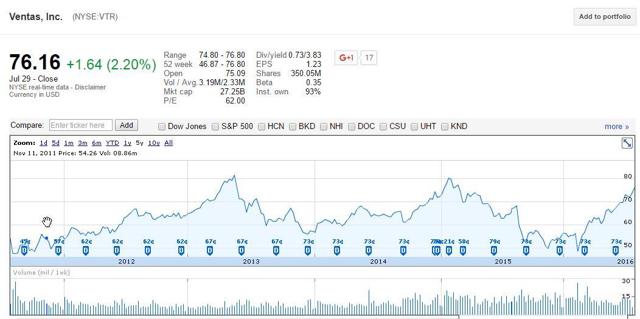 Click to enlarge
Courtesy of Google Finance.
Management seemed quite happy that share prices have gone up so much, and in their Q2 conference call management gave a case for continued upside. This article looks at Ventas' latest quarterly results, its recent acquisition, and finally this article looks at whether Ventas' valuation is justified.
Second quarter
Ventas upped the lower end of its Net Operating Income from 1%-3% to 1.5%-3%. Adjusted funds from operations are still expected to grow by between 3% to 5%. Growth has decelerated over the last few years as increased competition for acquisitions in this space has slowed acquisition volume for Ventas (although Ventas's acquisition activity has increased lately). As things are, that growth isn't much to get excited over, especially when one considers Ventas' high leverage ratio of 5.8 times.
Despite that, CEO Debra Cafaro made the case for continued strength in shares, and it is a compelling argument: Ventas is a US pure-play where other economies aren't doing too well. Demand for US real estate is quite strong, with limited space available in most of Ventas' core markets along the east coast. Low central bank interest rates are driving investors to dividend-payers, and it is also making borrowing cheaper for Ventas. And finally, REITs are at long last getting the separate classification they deserve, as opposed to being lumped in with the financials.
These are all very bullish things for Ventas, and it could indeed mean higher stock prices, but by historic indications, Ventas is just about at its highest valuation in years, and it is unclear how much higher Ventas' multiple can go. Price to FFO is currently 17.8 times. Ventas did reach a valuation higher than this in mid-2013, and fell substantially soon thereafter. At that time, this was due to fears of an imminent rate hike from central banks. That fear does not seem to be around right now, so shares of Ventas could indeed go quite higher. It's hard to say by how much, because right now we are in some kind of uncharted waters. For example, according to data from FAST Graphs, Ventas' average price-to-FFO is 15.7 over the last ten years, so Ventas is already well above its average valuation.
Acquisition
The most important news of this quarter was that Ventas announced it would acquire Wexford Life Science, an owner of life-sciences research buildings on elite university campuses. The total consideation was for $1.5 billion, which was for 23 buildings and 4.1 million square feet.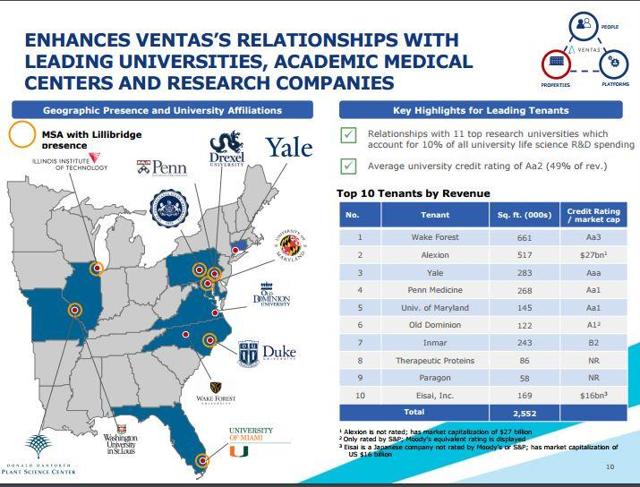 Click to enlarge
Courtesy of Ventas Inc, Investor Relations.
Wexford's properties are made up of R&D properties for elite university medical centers, including Wake Forest, Yale, Penn Medicine, Old Dominion, University of Maryland and others. Altogether Wexford accounts for 10% of all university life science R&D spending.
Altogether, this acquisition carries a 6.8% cash capitalization ratio (or 'yield'). In this competitive environment, I'm surprised that Ventas was able to get such premier assets at such an accretive level.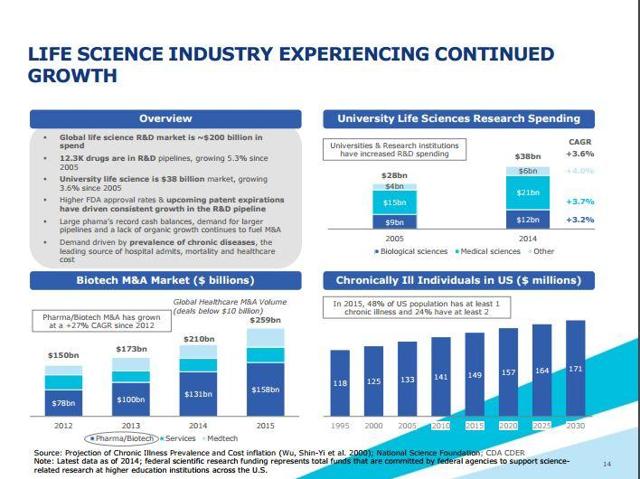 Click to enlarge
Courtesy of Ventas Inc Investor Relations.
University life-science R&D has a lot of room for growth ahead, as you can see. Between 2005 and 2014, university life sciences research spending increased from $28 billion to $38 billion, and that trend is fully expected to continue.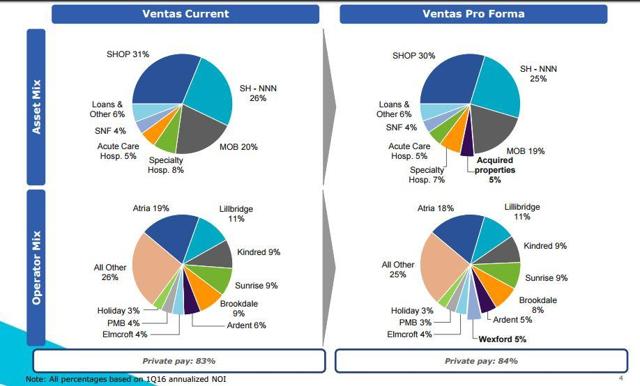 Click to enlarge
Courtesy of Ventas Inc Investor Relations.
As you can see above, the acquired properties will only account for about 5% of Ventas' revenue, so it's not a hugely transformative acquisition. But more than anything, the Wexford acquisition represents for Ventas a step into life science R&D on universities. This is also a move to diversify into other sub-industries, away from senior housing. There's no doubt that Ventas is getting quality assets, however. I suspect that this acquisition will slightly accelerate adjusted FFO growth going forward.
Conclusion
I actually sold my shares of Ventas, although I would not be at all surprised to see shares of Ventas continue higher. As management has claimed, there are good reasons for higher prices from here on out. I had some substantial gains and wanted to lock them in and raise some cash, so I did so.
Ultimately, while low interest rates certainly do help, most REITs are not bond-equivalents. These businesses are still economically sensitive and shares should still be treated like stocks, not bonds. Therefore, today's high valuations could be drastically cut in the event of a sharp economic slowdown. Even still, in the short or medium term there is no sign of this happening, and so I do not see any immediate downward catalyst. If you want to keep owning Ventas, it is certainly understandable.
I would not be surprised to see accelerated growth in adjusted FFO going forward if activity continues, particularly in 2017 and beyond.
If you are interested in Ventas, feel free to follow me here on Seeking Alpha. Although I no longer own shares, I intend on writing periodical updates on this business when doing so is material and relevant.
Disclosure: I/we have no positions in any stocks mentioned, and no plans to initiate any positions within the next 72 hours.
I wrote this article myself, and it expresses my own opinions. I am not receiving compensation for it (other than from Seeking Alpha). I have no business relationship with any company whose stock is mentioned in this article.