Value Is Leading the Market: Buy It at a 20% Discount
Suppose I told you that you could by a portfolio with these companies as the top five holdings?
You might shrug, "I can do better, thank you."
Now, what if I told you those top five holdings comprised 50% of the total portfolio?
I'd guess it wouldn't affect your opinion much at all.
But, what if I threw in this kicker? You can buy that portfolio at a discount a half-point shy of -20%?
If you're like me you might start to wonder where the line forms. Especially when I add that it is paying a 4.6% distribution, is minimally leveraged (4.43%) and has been beating all the relevant indexes this year.
That deal exists. Its name is Boulder Growth & Income (NYSE:BIF), which could be in the running for the biggest head-scratcher in the equity CEF universe. How can a fund that has been performing so well be discounted to -19.5%? Well, the fact is that it's been discounted near -20% since the end of the Great Recession. Here's a look at the past five years of the fund's discount.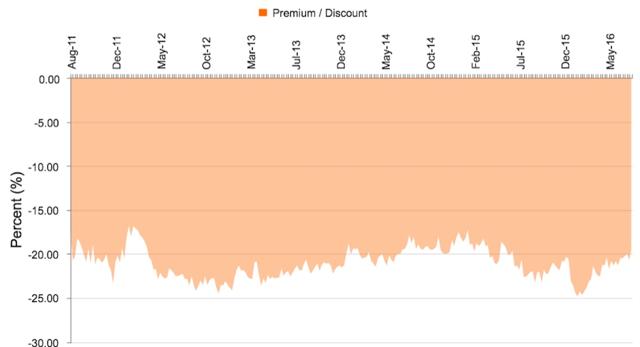 Click to enlarge
Unlike more typical, income-focused CEFs, BIF has a total-return investment objective. The fund asserts itself as using a "bottom-up, value driven investment process" to achieve that objective. It can invest in equity and fixed-income securities of domestic and international companies.
Fund Holdings
BIF is highly concentrated in a relatively small number of positions. As noted above, the top five holdings (counting BRK.A and BRK.B together) account for more than half the portfolio value. Indeed Berkshire Hathaway alone is 27.84% of the portfolio. The rest of the portfolio is top-heavy in Berkshire Hathaway's publicly traded holdings. Wal-Mart, Wells Fargo (NYSE:WFC), Johnson & Johnson (NYSE:JNJ), International Business Machines (NYSE:IBM), Sanofi SA (NYSE:SNY) and American Express (NYSE:AXP) account for an additional 17.7% of the portfolio.
The fund currently has 43 positions. The top 25 are: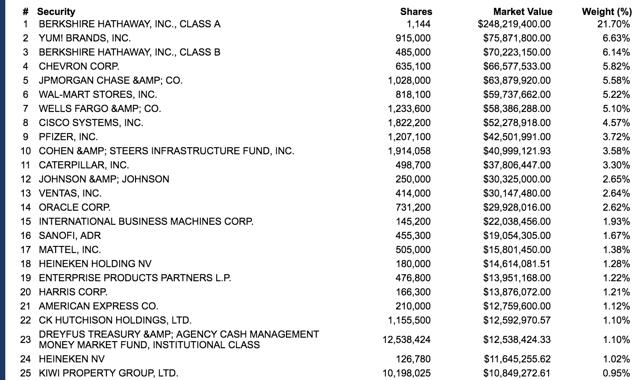 Click to enlarge
Recent Performance
The most recent fund report covers through the end of May, 2016. The numbers presented look pretty good. Better than one might expect from a fund with that hefty discount.

Click to enlarge
Market returns are juiced by that -20% discount so, as always, it more instructive to look at NAV. For the 3 and 6 month periods ending May 31, the fund's NAV was ahead of the three major equity indexes and ahead of its Morningstar benchmark category. Going back earlier we see that over the course of the long bull market, it lagged the indexes. But throughout that time frame it continually beat Morningstar's Large Value benchmark. As most of us are aware, those years were not a great time for value funds. But, for 2016, value has been leading growth handily.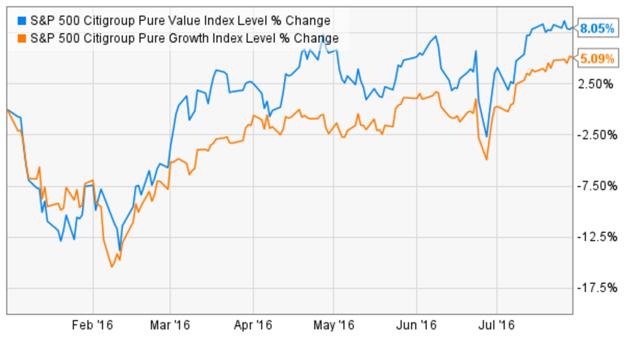 Click to enlarge
If you think that the pendulum swing back toward value is a lasting trend, BIF could be a good way to play that trend.
The next chart extends BIF's results from the above table to include the two months since the end of May.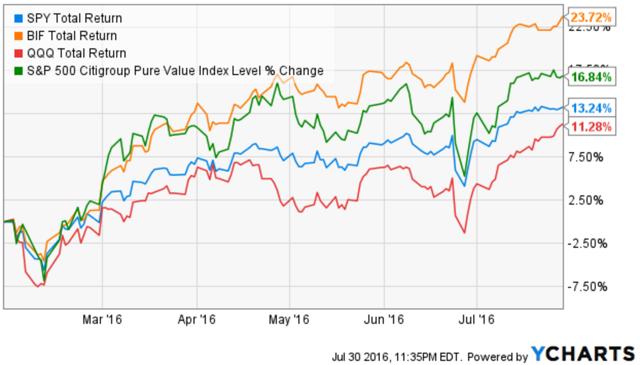 Click to enlarge
The chart looks even better than the table's numbers. Both BIF and the Value Index are well ahead of the S&P 500 (NYSEARCA:SPY) and the NASDAQ (NASDAQ:QQQ) ETFs. And BIF is nearly seven points ahead of this more appropriate index. Again, if you think value's momentum will continue, BIF looks like a good way to exploit that momentum.
Distributions
BIF's distribution has been sustained on its net investment income. The fund pays monthly, and the current trailing yield works out to 4.67%, twice that of Vanguard S&P 500 Value ETF (NYSEARCA:VOOV)'s 2.26%. Because the fund has been paying only what it earns, there is no return of capital in any of its payments. UNII stands at $0.0482/share, 1.5 times the fund's monthly distribution of $0.0330/share.
For 2015, distributions were 100% either qualified dividends or long-term capital gains. YTD, looks to be shaping up similarly with no short-term capital gains reported, however the income is not yet broken down into qualified and non-qualified dividends. It would appear to be reasonably tax-efficient, although not exceptionally so.
Miscellaneous Details
BIF has $1.168B in total assets, which ranks among the larger equity CEFs, so liquidity should be manageable.
Leverage is a low 4.43%, which should appeal to those who eschew leveraged-equity funds.
Expenses are 1.40%, which includes 0.06% interest costs; high if your standard is a fund like VOOV but below the median 1.54% for all general equity CEFs. This is a marked decline from past years when the fund's expenses have been much closer to 3%. The expense rate was decreased markedly following a merger of four Boulder funds in April 2015.
Trusts and other entities and individuals affiliated with Stewart Horejsi, founder and a portfolio manager of the fund, and the Horejsi family owned approximately 42.83% of the total Common Stock outstanding.
Disclosure: I am/we are long JNJ, QQQ, WFC.
I wrote this article myself, and it expresses my own opinions. I am not receiving compensation for it (other than from Seeking Alpha). I have no business relationship with any company whose stock is mentioned in this article.
Additional disclosure: I have no ties to the financial or security industries in any form. My interests are strictly personal. The banker part of the nym has absolutely no relationship to the profession of the same name. Readers should be aware that I am an investing novice. I do not give advice; what I publish is an annotated version of my research notebook for topics that I think will be of interest to readers at a similar level of investing knowledge. Anyone who finds any securities or strategies to be of interest will necessarily want to do his or her complete research and due diligence before acting on that interest. It would be foolish to rely on my conclusions without having done so.