The state of the US economy's business cycle is at the forefront this week with a series of upcoming releases expected to shed some light on the situation. The jobless claims, non-farm payrolls, unemployment rate, and vehicle sales releases, as well as the PCE price indices, will indicate if consumers will continue to be the number one force that keeps the US economy afloat, as it did in Q2 of this year. The ISM non-manufacturing PMI is also a very important release since it will reveal how active businesses are in their spending, therefore how much they are expected to contribute to the US business cycle. So far, according to the Q2 GDP report, there was a significant gap between the consumer and business sector, with consumers clearly spending the most. While the continued bullishness of the US equity market (NYSEARCA:SPY) indicates some confidence that this gap will be bridged, investors should certainly keep their eye out on the consumer end of things. If this gap is not bridged, then the expectations for consumers to continue to carry the US economy on their shoulders are immense, making a downturn of the business cycle a very likely event.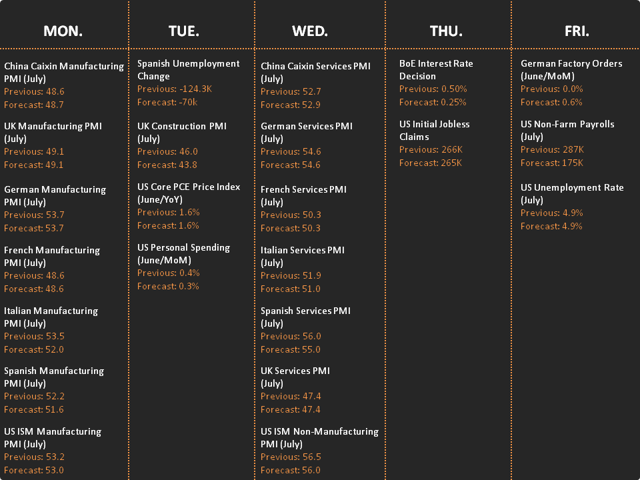 Source: investing.com
US Economy Watch
Strong consumer spending might have fueled the US economy thus far, but it has also, unwillingly perhaps, created another problem. US businesses overestimated consumer growth and ended up increasing their buying to the point of having excessive stockpiles, more than US consumers can possibly absorb. Choosing to spend in stockpiling instead of investing in new infrastructure hurts the US economy because it fails to create any long-lasting demand effect. Beyond that, the excessive supply that US businesses have accumulated becomes a potential drag on growth since they are not expected to increase their production before they can actually get rid of their available stock. The decreased spending of US manufacturers was verified with July's ISM manufacturing PMI, released today. Of course, investors will also be interested to see what the ISM non-manufacturing PMI for the month of July will show, but it is rather a safe bet to assume that not much spending can be expected from the corporate sector as a whole.
Considering how far into a corner US businesses have driven themselves in, it is no surprise that consumers are viewed as the true saviors of the US business cycle. This is perhaps why the vehicle sales and employment numbers released this week are incredibly important events to watch. In fact, the long-term unemployment rate - i.e. those unemployed for 27 weeks or more - is perhaps more important than the headline employment numbers, as it is currently experiencing its largest contraction cycle ever since WWII. The long-term unemployed are currently less than 26% of the total unemployed population, dropping almost 19% from its historic high of 45% that it had reached in Q3 2011. While the current levels are still quite elevated, this massive drop cannot be denied, and since consumers seem to be the only viable force for the US economy, then it is very crucial to see if this contraction cycle will continue.

Global Economic Watch
Beyond the major US releases expected this week, investors should also pay attention to the global business cycles as well. The services PMI for the major Eurozone countries, German factory orders, Spanish unemployment change, and the industrial production for the Eurozone periphery are all releases that will affect the US in more ways than one. If these indices prove to be resilient and converging with one another, then the USD can expect some relief from a more stable global environment. If however, the Eurozone, once again depicts a strong Germany and a weaker periphery, then the USD will experience some unwanted flight-to-quality bidding. Perhaps the most important European releases US investors should look out for is the UK construction and services PMI for July. If these indices keep plummeting, as they did since the Brexit, then this too might spur a flight-to-quality bidding for the USD, depriving it from a much needed relief.
Finally, China's Caixin services PMI for July will be announced this week, shortly after the Caixin manufacturing PMI was released, which indicated renewed strength. If the services sector follows the same trajectory as its manufacturing counterpart then it will alleviate some selling pressures from the yuan, leaving the USD to trade in a more favorable FX environment. While US investors don't seem to have much fear from a yuan devaluation, at least for the time being, there are still a number of global events that could potentially work against the fragile US business cycle.
Global Monetary Watch
US investors should also monitor, quite closely, the highly anticipated BoE announcement, expected towards the end of the week. If the Brits decide to move forward with a .25% interest rate cut, and a meaningful boost on QE operations, then US investors won't have to worry about much on that front. If, however, the BoE goes against market expectations and decides to hold off on its monetary action, then the US dollar index could find itself in a new generalized uptrend.
From the looks of it, this week has many important releases to track all of which are strong indicators for the fate of the short-term US business cycle. While some global "threats" seem unlikely, such as that of a massive and immediate yuan devaluation, others seem more probable, such as the Eurozone losing more of its footing. Global events aside, the US economy seems to be absolutely reliant on the power of its consumer, with US businesses refusing to pay their share. This creates a very one-sided driver for its business cycle and considering that Q1 and Q2 were severely downgraded in the preliminary Q2 GDP release, it seems that the US lacks a safety cushion capable of absorbing many new shocks at the same time. Let's see what this week will bring.
Disclosure: I/we have no positions in any stocks mentioned, and no plans to initiate any positions within the next 72 hours.
I wrote this article myself, and it expresses my own opinions. I am not receiving compensation for it (other than from Seeking Alpha). I have no business relationship with any company whose stock is mentioned in this article.
Additional disclosure: The views expressed in this article are solely those of the author, provided solely for informative purposes and in no case constitute investment advice.