I have followed the evolution of Alaska Air (NYSE:ALK) over the years and I have no doubt that it has been one of the best investment bets since 2010. ALK has an excellent management team and good indicators in almost all areas. However, price progression of the company's stock is now being marked by the impact of the acquisition of Virgin America (NASDAQ:VA). This is very significant because there are two key points to the company's development: increasing sales through added capacity, and total costs.
Growing has been the magic word of Alaska Air. The company has achieved it with a simple and very effective strategy. If the company is able to implement these principles in the merger there will be no problems with rising costs and sales growth. However, competition will be a constant and prices will be an instrument for this purpose. The post-merger combined company will have a ways to go before returning to be the real Alaska Air again.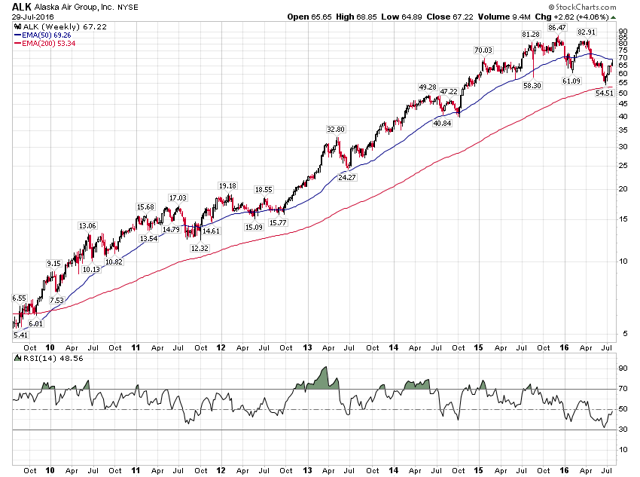 Click to enlarge
Charts courtesy of StockCharts.com
I think ALK shareholders are not satisfied with the terms of the purchase because share prices have begun to fall exactly when it was made public the agreement between the two companies (April 4, 2016). Indeed, the following two charts are very enlightening. In the 7-year weekly chart above one can see a company with an overwhelming uptrend that reached a top in late 2015 at $86.47. It was the time when shareholders saw the company as a model when compared to the industry average.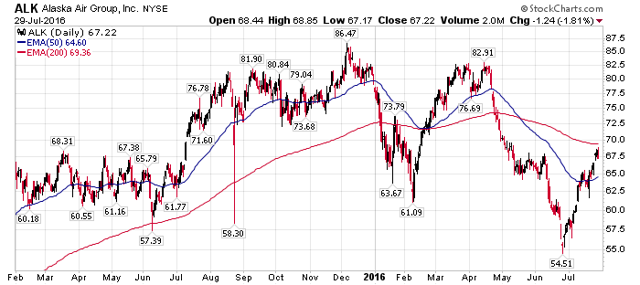 Click to enlarge
Technically, prices are on a slight downward trend since then - as can be seen in the 18-month daily chart above. There is a well-identified 18-month resistance at about $68 and another around $75. I think the competition will make life far more difficult for ALK and its costs may rise more than expected in the first stage of the merger. Certainly, there will be a price war and the time of Alaska Air being a model company may be in danger. At least, that's what share prices seem to reflect with regard to shareholders thinking.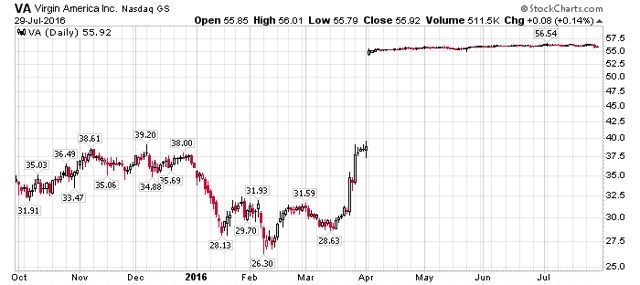 Click to enlarge
ALK will pay $57 per share in cash to acquire VA in a $2.6B deal. I think it's probably a very high price - it corresponds to a 47% premium over April 1, 2016 (see chart above). If we take 2016 VA average share price of ~$30 it will represent a premium of almost 100%.
The acquisition of Virgin America by Alaska Airlines was approved last Tuesday. Including existing Virgin America indebtedness and leasing operations, the total transaction value is approximately $4.0B. While antitrust regulators will have the last word, both companies expect the deal to close by the end of this year.
ALK has 123 million shares outstanding trading currently at around $67 and net debt is close to zero. Thus, the enterprise value of Alaska Air is ~$8.3B ahead of the deal and VA revenues of $1.57B against ALK revenues of $5.73B represents 27,5%. In simple terms, ALK will pay for VA around 48% of its own enterprise value - at current prices - with the goal to expand sales by 27,5%. Furthermore, we have to think that Virgin's EBITDA is ~12% of Alaska's EBITDA. For all this, price paid seems too high. The problem is that the total cost of the transaction is real but the goal (sales increase) may be too optimistic. And we have to believe that costs will not climb to unexpected levels. ALK's management has a tremendous amount of work to do in order to make the new company efficient enough for the price paid. I can only say that it will be very interesting to see ALK's outstanding management team to get the job done in 1-2 years.
Conclusion
Increasing sales are a challenge and costs - also a key factor - need to be limited. It's important to monitor ALK's share price because this is a complex situation for shareholders as they are obviously trying to find a possible fair level. For now, it is clear that the high price paid to buy Virgin America is being reflected in a negative way on ALK share price. This is an ongoing process and it seems that investors may price lower than expected the value they wish to pay for the "new" Alaska Air. Presently, I am not optimistic about the sustainability of prices above the $75 level. For my part, I have confidence in the management of Alaska Air but I fear that the merger benefits will only be effective in the medium to long-term. Until then ALK shares may suffer.
Disclosure: I/we have no positions in any stocks mentioned, and no plans to initiate any positions within the next 72 hours.
I wrote this article myself, and it expresses my own opinions. I am not receiving compensation for it (other than from Seeking Alpha). I have no business relationship with any company whose stock is mentioned in this article.
Additional disclosure: The author of this article gives only his personal view and opinion, never making any investment advice to buy or sell specific securities. Investors in financial assets must do so at their own responsibility and with due caution as they involve a significant degree of risk. Before investing in financial assets, investors should do their own research and consult a professional investment adviser.